How to Upgrade Your Thanksgiving Leftovers with Chiquita Bananas
How to Upgrade Your Thanksgiving Leftovers with Chiquita Bananas
Everyone knows the best thing about Thanksgiving is the leftovers. Luckily Thanksgiving doesn't last forever so you can eat the exact same delicious meal without feeling you're going cold turkey on green bean casserole. This year, change things up by adding everyone's favorite fruit to your next day feast to keep the Thanksgiving love going for as long as you can…with a little banana upgrade, of course.  
Go bananas for breakfast
It's one of the mysteries of the holiday—no matter how much you eat during Thanksgiving dinner, you inevitably wake up hungry for breakfast the next day. Start the next day right by turning your leftover pumpkin puree into a loaf of delicious banana pumpkin bread. Eat it plain or serve it with a healthy Quick Chiquita-bananas-cut-up-in-milk doctored up with all of your favorite toppings—Chiquita bananas, no-bake granola, or sliced almonds. If you made your own cranberry sauce, add a dollop to bring the tart taste of the holidays—and a little color—to your breakfast bowl.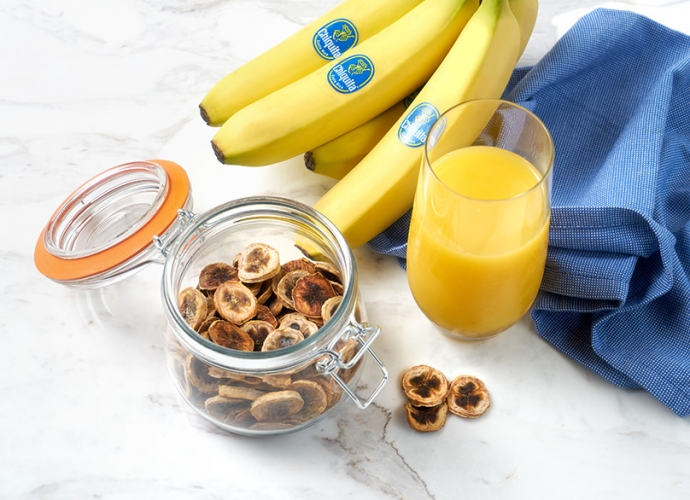 Sides for your turkey sandwich 
An almost universal Thanksgiving tradition is leftover turkey sandwiches for Friday lunch. There's nothing better than a dinner roll loaded up with turkey, cranberry sauce, and even mashed potatoes. But to add a little something extra, skip the potato chips this year and make some Chiquita banana chips to go on the side for a healthier alternative. Or if you want to go the fresh fruit route, try some Chiquita fruit kebabs with strawberries, bananas, and any other fruit that strikes your fancy. 
Turn your turkey into nachos
Instead of the traditional turkey sandwich, try something new and make pulled turkey nachos for lunch. Switch out regular tortilla chips for a batch of homemade banana chips to serve as the base and then layer on some of that delicious turkey—shredded to the perfect consistency. From there, get as creative as you want with your toppings—cheese, chives, lettuce, sour cream, black beans—and you're in for a delicious, banana lunch of leftovers.  
A turkey dinner alternative 
You can't eat turkey for every meal, but that doesn't mean you shouldn't indulge in some Thanksgiving sides even if you're skipping the main bird for the night. Grill up your choice of fish and top it with some mango and Chiquita banana salsa to serve with your leftover glazed carrots, brussels sprouts salad, and stuffing. If you want to make a little something new, use your sweet potatoes instead of rice for the incredible Chiquita banana chicken peanut curry to bring together all of the flavors on your plate. 
Add bananas to your chocolate 
Switch up your dessert leftovers a bit. On night number two of dessert, cut yourself a piece and add some sliced bananas on top to give it a new twist. If you want to get really fancy, caramelize the bananas on the stove before using them as a garnish. If you're overeating the traditional dessert, scoop the filling out of your chocolate cream pie, put it in a bowl, and layer it with bananas for a bowl of banana chocolate goodness. 
And if you won't have any leftovers, next Thanksgiving will be back before you know it!
Enjoyed this article? For more healthy and delicious snacks check out our article 5 ingredient smoothies taste and look so good we can't wait try.