Chiquita Banana: The Everything Fruit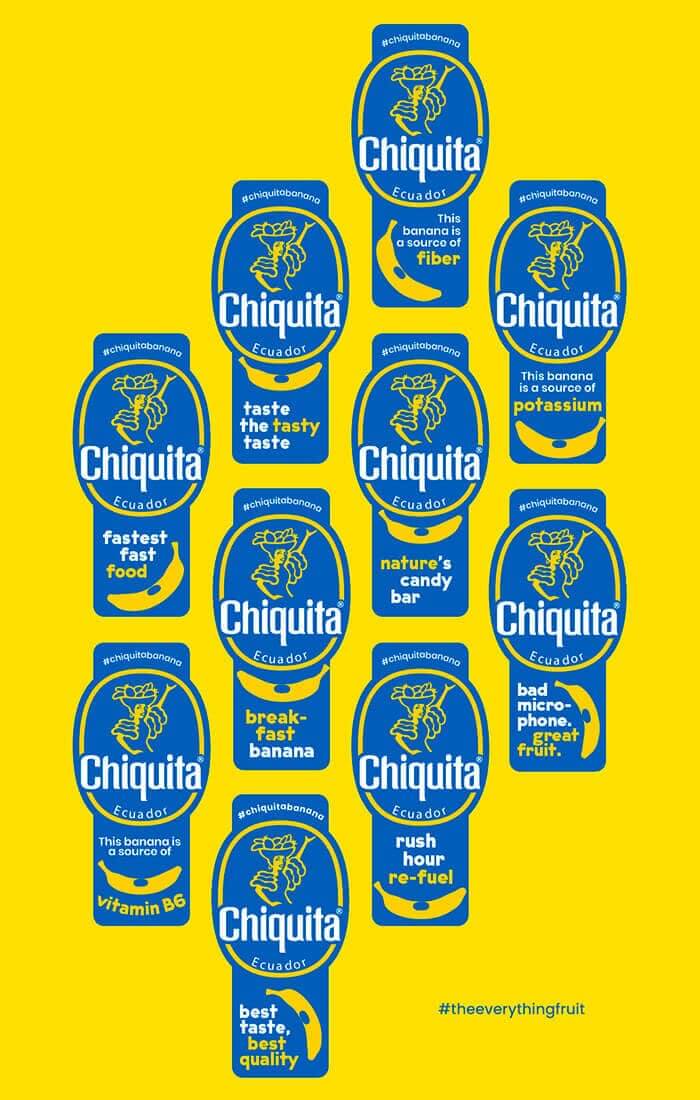 For life's biggest food questions (and beyond), the answer is almost always a Chiquita banana—because a Chiquita banana isn't just an all-in-one wonder fruit. It's also the best-tasting, highest quality banana you'll find. We think it's time to celebrate this most extraordinary food for everything it does, from fueling our workouts to flavoring our baking, to feeding us on the go and doing it all with great taste. Because Chiquita bananas really are The Everything Fruit.
To discover how extraordinarily versatile our Chiquita bananas are, collect all the stickers in the bunch!
They're full of fun information, as you'll see, with each sticker telling you something new about the delicious Chiquita banana you're about to eat.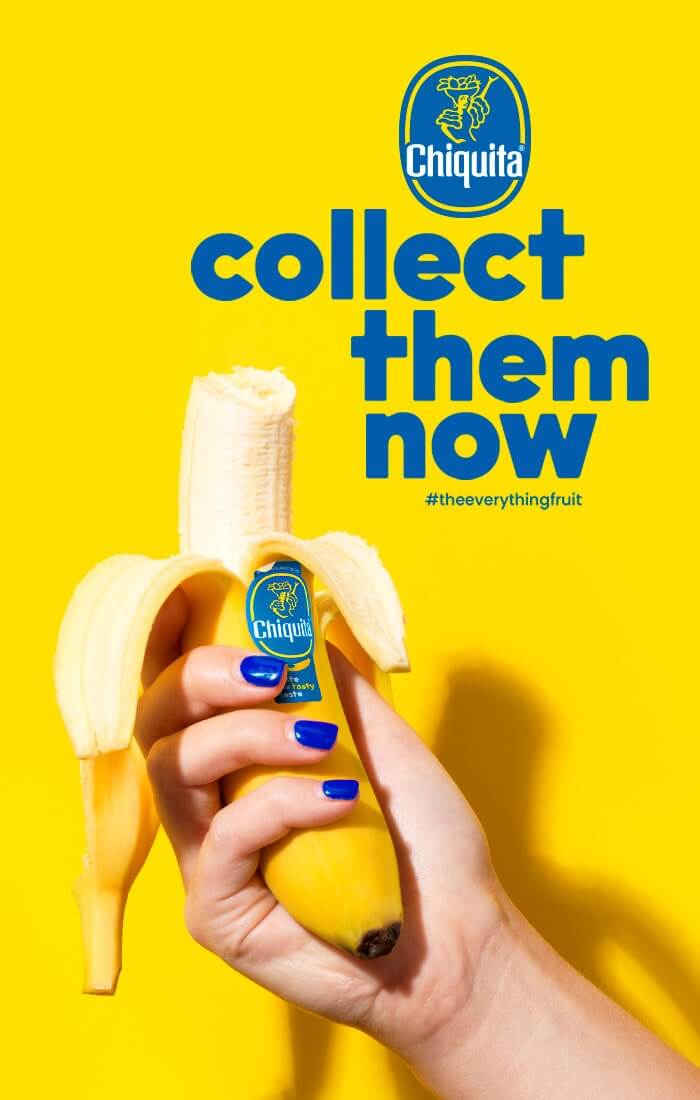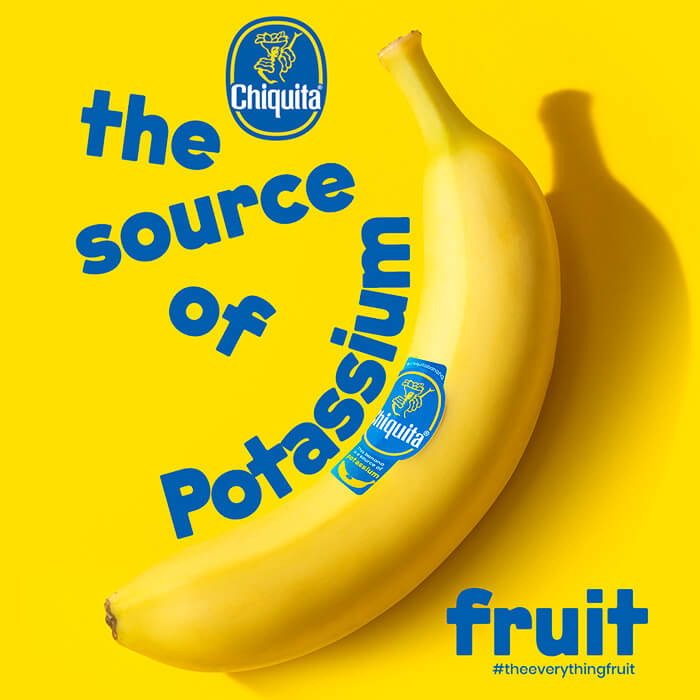 Chiquita Bananas are an excellent source of Potassium:
Chiquita bananas are of the world's best fruits for getting a significant amount of Potassium. And that's great news, because potassium is essential in supporting the heart, brain and nervous system. An average-sized Chiquita banana contains a whopping 450mg of potassium; you'd get your whole day's recommended daily amount in 6 bananas. And there are so many benefits to getting your daily dose of potassium:
Potassium is an electrolyte that ensures our cells can function properly. It keeps the heart rate steady and blood pressure in check.
Potassium is an important part of the body's messaging mechanism, the nervous system.
Potassium can help reduce the risk of kidney stones by attaching to calcium in urine.
It is reported that potassium may help increase bone mineral density – which means stronger, healthier bones.
Potassium is essential for those with Type 2 Diabetes, because potassium helps the pancreas produce insulin, a vital regulator for the body's blood sugar levels.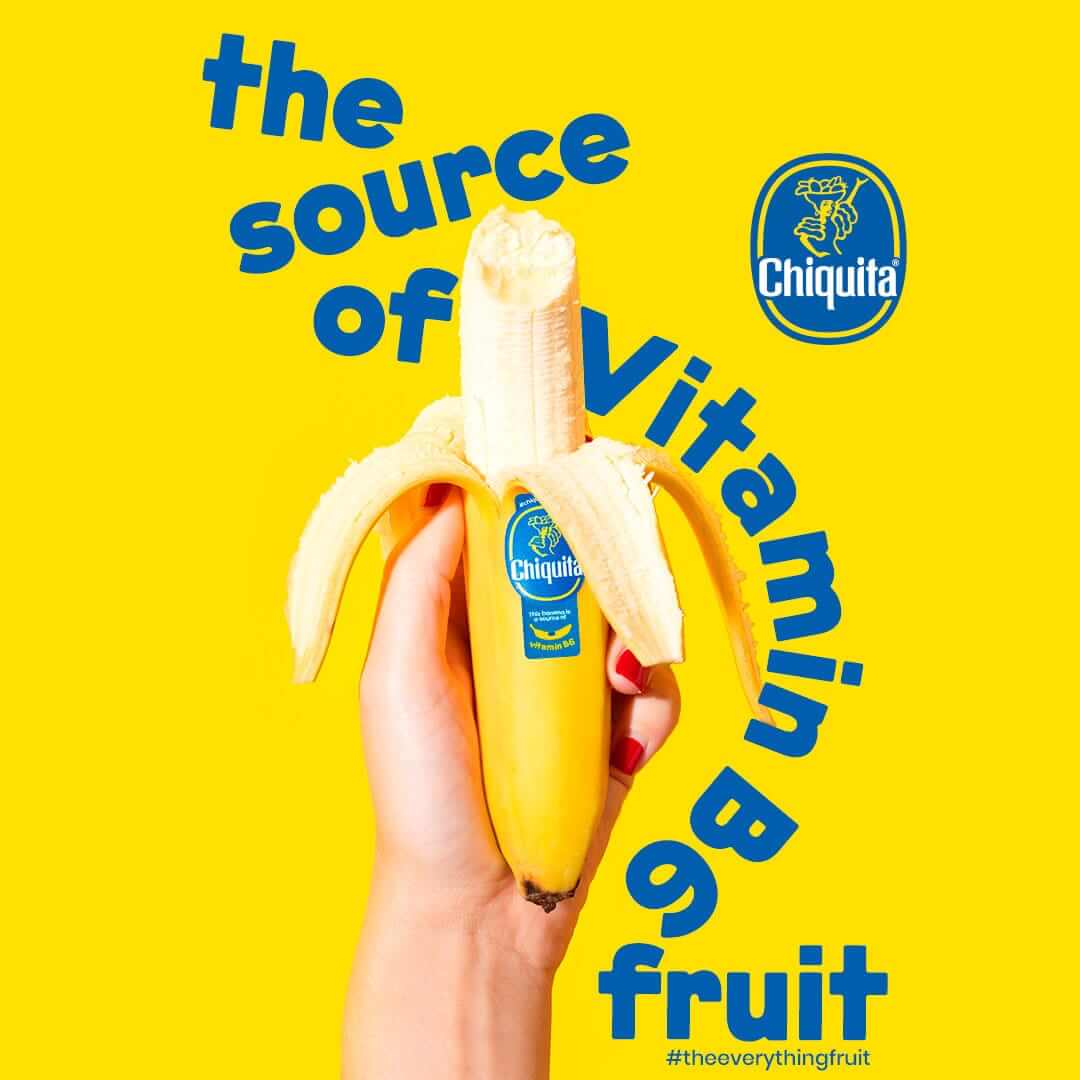 Chiquita Bananas are also a source of Vitamin B6:
Vitamin B6 is another handy vitamin that boasts a bunch of body benefits. Studies show that it's important for retaining memory function and helping with neurotransmission in the brain. Vitamin B6 also helps your digestive enzymes to work properly, keeps your skin looking healthy and radiant, and helps your body produce healthy red blood cells.
Other important benefits of Vitamin B6 found in banana nutrition include:
Contribute to a normal cysteine system (cysteine is an important amino acid)
Aids a normal energy-yielding metabolism
Helps the normal functioning of the nervous system and of the immune system
Helps with homocysteine metabolism (homocysteine is another key amino acid)
Contributes to normal psychological function
Helps with reducing tiredness and fatigue.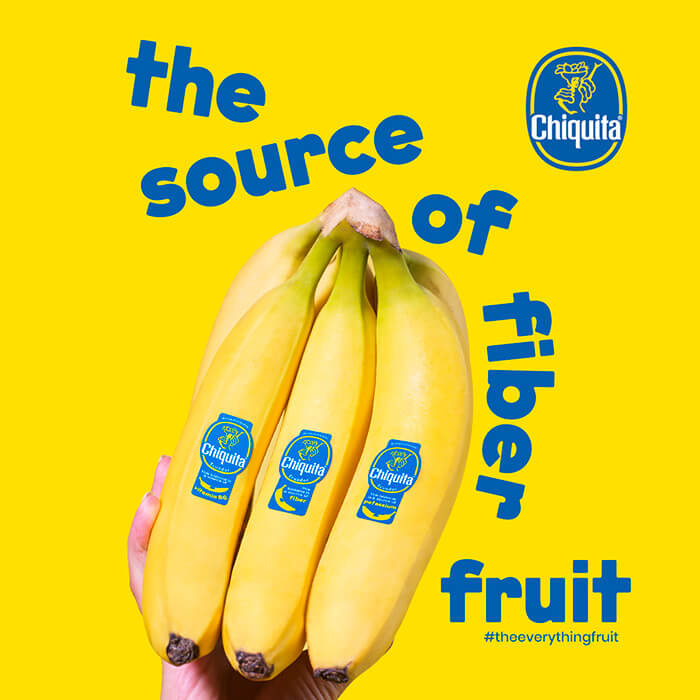 Chiquita Bananas are full of fiber:
Chiquita bananas are high in fiber which is essential for a healthy bowel. While fiber is in your stomach, it keeps you feeling full for longer, which means you're less likely to snack or over-eat throughout the day. Generally, the more fiber there is in your food, the more filling it will be. Fiber also travels relatively intact through your body, which helps to increase the softness and bulk of stools, so they are easier to pass and you're less likely to have constipation – which is a good thing!  Fiber is also great at reducing 'bad' cholesterol, blood pressure and inflammation.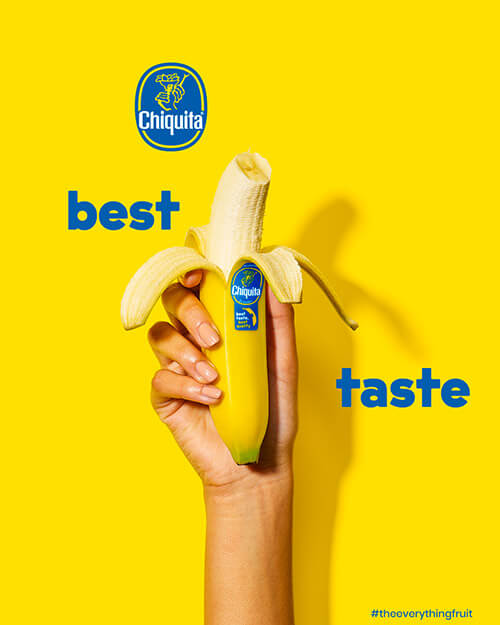 As you can see, Bananas have an incredible range of health benefits, but only our amazing Chiquita bananas have all that; plus, their own unique, delicious taste – the best in the world. At Chiquita, we work hard to ensure our special fruit is grown, packed, and brought to your store in the best condition possible, so they are as tasty as they can possibly be.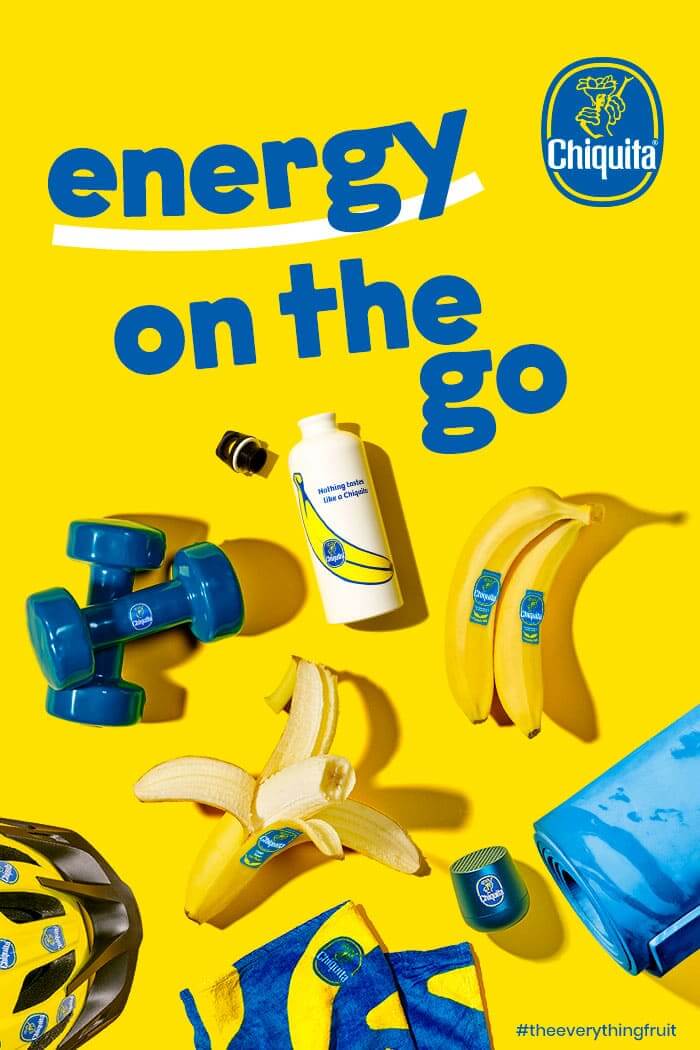 Ever wondered what to eat before running?
Chiquita bananas of course! Chiquita bananas are the best workout snacks. Endurance athletes swear by the benefits of Chiquita bananas because of their high carb content, medium GI and source of fiber.
Try out Chiquita's delicious and easy to make banana recipes:
Chiquita Banana Acai Yogurt bowl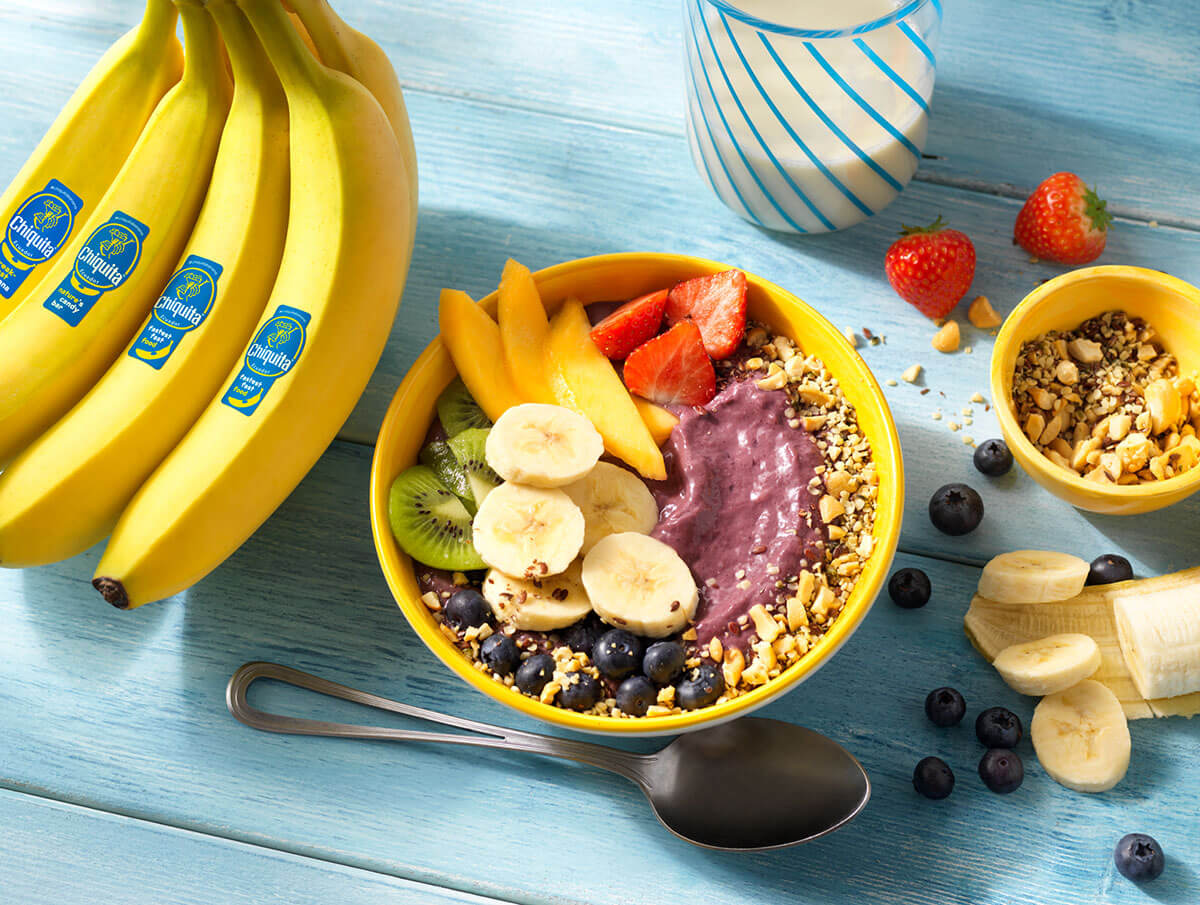 The Chiquita Banana Acai Yogurt bowl is the right choice for those who want to follow a healthy lifestyle without compromising taste. Combined with delicious pairings such as yogurt and Chiquita bananas, together with kiwi, mango, strawberry, blueberries and cashew nuts, it's a recipe to fuel your day while maintaining a healthy diet. We are sure you and your family will be delighted to prepare and enjoy this recipe in only 10 minutes!
Chiquita bananas
plain yogurt
85 grams acai frozen in cubes
kiwi, mango, blueberries, strawberries
chopped cashew nuts
hennepseeds
Best Ever Chiquita banana chocolate mug cake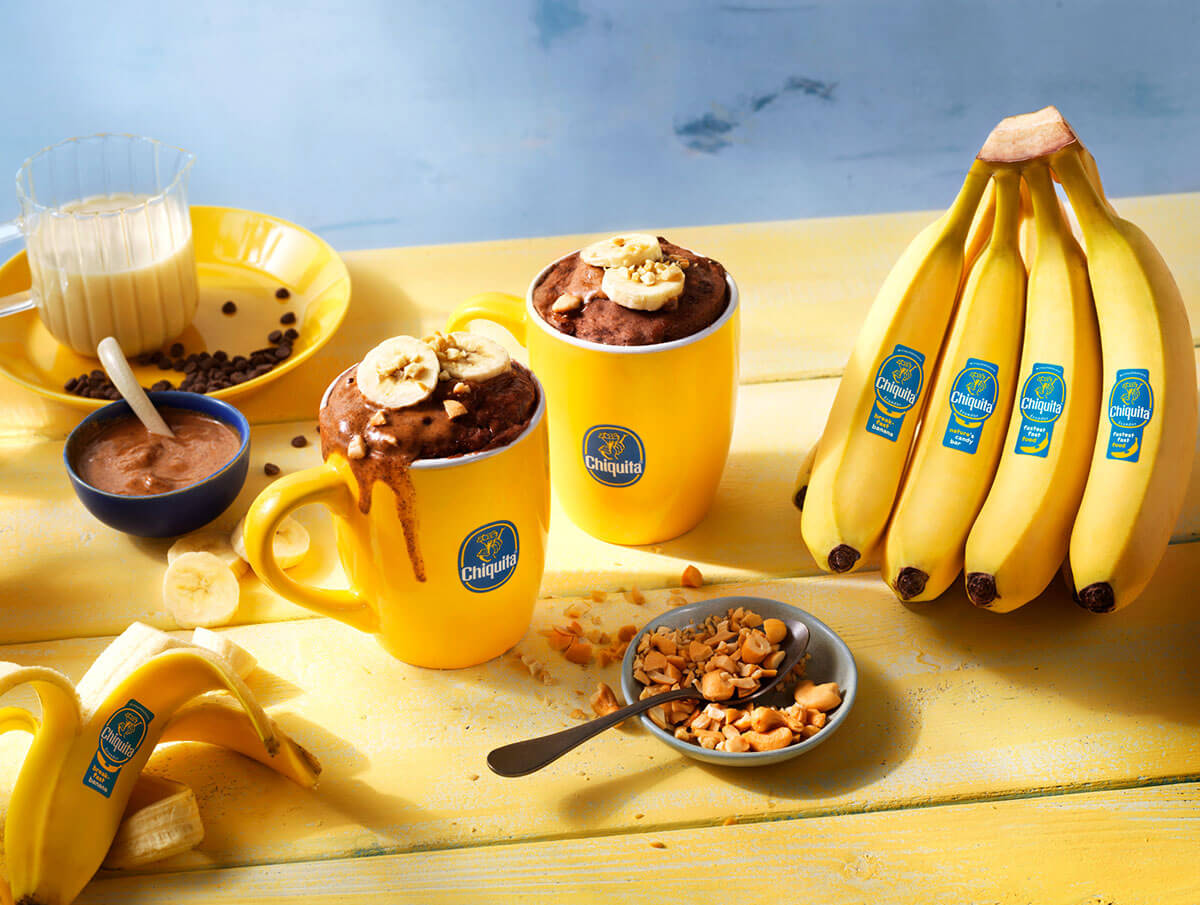 This is the best Chiquita banana chocolate mug cake you can ever find on the internet! Chiquita bananas and chocolate are the perfect matches when it comes to making tasty and healthy recipes. Mug cake is the smartest way to prepare a quick dessert, however, sometimes it results in being dry. Chiquita bananas help the mug cake stay moist and fluffy. You will be surprised by its spongy texture and delicious taste and best of all, only with a few ingredients!
Chiquita bananas
all-purpose flour
light brown sugar
milk
cacao (unsweetened)
egg
chocolate nibs
baking powder
almond butter
Chiquita Banana Smoothie with orange and honey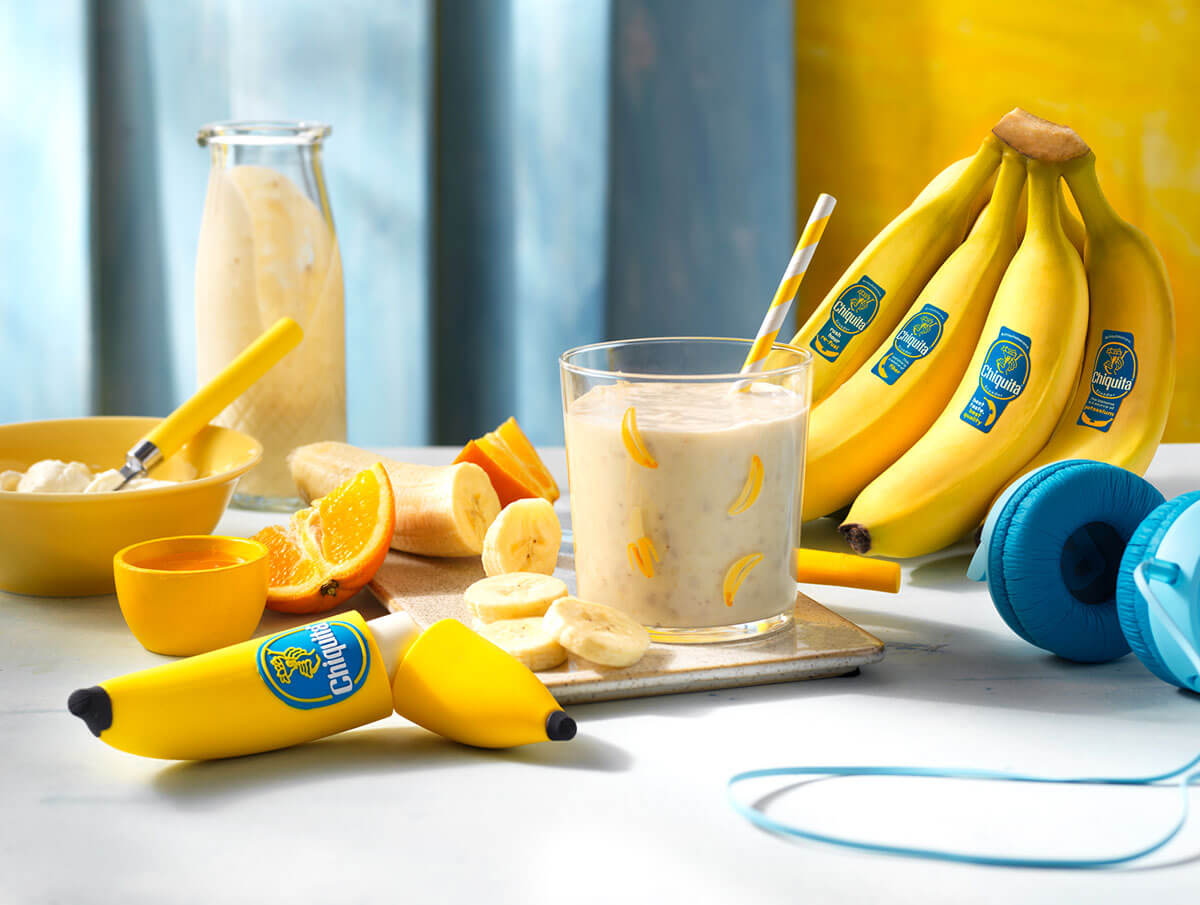 This new Chiquita Banana Smoothie with orange and honey is a bundle of essential nutrients and will provide long-lasting natural energy. This recipe is perfect for a quick and complete breakfast or a healthy snack on the go. Chiquita bananas, oranges and honey are a fantastic combination to support a balanced diet and healthy lifestyle! Best of all, with minimal ingredients and steps, you will only need a few minutes to prepare this smoothie.
Chiquita banana
Greek yogurt
orange
milk (dairy or non-dairy)
honey