Smoothie recipes guide %%sep%% ultimate banana smoothies | %%sitename%%
These days, we're all searching for convenient ways to maintain a healthy lifestyle… and what could be easier than adding a delicious, healthy smoothie to your diet, made with great tasting Chiquita bananas?
So many healthy smoothie recipes start with our favorite fruit, the Chiquita banana. Our smoothie hub is a great place to start when you're looking for reliable, easy, healthy smoothie recipes that are super delicious and simple to make. Below, we'll look at our favorite snack in more detail, and share some fabulous smoothie recipes.
Let's have a look!
Find your perfect smoothies recipe here:
Why bananas?
The most important question is, why do you need a deliciously tasty, high quality Chiquita banana in your smoothie? You'll understand the minute you whizz one up in your chosen fruit smoothie recipe – bananas add a luxuriously rich texture to every smoothie recipe, giving a creamy, delightfully smooth mouth feel that (we believe) no other fruit quite matches. Bananas whizz down easily to the perfect consistency, with no unpleasant tough 'bits' left to chew on.
If you are keen to start making smoothies, Chiquita bananas are a great way to add sweetness with their delicious, natural sugars, rather than adding calorie-dense refined sugars or glucose to make your smoothie palatable. Also, the mild, yummy taste of a banana blends amazingly well with virtually every other fruit – and more than a few vegetables! So, they make the perfect companion for any smoothie recipe.
Healthy habits, here we come!
Nowadays, we're all looking for ways to get fitter and healthier, and a Chiquita banana smoothie is an easy win on the road to wellness. Bananas, particularly when they're a little under-ripe, contain a good helping of pectin, a soluble fiber, and resistant starch, as well as generous amounts of several important vitamins and minerals. Bananas are famously rich in potassium, one of the key minerals in the body, which helps to regulate fluid balance and muscle contractions and send nerve signals.
This is all very good news because smoothies are very special. They're a great, family-friendly way to ensure everyone gets all the fruit and veg they need – which can sometimes be a challenge! Smoothies are a joyful thing, turning up in all sorts of bright colors, and very portable, so you can sip on the go. What more could you want?
Bananas are a particularly great source of vitamins C and B6. Vitamin C is a well-known antioxidant, which people take to strengthen their body's natural defences, and vitamin B6 helps to keep your digestive system working properly as well as having a role in maintaining memory function. All in all, bananas are a great addition to any healthy smoothie recipe!
There are plenty of occasions when you might want to reach for a Chiquita banana smoothie, and we'll look at a good selection below.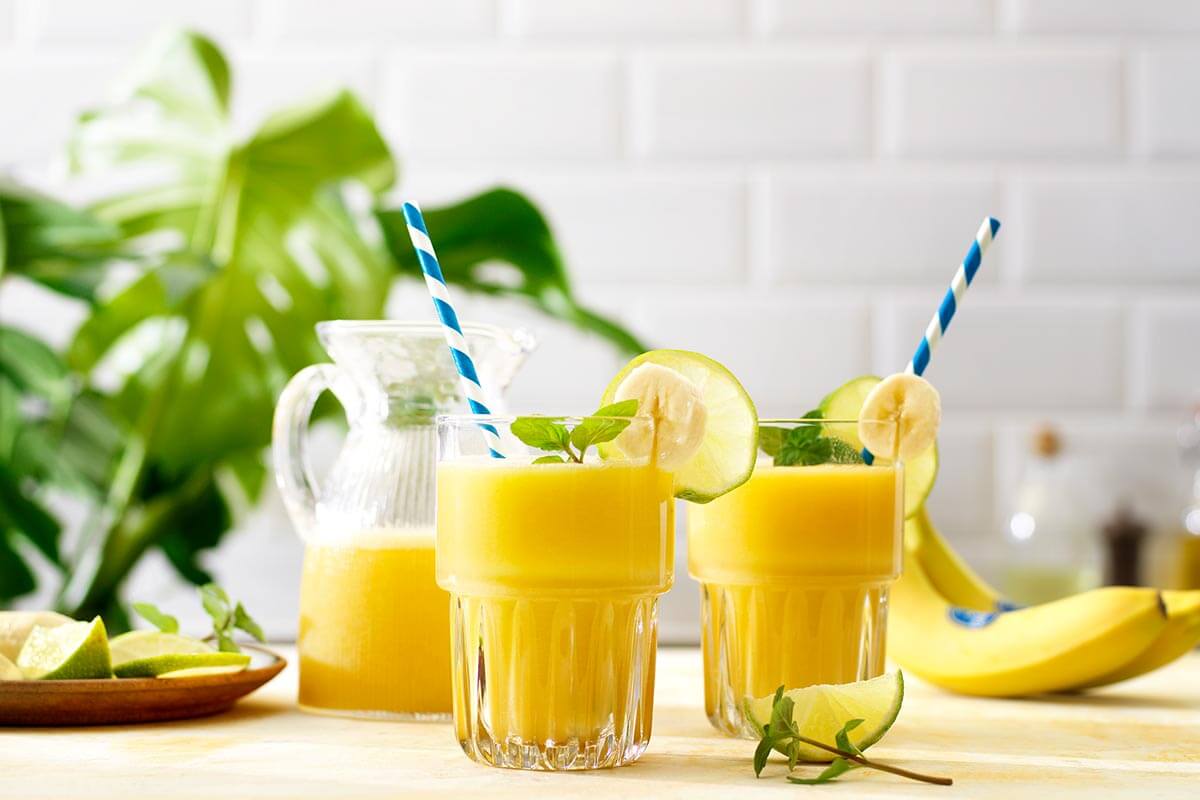 Breakfast smoothies
A Chiquita banana smoothie is the perfect foundation to start your day – a good, balanced smoothie provides a sustained energy boost to keep you going whatever your day has in store. Getting the right mix of fruits, vegetables, protein and fats is key – add an unsweetened nut butter, or seeds such as chia, flax, hemp or sesame, and fluids such as kefir, kombucha, one of the non-dairy milks (oat, almond or similar) or organic yogurt, and you'll have the perfect, easy, healthy smoothie recipe to kick-start your morning.
Healthy smoothies
Smoothies have become an important part of many of today's main health regimes – for example, you'll often find them as a recommended part of cleanses. However, commercial smoothies and fruit drinks are often absolutely loaded with unhealthy sugar, so making smoothies is the obvious way to ensure this doesn't happen. Luckily, Chiquita bananas are an easy way to ensure you're drinking a healthy smoothie, as the natural sugars in bananas provide just the right amount of sweetness without the huge heap of calories that lurk in refined sugar.
The experts suggest that the key to a healthy lifestyle is balance – making sure the foods we eat, the activities we embrace and the lifestyle we choose all work together for our benefit. As such, healthy smoothie recipes are a great tool in your overall health toolbox.
Workout smoothies
Post-workout, a Chiquita banana smoothie can be a great, and helpful, part of your workout. The best workout smoothies contain a mix of protein and carbs – workouts use up your muscles' short-term store of glycogen, so adding a fiber-rich banana to your smoothie is a perfect way to ensure your body steadily absorbs the healthy carbs it needs. Have a look at the great range of easy, healthy smoothie recipes on our website that are perfect for your workout needs.
Summer smoothies
When the temperature begins to climb, reaching for a fruit smoothie recipe is a great way to cool off. Why not freeze the banana chunks or add ice cubes to your smoothie to chill it right down – but check that your blender is able to cope before whizzing! If it can't crush ice, just drop in a few cubes after you've made your smoothie. Using a good quality green tea like matcha straight from the fridge as the liquid in your smoothie will help add the freshness you may be craving for a cool summer treat. We have lots of great summer smoothie recipes for you to try!
Two-minute smoothies
One of the best things about Chiquita banana smoothies is that they are so easy to make. Just drop your ingredients into your blender, or an appropriate container if you're using a hand-held stick blender, and whizz away! To ensure you've always got the makings of a speedy smoothie, keep any ingredients for your healthy smoothie recipes that need prep (such as crushed nuts or chopped cilantro) ready-made in containers, so you can simply throw them in when needed.
Instagrammable smoothies
If you just love taking pix of your food for your followers, you may be wondering how to make a Chiquita banana smoothie Instagram-worthy… The answer is to dress them up with a gorgeous glass and tempting toppings! For a luxe look, sprinkle cacao nibs and crushed nuts on top of your smoothie or pop a teased-out scallion and chopped cilantro or parsley onto a green smoothie for a great photo-worthy effect. Other potential toppings that would look great on a smoothie include chia seeds, goji berries and pomegranate seeds to add interest and color – just choose whatever harmonizes best with your smoothie.
Helpful hints include using a smaller bowl or mug so there isn't too much spare space (this will also make sure you don't over-decorate). And do make sure you choose ingredients that look good together, color- and taste-wise, so the result doesn't clash horribly! For Instagram, a thicker smoothie will be better, because it will hold the toppings firmly in place.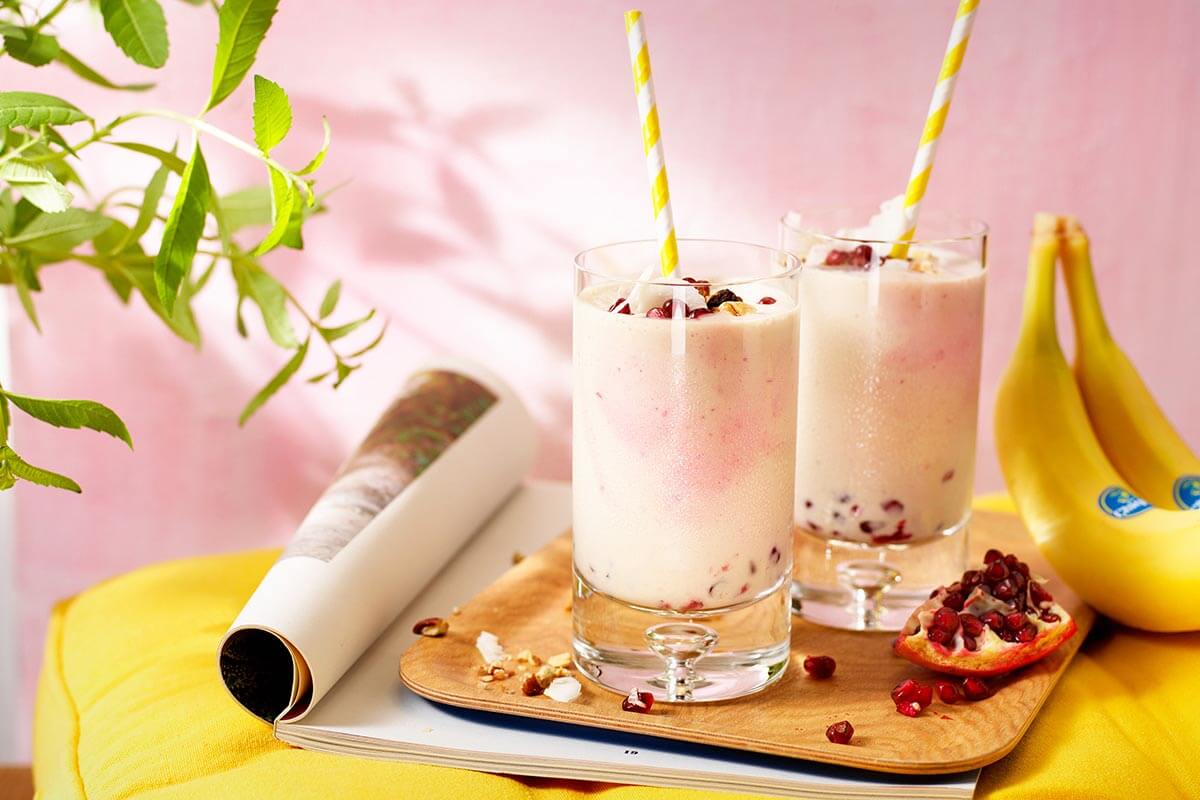 Romantic smoothies
If you're looking for a fun, light snack to share with someone you love, a smoothie is an excellent choice. If you want to show that you care, it's simple to whip up a favorite smoothie that will be ready the minute they wake up. Sip a delicious banana smoothie together, add in some strawberries for some extra sweetness – or sprinkle toppings in the shape of a heart, perhaps? If you have the barista touch you may even be able to draw on the smoothie while you pour. There are also ingredients you could add that are considered aphrodisiacs, such as figs, ginger, maca and cacao. Just mix and get ready for love!
Vegan smoothies
One really great thing about banana smoothies is that it is so simple to ensure they are vegan friendly. Blitz together fruits, vegetables, non-dairy milks, and a wide range of healthy ingredients such as turmeric and chia seeds for the perfect snack that not only satisfies your hunger but also your vegan ethics. We have dozens of vegan smoothie recipes on our website for you to choose from – why not try one today?
Variety – the spice of banana life!
There are hundreds of great, healthy ingredients you can add to your basic smoothie recipe! Try healthy options such as maca (Peruvian ginseng), acai powder, spirulina, cilantro, parsley, cinnamon, nutmeg, ginger, lime, turmeric, kale, and kefir, as well as delicious additions such as cacao nibs and unsweetened nut butters for important taste, protein and fat.
Drink your banana smoothie slowly, is the advice from experts – all the fiber and goodness stored in a healthy smoothie mean it's best savoured rather than gulped, or you may feel too full. Don't forget to add a bunch of tasty, high-quality Chiquita bananas to your shop next time you're in the store, for the best start to your healthy smoothie journey.
Privileged access to special collaborations,
VIP events, giveaways and more.