While the vegan diet is becoming more and more popular, finding great vegan snacks that are tasty, nutritious and healthy can be a little challenging. As veganism includes only vegetables and fruit and eliminates all animal products, including dairy, the range of foods you can use to make a good vegan snack are limited. This is where tasty, top quality Chiquita bananas come in very handy.
Vegan snacks are a great way to combat hunger between meals: rather than reaching for sugary candy, it's just as easy to satisfy your sweet tooth in a healthier way –the unique, creamy sweetness of a Chiquita banana is a great choice.
Our bananas are a delicious, healthy alternative that can be included in a wide variety of interesting and tasty vegan snacks and smoothies that will help you to maintain the healthy eating lifestyle you are looking for. We have lots of yummy Chiquita vegan recipes for you to try, as you'll see below! You can choose from vegan banana bread, vegan desserts, and vegan pancakes – not to mention amazing vegan smoothies!
Vegan snack recipes:
We have some fantastic new vegan snack recipes for you to try out, which are now available on Chiquita.com. Why not try some today and increase your vegan snack repertoire (as well as your snack enjoyment!).
Easy vegan banana bread by Chiquita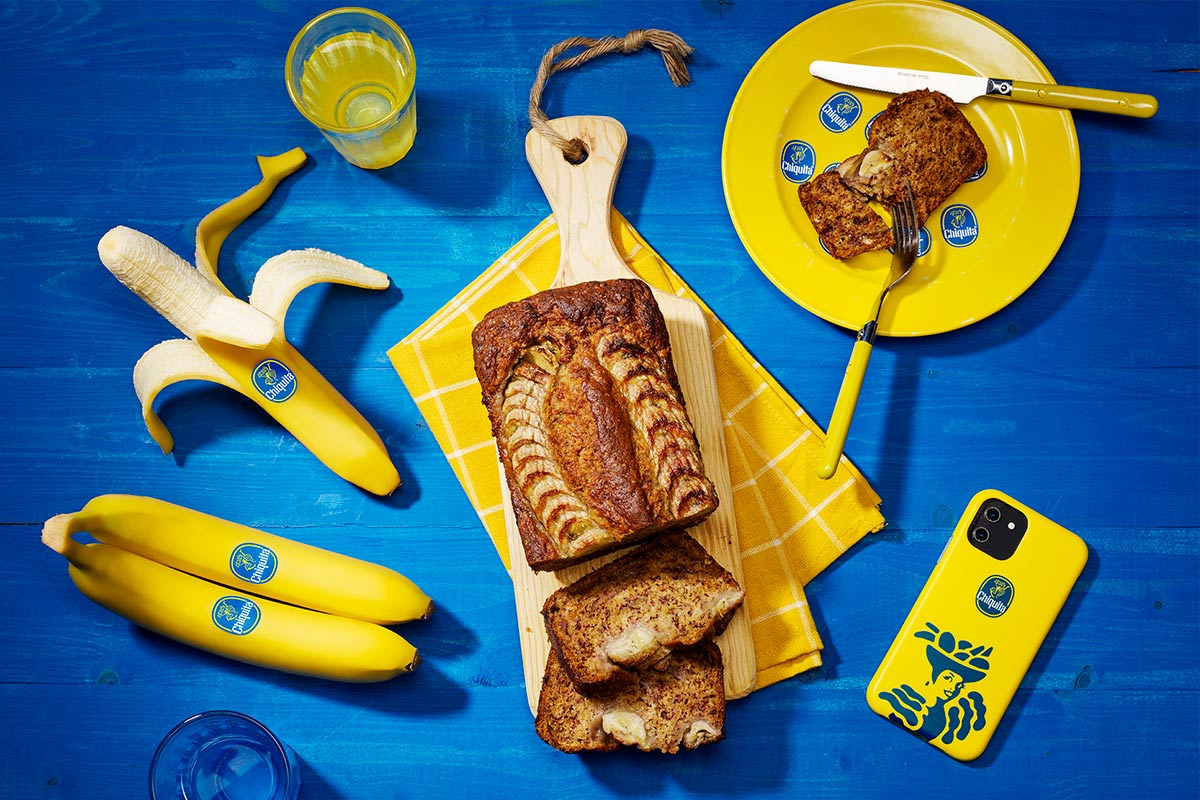 Banana bread is one of those comforting snacks we all crave – and this simple vegan banana bread is every bit as good as its non-vegan counterpart! With just a few ingredients and minimal prep, even a beginner will find this an easy and fun bread to make. And we're sure the whole family will enjoy this moist, rich and tasty vegan banana bread.
Vegan banana peel bacon by Chiquita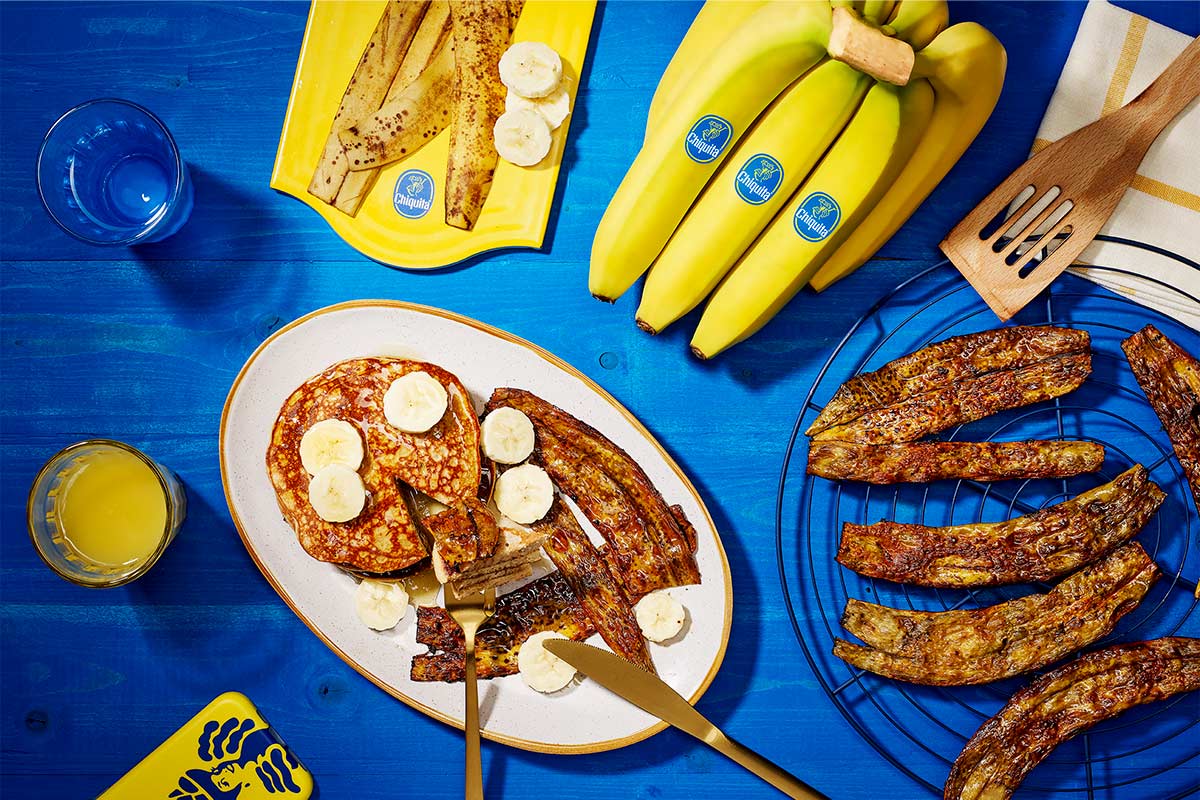 This amazing recipe gives you the texture and feel of the one food item vegetarians and vegans often say they miss the most – bacon – without the actual bacon! You won't believe that a simple marinade of easy-to-find ingredients can transform banana peels into this incredible vegan snack.
We've already got lots of fabulous vegan snack recipes on our website – why not have a look? You'll find some tempting and delicious ideas, including this tasty little sample of smoothies below.
Chiquita vegan banana-strawberry smoothie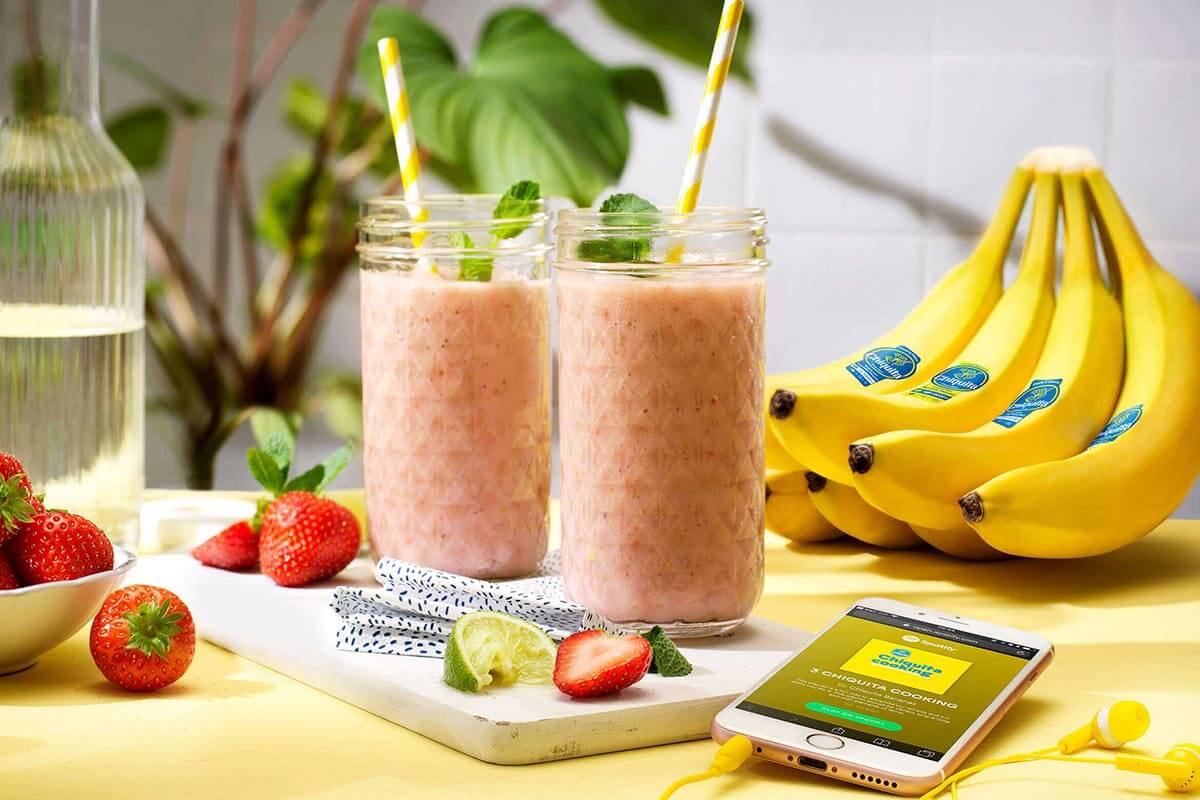 Smoothies are just the best, most satisfying snack, particularly on a hot summer's day, and this brilliant combination of rice milk, creamy banana and zingy strawberry is tops for taste. It's also super quick to make – just add the ingredients and mix! There are so many choices of non-dairy milk today that you have unlimited options.
Chiquita banana, orange and ginger smoothie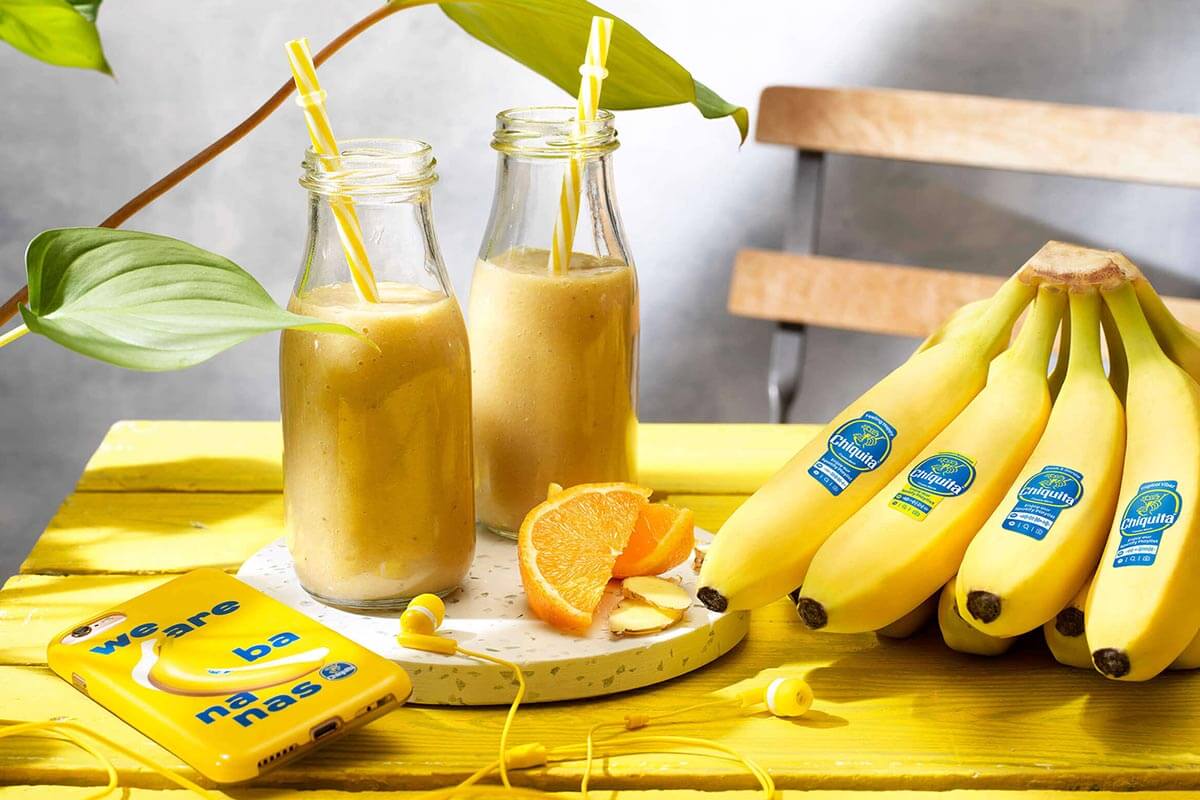 We have to confess that this is one of our own favorite recipes, brimming with taste and giving you a truly luxurious vegan smoothie experience – there's no milk at all, just some cooling ice cubes, so you'll find this super-smooth smoothie is rich and thick, as well as super chilled.
Banana health benefits
The best part of including Chiquita bananas among your vegan snacks is that they are bursting with health benefits. Bananas have good levels of vitamin B6, a very handy vitamin that provides all sorts of benefits for the body, including helping to ensure a normal energy yielding metabolism and functioning of the immune system, as well as aiding the production of red blood cells.
Bananas are also famous for their good levels of potassium, which is an extremely important electrolyte that aids regulation of the body's fluid balance and muscle contractions as well as helping to ensure the normal functioning of the immune system and maintain normal blood pressure.
Bananas are also a very respectable source of fiber, which helps you to feel fuller for longer so you are less likely to over-eat – the fiber works in tandem with the carbs in your favorite fun-filled fruit to give you a long-lasting energy boost that will keep you going as you tackle your day.
As you can see, our website is full of fantastic ideas for vegan snacks, and Chiquita bananas are at the heart of each one! So, next time you're in the store, don't forget to pick up a bunch as an amazing start to your vegan snack journey.