The Best Tasting, Highest Quality Banana | Chiquita bananas
Although we are 150 years old, the heart of the Chiquita Brand is still young! At Chiquita, we always strive to lead with our vision for the future, and to that end, we are proud to say that sustainability and protecting the environment are amongst our top priorities.
Discover everything about Chiquita
The Best Tasting, Highest Quality Banana
Our leadership team is heavily invested in ways to support our business goals while protecting the planet at the same time. Our initiatives involve sustainable farming, biodiversity, gender equality, women empowerment, as well as ways to strengthen our commercial supplier base, improve packing plants, take control of our logistics and shipping, and re-launch new brand positionings.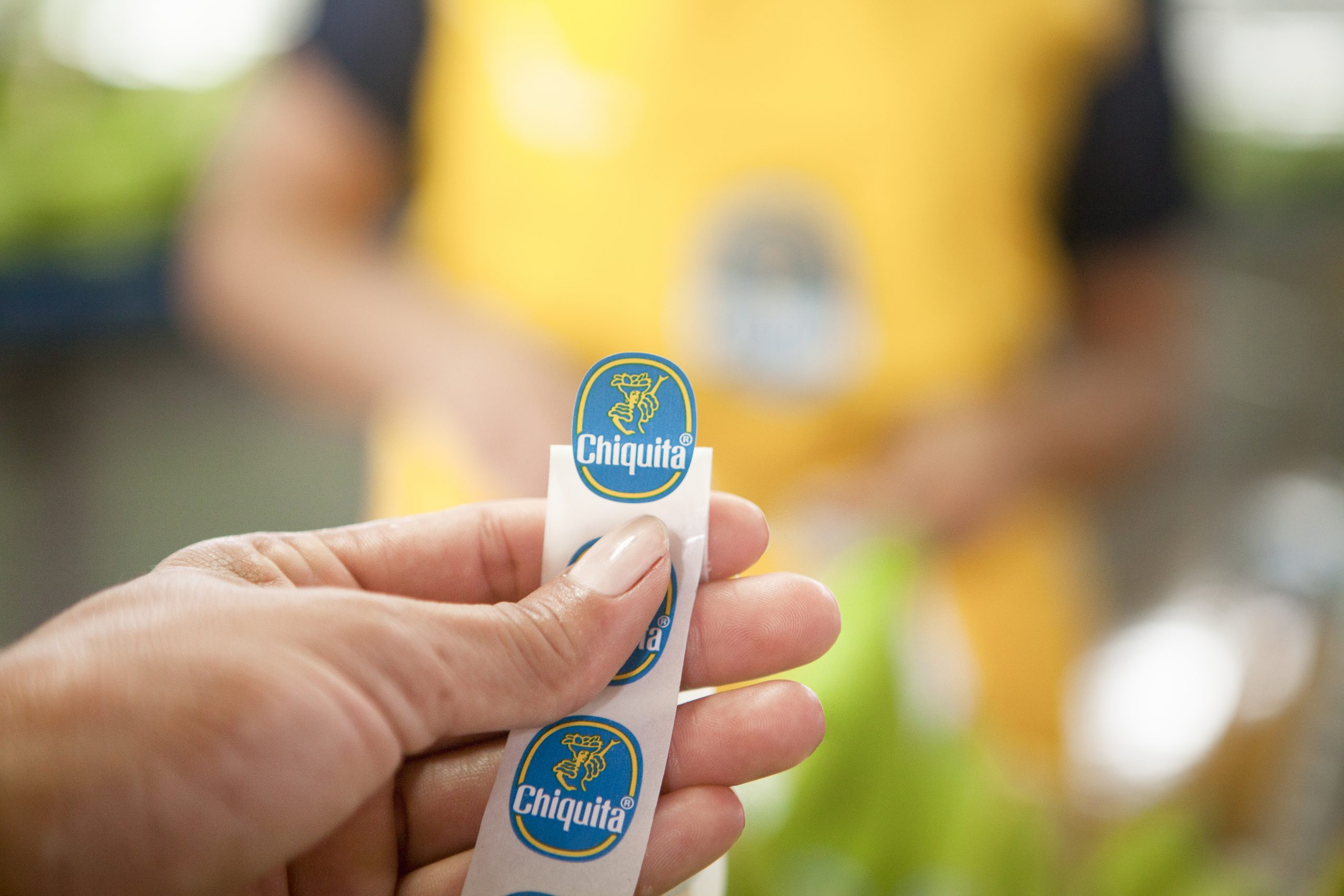 Sustainability. It's what's behind the Blue Sticker
"This seal outside means the best inside."
For over 70 years, our iconic Blue Stickers have been the seal of high-quality fruit, a celebration of fun, and a way to help tell our sustainability story.
Over the years, Chiquita has created numerous fun limited-edition versions of its Blue Sticker – highlighting fitness, fan artwork, cause-related issues, and other unique designs crafted by well-known artists such as Romero Britto.
Discover all the limited edition Chiquita Blue Stickers!
DISCOVER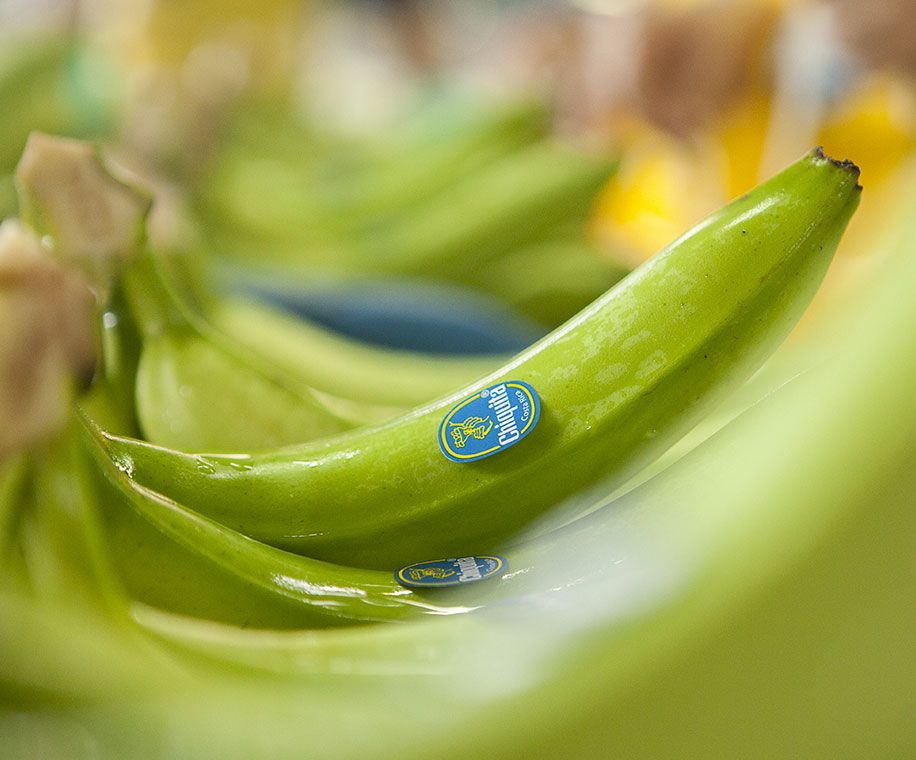 Quality is in our DNA – from seed to shelf
One of the reasons why Chiquita is known as the world's best banana brand is because of our laser-like focus on providing the highest quality products for our consumers. Our team – the employees behind our sticker – is truly what makes our products so special.
●       Fruit protection investment
●       Sustainable agriculture programs
●       Packing plant infrastructure development
●       On-going packaging improvements
●       Newly owned vessels and port modernization
●       Renovated container fleet
Bananas are earth's most recognizable fruit!
Have you ever found yourself pondering the meaning of life? And perhaps why bananas are curved and not straight? Well, we can't help you with the meaning of life, but we sure can tell you why bananas are curved and give you a reason to smile! Drum roll, please… It's because of the sun! Bananas are curved so they can reach the most sunlight…
LEARN MORE
Our initiatives for sustainability
At Chiquita, sustainable agriculture and protecting our environment are always top of mind. Once nature and gravity have played their part in the creation of our bananas, our skilled employees ensure the Chiquita bananas in your fruit bowl are of optimum quality, and above all, sustainable. Each Chiquita banana passes through a series of strict quality control checks before being granted the iconic Blue Sticker to make sure it's delivered to you in the most sustainable way we know how.
Our iconic Blue Sticker stands for our commitment to sustainability and protecting our environment, and also inspires us to do well and to give back. With sustainable farming, biodiversity, women's empowerment and gender equality at the heart of everything we do, we make sure that throughout the entire supply chain, our employees are happy, healthy and motivated.
Gender equality and women's empowerment
Gender equality is a significant challenge on the banana plantations of Latin America. In this labor-intensive line of work, usually located on remote farms dominated by men, women are often vulnerable to violence, discrimination, intimidation and sexual harassment. As one of the world's most iconic banana brands, we have taken on the task of championing women's rights and we work diligently to ensure codes of conduct are put in place to prevent incidents with zero tolerance.
The Chiquita brand and our world-famous Miss Chiquita are also a strong supporters of the fight against breast cancer, the second most common cancer for women around the world.
LEARN MORE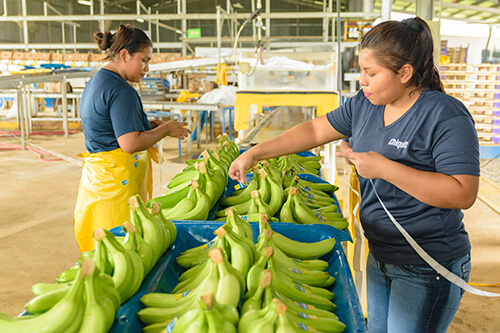 Chiquita leads the way in preserving biodiversity
Chiquita also takes decisive action to preserve and enhance biodiversity when growing and delivering our nutritious bananas:
We directly protect and promote biodiversity on our farms. We ensure no additional forest clearing takes place for agricultural expansion. Farms must not have burned or cleared high value ecosystems since 2005 and must create conservation areas or plant new trees to compensate for forests cleared, or ecosystems damaged, between 1999 and 2005.
Production must be limited to areas that can support long-term cultivation, and land that is not suited to this purpose must be returned to its natural state.
We minimize the impact of our operations on biodiversity. We use a number of methods to minimize our impact such as product rotation and good agricultural practices, such as preventive defoliation, pest monitoring and the use of traps.
We develop pioneering reforestation partnerships with our stakeholders.
Long-term sustainability. No banana wasted!
Bananas are an essential food for millions of people all over the world. As part of our commitment to sustainability, Chiquita's goal is to see no fruit thrown away by 2020.  Even if some bananas are bruised they can still be put to good use such as given to farmers to feed their livestock.
DISCOVER
Privileged access to special collaborations,
VIP events, giveaways and more.