Sustainability. Behind the Blue
Sticker
Our initiatives for sustainability
Our iconic Blue Sticker stands for our commitment to sustainable farming and biodiversity and also inspires us to give back. Ensuring efficient and increasingly sustainable business processes throughout the entire supply chain and a healthy motivated workforce are at the heart of how we run our company.
Play the video
Our strategic vision
Our "Behind the Blue Sticker" approach is built around 3 pillars: "Farmer's Code", "Being a Good Neighbor" and "For The Greater Good", We want to create shared value for the Chiquita brand, our customers, suppliers, associates and the entire community.
For the greater good
For the greater good
400 million people in 135 countries rely on the banana industry. We owe it to all of them to work with others to stop TR4.
Finding a scientific solution
Chiquita has established an innovation facility to fund scientific efforts. In 2018, we funded the first global meeting of experts in Boston.
Partnerships
In 2018, we established a partnership with Wageningen University to tackle TR4.
Stepping Up
We are taking a leadership position at the World Banana Forum to encourage peers and suppliers to engage with these efforts.
Raising Awareness
We work in all our markets to raise awareness and bring retailers and civil society on board to support our efforts.
I believe that we now have a huge opportunity for innovation in the banana industry and i thank Chiquita for their speed of action and openness to embrace a new way forward. In doing so we will be helping millions of people across countries and markets.
Prof. Ger Kema, PhD Wageningen University & Research, Chair in Tropical Phytopathology | Acting Head of Department for Phytopathology, Netherland.
Being a good neighbour
Being a good neighbour
The early years of development are key to an individual's life expectancy and earning potential. As a unique moment in life, childhood must be cherished and enhanced.
CRIA
In late 2017, Chiquita undertook the industry's first Child Rights Impact Assessments, in line with the UNICEF-developed methodology, on the company's farms in Costa Rica and Panama.
Culture
The Article One assessment identified a culture of non-discrimination and strong protection of pregnancy rights, with child rights well protected.
Action
Chiquita identified opportunities for improvement and remediation plans were immediately put in place to better enhance children's rights, especially around accessible transport to education facilities.
Education
We have reached 80% of our 2020 goal to help 20,000 school children. We are currently 33% of the way to our target of supporting 100 schools.
We applaud Chiquita for conducting a child rights impact assessment and believe that, amongst its peers, Chiquita's commitment to child rights exhibits strong leadership.
Faris Natour, Co-Founder and Principal, Article One
Farmer's code
Farmer's code
Farming in the most efficient way is good for the environment, society and business.
Operational Solutions
Average agricultural yields will need to increase by 40% if the 9.8 billion souls on planet earth in 2050 are all to be free from hunger, and our fragile ecosystems preserved.
Rejuvenation
To date 59% of all Chiquita Land has been rejuvenated increasing average yields by 20% from an already high base.
Organic
Chiquita saw an increase of 50% in organic banana sales in 2017. This is a reflection of our strategy to maximize areas where commercial viable organic production is possible.
Natural Systems
Cover crops now cover on average 33% of Chiquita land. As a result, against a 2014 baseline, we have reduced herbicide use by 36%.
Water
Half of all packing stations use water smart technologies reducing water consumption by at least 80% per station. We are rolling this to the remaining stations as part of our rejuvenation programs.

Farmer's code
Our Farm Rejuvenation and Reengineering program is part of our commitment to sustainable farming and biodiversity, focusing on improving efficiency, increasing yield and substantially reducing our environmental impact, while ensuring the optimum Chiquita banana quality.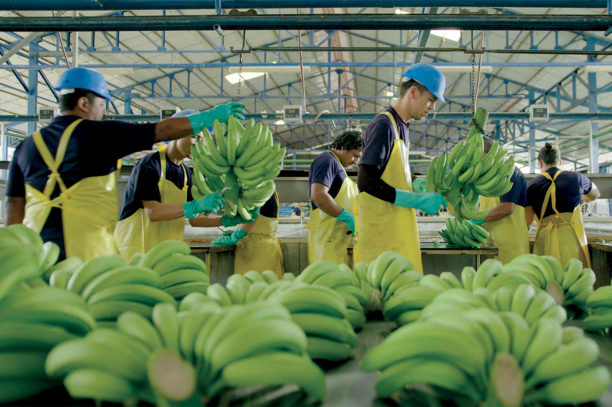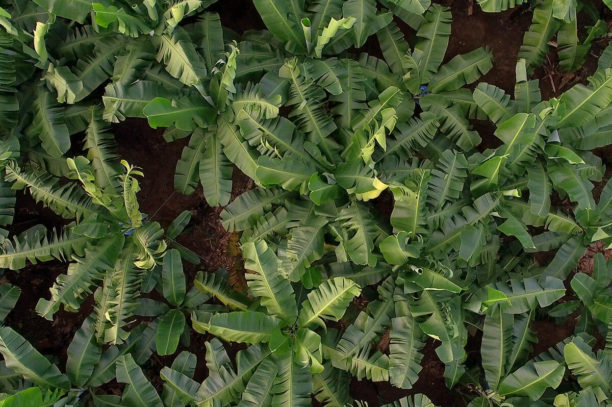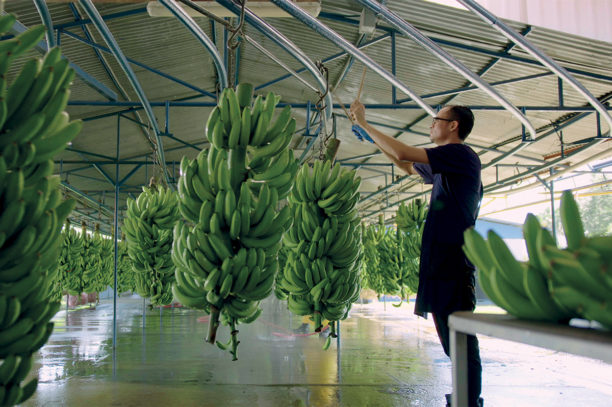 Our farm rejuvenation programme will continue until 2022, as it is an essential part of improving the way we produce our bananas sustainably. Rejuvenation means increasing yield without extending land usage. The rejuvenation phase provides a great opportunity to remove considerable amounts of plastic, which were used in the past, from the soil (1 ton/hectare).
Hugo Leonel Aroche Morales
Global Quality Director
Saving water
As part of our commitment to sustainability, we strive to minimize water use and safeguard water quality. To achieve this, our water strategy and water management policies are based on the results of independent studies by the World Wildlife Fund (WWF).
Our farms, and the thousands who work on them, are at the heart of our business. Our Employees at the Centre program runs initiatives that ensure our employees get the right training and support and are healthy, safe and motivated in their daily work.
Women empowerment and Gender Equality
Achieving women empowerment and gender equality in banana producing countries is highly challenging. In order to increase the proportion of women in the workforce, we actively create and provide job opportunities and communicate with the women in the local communities, motivating them to apply. We have already been successful in doing this and gained useful experience. We are continuing to assess these processes, with a view to identifying how we can best promote the role of women throughout the company.
Raúl Gigena Pazos
Human Resources Director
Employee representation and wages
Costa Rica, Honduras, Guatemala and Panama are represented by 35 different organizations. This relationship is overseen by the industry's only International Framework Agreement between Chiquita and the IUF.
This partnership has been in place since 2001 and over this time has seen Chiquita employees trade union membership far exceed the national averages.  On average within Chiquita there is  a trade union participation rate of 71%.
This collective bargaining has paved the way for some of the highest wages in the industry. On average even the lowest paid worker earns over 30% higher than the Living wage as certified by SAI through their SA8000 standard.
Low carbon supply chain and operations
We prioritize optimizing material use and then reuse, whenever possible.
In 2018, to date, we have renewed 138 generator sets. The new sets save
52 % of diesel versus previous ones. This results in using 250 tons less diesel per year.
Cold Ironing of our ships has meant we are able to save 1 150 tons of CO2 emissions each year, equivalent to the annual CO2 emissions of 200 cars on the road.
73% of our container fleet has now been replaced with modern, energy–saving versions saving of more than 3.5 million liters of fuel.
At Hueneme in California our cold storage operations have a 1.0 MW solar array installed. In 2017 it was the largest in North America.
Open since 2011 and consisting of 22 ripening rooms of various sizes, the Gorinchem banana ripening facility is Chiquita's first plant to operate CO2 neutral.
Being a Good Neighbor
'Being a Good Neighbor' means more than just providing employment – we understand that our farms all depend on their local communities.  Because of this, we ensure that all our activities are undertaken in consultation with the community, who best understand their own priorities.
We are proud of our industry-leading efforts to protect children's rights.
We fully endorse the Children's Rights and Business Principles (CRBPs) developed by UNICEF, the UN Global Compact and Save the Children.
Each year we provide support packages to school children, since 2016 more than 18,000 packages have been distributed across 4 countries.
Protect children's rights
Chiquita is taking decisive action to preserve and enhance biodiversity when growing and delivering our nutritious bananas. We have developed the Nogal project where 100 hectares of land has been restored, preserved and maintained through our efforts. We also donated 160 hectares of reforested land of the San San Pond Sak wetland reserve to the people of Panama.
We have invested considerable sums in supporting infrastructue projects in Puerto Barrios in Guatamala.
We are supporting the 7th Volunteer Fire Company of Puerto Barrios by donating equipment and repairing vehicles.
We are strengthening the potential for sports in Puerto Barrios, and have remodeled the Roy Fearon Municipal Stadium.
Since the start of 2018, our workers in Honduras and their families, around 9,000 people, have been given exclusive use of Hospital Del Valle.
The disease TR4 affects staple food crops like plantains and other edible types of banana. This means it is a serious risk to the food security and livelihoods of millions of people. All those involved in the banana business are therefore morally obliged to help efforts to tackle this disease – a role that Chiquita fully embraces.
United Nations Sustainable Development Goals
The Sustainable Development Goals are the blueprint to achieving better sustainability and biodiversity in the global farming industry. At Chiquita, we've adopted these 17 interconnected goals.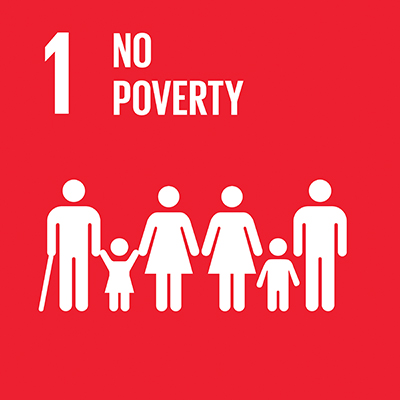 Our commitment to tackling TR4 directly relates to ensuring the livelihoods of millions globally. We invest in helping to create sustainable growth in local communities and have an exemplary rewards package in place for our employees.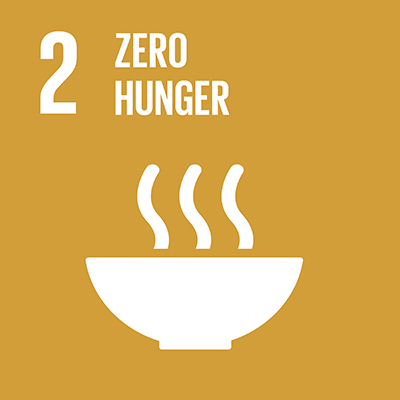 As well as our work For the Greater Good, tackling TR4, we farm with an eye on the future using technology to achieve the best farming results.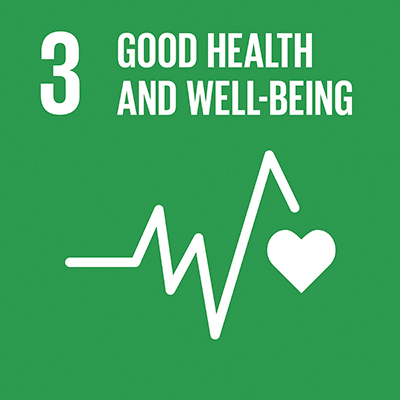 Bananas continue to be the most consumed fruit on earth, contributing to the health and well-being of millions globally.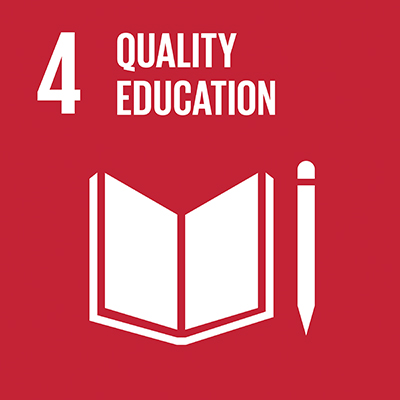 Our children and education program has distributed just under 25000 school assistance packages in the last 5 years.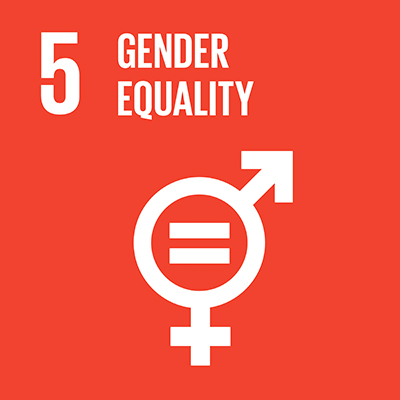 Our annex agreement with the IUF* and COLSIBA** makes gender equality a key part of all our collective bargaining agreements. Chiquita is committed to publishing a comprehensive pay and opportunities gap analysis by 2020.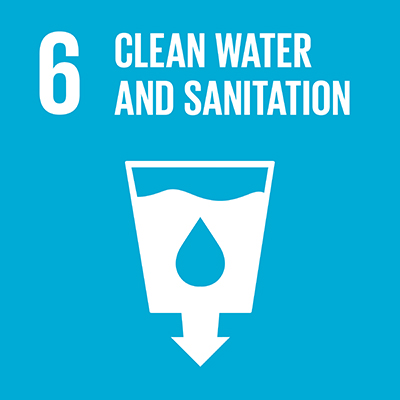 Over the last 5 years we have invested in water–smart technologies, reducing water use in packing stations by 23 %.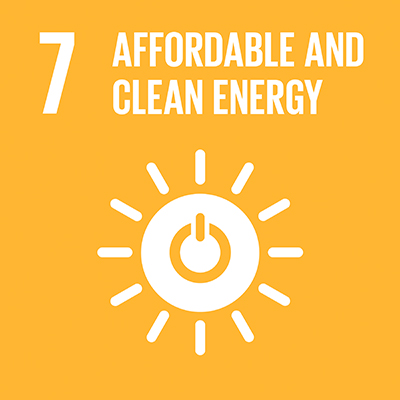 Our energy use is relatively low, and is mainly in shipping and ripening. Here, we have made significant investments in energy efficiency over the last few years, including one of the world's first carbon–neutral banana ripening facilities in The Netherlands.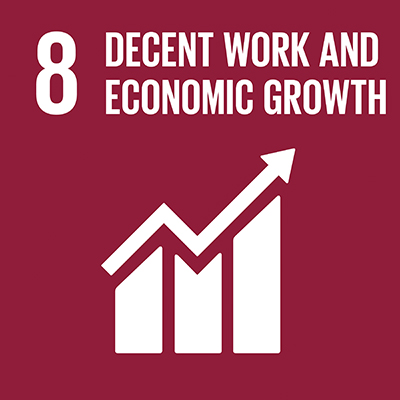 Above all, our employees are at the heart of everything we do. We pay on average well above national minimum and living wages and are the only international banana company to have an international framework agreement in place with the IUF*.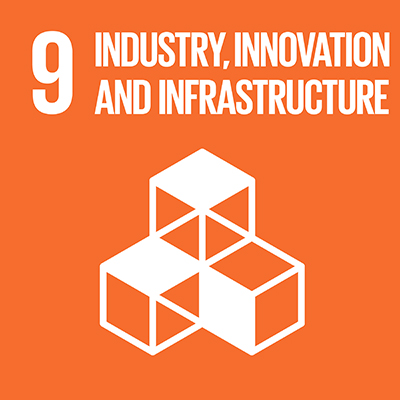 Since 2015, we have replaced over 10000 containers in our fleet with energy–efficient ones, saving over 17000 tons of CO2 per year. In 2017, we converted all vessels to a process called cold ironing, reducing emissions by 1150 tons of CO2 each year.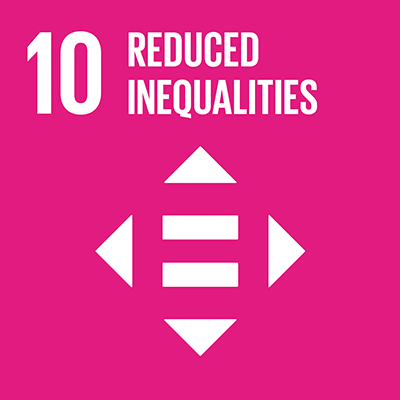 We fully support the UN Universal Declaration of Human Rights, the International Labour Organization Core Conventions and the UN Guiding Principles on Business and Human Rights.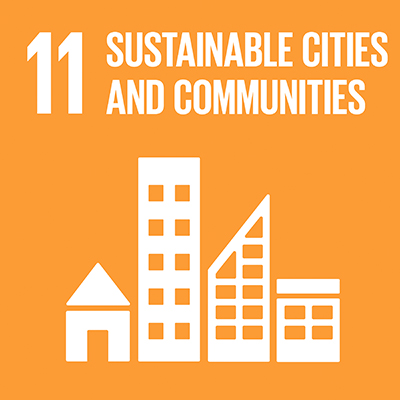 We believe in embeddedness, which is a way of measuring our effectiveness.
It is part of our relationship with the communities that we are so deeply linked to. We work with communities in 12 municipalities across four countries to help create sustainable growth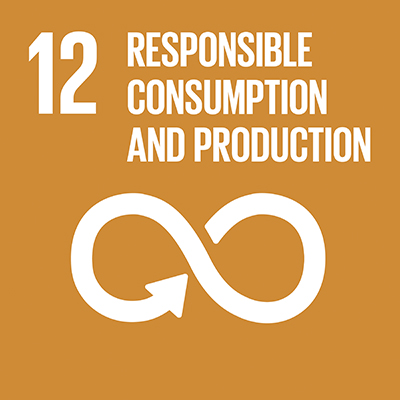 Our "no banana wasted" program ensures that no bananas enter landfill at any point in our supply chain.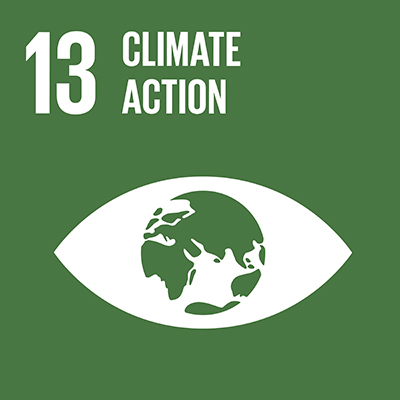 Following the Paris climate agreement, we will work with external experts to set new, science–based targets by 2020. These are in line with contributing to the two degree maximum global warming target and ensure we can set and then meet our carbon budget.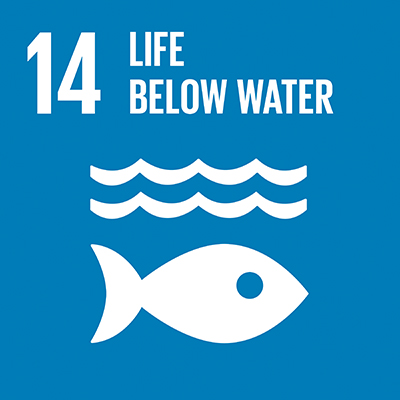 Our Great White shipping Fleet operates to the highest international standards.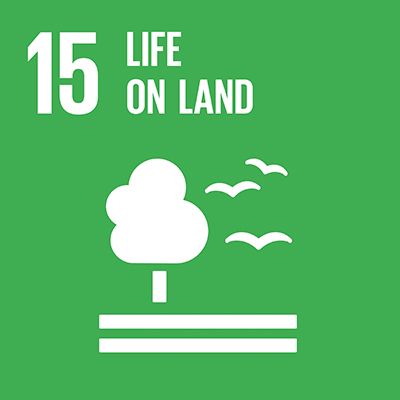 Since 2004, all of our farms have been certified by the Rainforest Alliance, ensuring the protection of vital ecosystems. Most recently, we have donated the San San Pond Sak wetland, 160 ha of reforested land, to the people of Panama, and maintained 100 ha of the Nogal Reserve, which is part of the Meso–American wildlife corridor.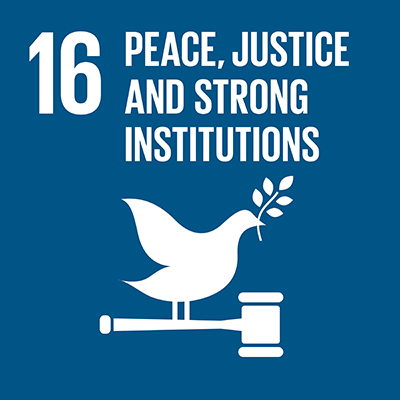 We have active grievance mechanisms within the company, with governments and trade unions, and an independent hotline.
We work with all to ensure strong, peaceful industrial relations.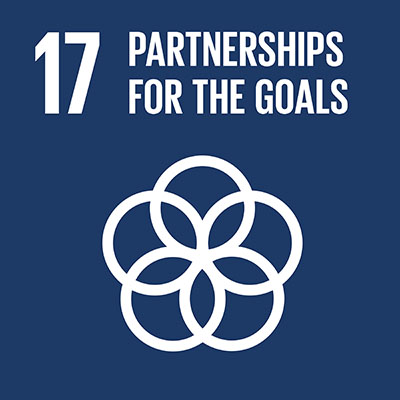 Chiquita sits on the steering committee of the UN–hosted World Banana Forum, and is the enabling force behind collaborative efforts with international universities like Wageningen in The Netherlands to tackle TR4.
Take a virtual trip to the tropics
We want our iconic Blue Sticker to stand for sustainable bananas!  Enter our VR experience to visit our banana plantation and discover our initiatives that support our commitment to sustainability, women empowerment and biodiversity.
How does it work?
Assemble your Chiquita VR Viewer
Turn up your sound and click play.
Put your smartphone inside the viewer and enjoy the video.