September 25th is the Global Day for Climate Action: at Chiquita we are committed to contributing to this important cause in the best way we can. Climate change is one of the most important issues of our time, and it's vital that we continue to play our part in minimizing its effects for the sake of future generations. Chiquita has committed to reducing its carbon emissions of 30% by 2030 and has a fully detailed roadmap in how to achieve this.
The challenge
It's important that we all do what we can to help in the fight against climate change – the latest report from the IPCC (the Sixth Assessment Report) warns that "it is unequivocal that human influence has warmed the atmosphere, ocean and land" and that the changes are "widespread, rapid and intensifying". In other words, climate change is already here, and at the heart of many weather and climate extremes around the globe.
The results are of great concern for all of us: in recent weeks, record flooding has devastated parts of the Netherlands, Switzerland and Germany, where at least 155 people were reported missing after two months' worth of rain fell in two days. In Greece, extreme heat has fueled wildfires that have raged out of control – Spain, Turkey, and Italy have also been badly affected, as well as California and other western states in the USA. The IPPC report underlines that it is likely these events are all effects of climate change.
Chiquita's own operations have experienced the effects of climate change – our farms and communities in Honduras and Guatemala were hard hit by hurricanes Eta and Iota, for example.
As a global leader in food production and a caring employer, we fully embrace our responsibility to reduce these impacts.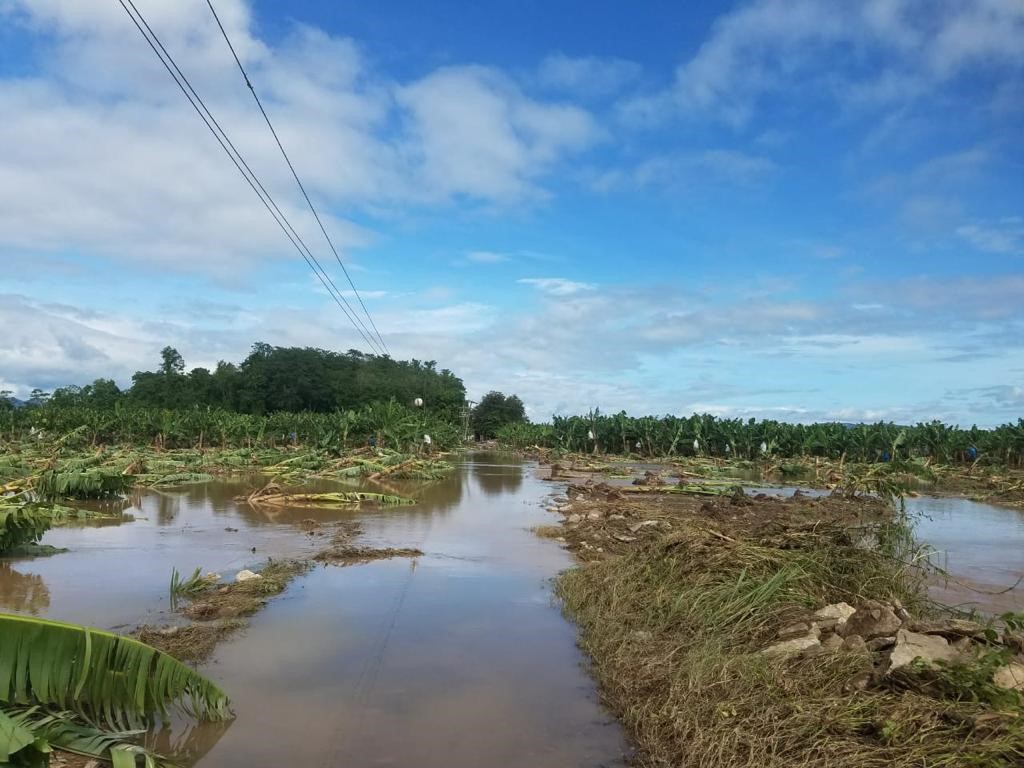 What can we do?
Limiting climate change means limiting our CO2 emissions, reaching at least 'net zero', along with major reductions in other so-called 'greenhouse' gases (GHGs). Agriculture accounts for 11% of global GHGs, and climate change also badly affects agriculture: changes in rainfall patterns and availability and the increasing frequency and severity of extreme weather events has led to disrupted food availability, reduced access to food, and reduced food quality. This means agriculture is both part of the problem and potentially a key part of the solution.
The Chiquita journey to sustainability
Chiquita is committed to producing tasty, top-quality bananas, while adopting new and more sustainable practices and techniques that drive down carbon emissions to ensure our vital crop remains available to the millions around the world who love and depend upon it.
Our journey towards sustainability began many years ago – since 1990, we have been committed to pursuing a 'principled embeddedness' approach to help generate sustainable change in the regions where we work. We are committed to following the principles of corporate responsibility wherever we work, enriching local communities, transferring knowledge and technology, and increasing opportunities for people to improve their lives. This approach is very much in line with the UN's Sustainable Development Goals (SDGs), which are designed to help end poverty and solve environmental and health challenges.
Today's initiatives
We are farmers, and agriculture is the heart of our operations. We've had a sustainable program of farm renewal and engineering for many years, called the Farmer's Code. As part of this, we improve our land, switch banana varieties, increase the number of plants we grow in an area, and improve crop cover. We are always increasing our efficiency and yield and reducing our environmental impact, while still growing the best possible bananas.
We also work hard on reforestation and biodiversity through our Being a Good Neighbor program, with important initiatives like the Nogal project in the Mesoamerican Biological Corridor, which restored, preserved, and is maintaining 100ha of key reforested land. We have also donated 160ha of reforested land in the San San Pond Sak wetland reserve to the people of Panama.
In 2020, our Carbon Footprint Study identified the key areas we need to focus on, in line with the Treaty of Paris. This has enabled us to work with the Science Based Targets initiative (SBTi), a joint effort from the Carbon Disclosure Project, UN Global Compact, World Resources Institute and WWF. The SBTi encourages companies to set greenhouse gas emission reduction targets to help meet the need to stay within 1.5ºC of pre-industrial temperatures. We are very proud to be the first global fruit company to receive SBTi approval.
Our 30BY30 program is the result: this ambitious initiative aims to reduce our carbon emissions by 30% by 2030, with a detailed roadmap that puts us at the leading edge of the fight against climate change. As part of this work, we're moving to greener electricity using solar panels or wind turbines, switching from diesel to biofuels or electric vehicles, and reducing nitrogen emissions from fertilizers.
Our 30BY30 initiative has allowed us to introduce our first CO2-neutral banana in Belgium, which was achieved through our CO2 offsetting project in Costa Rica, where we've installed a 25-turbine wind farm generating 226,000 MWh of clean energy. Our work has also helped us to meet SDG targets 13, 7 and 8, and naturally our 'green' bananas have the same top quality and great taste as every Chiquita banana!
As part of our For the Greater Good program, we hope our 30BY30 initiative will inspire others in the industry to develop their own science-based carbon reduction targets.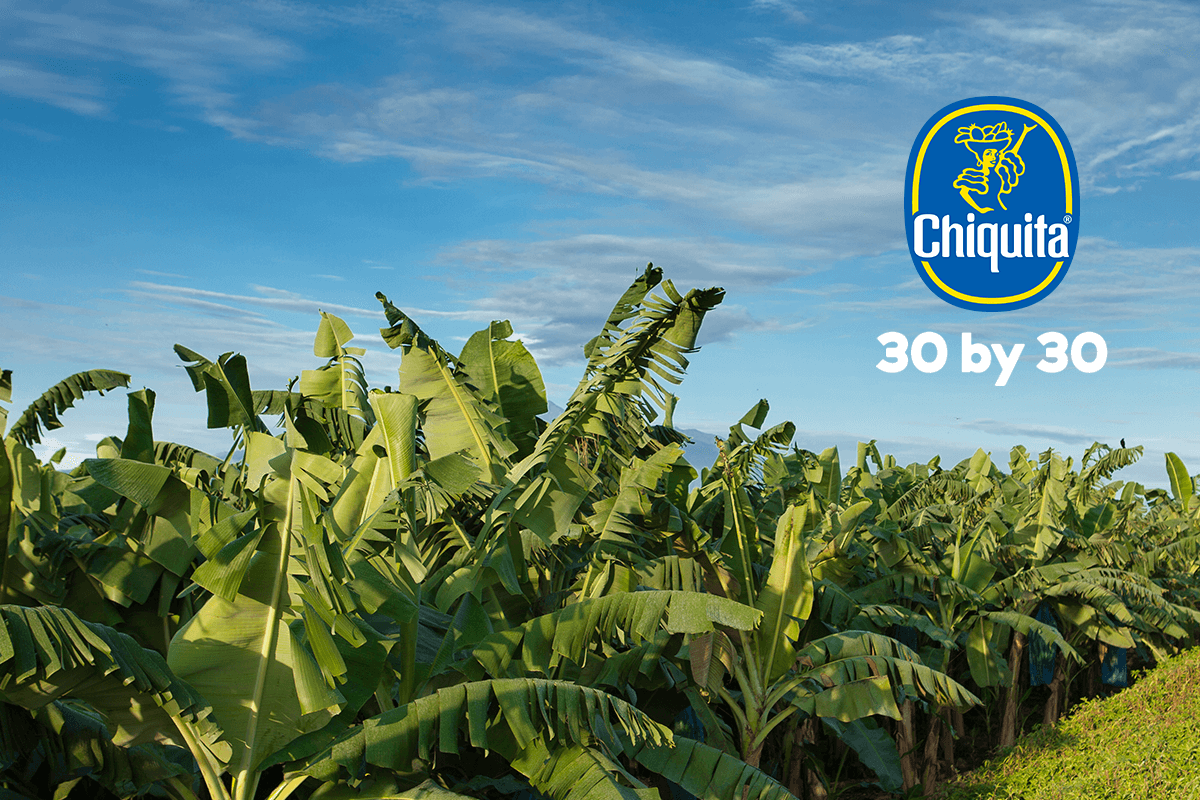 Ongoing work
We are also helping in the aftermath of extreme weather events, doing our part to provide aid to those affected, working with key relief organizations and the relevant government institutions to organize and undertake relief efforts through funds, donations, and logistical transportation to help restore destroyed hospitals, roads, schools and homes.
We are working hard to reduce food waste, ensuring that none of our beautiful bananas go to waste – bananas that don't make the grade for export are turned into delicious banana puree or banana flour, and bruised bananas are donated to local farmers as livestock feed.
Our focus will continue to be on ensuring our social and environmental sustainability and that of our supply chain keeps improving. We want to ensure that when a banana lover chooses Chiquita bananas, they can also be confident they are choosing a product that's not only delicious but playing its own part in the battle against climate change.
To learn more about Chiquita's engagement against climate change, please visit www.chiquita.com/sustainability.