Keep healthy and hydrated this summer with… bananas!
Summer is almost here and what better way to get ready than to read up on some great healthy smoothie recipes to get you through those long hot days. When the weather is warm and sticky, sometimes you just want to skip a meal. A  healthy smoothie made with the goodness of Chiquita bananas is a great substitute for a traditional breakfast or lunch – and do we have some recipes for you!
Non-alcoholic mixed drinks are seen as the hottest choice for this health-conscious but fun-loving generation because of the rapidly increasing awareness of the need to consume food and drink that benefit the body.  Millennials also want this to be a really enjoyable experience.
Adding a delicious Chiquita banana to a health drink is the perfect way to ensure a smoothie or mocktail ticks all these boxes – Chiquita bananas contain a great spread of vitamins and minerals and are also perceived as tasting better than other brands. Below, we raise a glass to a selection of fabulous, spirit-free, easy power fruit smoothie recipes.
Chiquita Banana Ginger Tea Mocktail
2 cups of green tea (or kombucha)
Thumb-sized piece of raw ginger
One Chiquita banana
Juice of two limes
Half a teaspoon of turmeric
Teaspoon vanilla essence
Two teaspoons honey
Ice
Method
For this spicy treat filled with Vitamin C, pour two cups of boiling water over two bags of green tea and a grated, thumb-sized piece of fresh ginger. Allow to cool before straining and then add the green tea mixture, vanilla, turmeric, a tasty Chiquita banana, honey and the lime juice. Blend together and add crushed ice before serving.
Pink Sunrise mocktail with Chiquita bananas and watermelon
Chiquita bananas
One grapefruit
Three slices of watermelon
Two cups of sparkling water
One lemon
Mint to garnish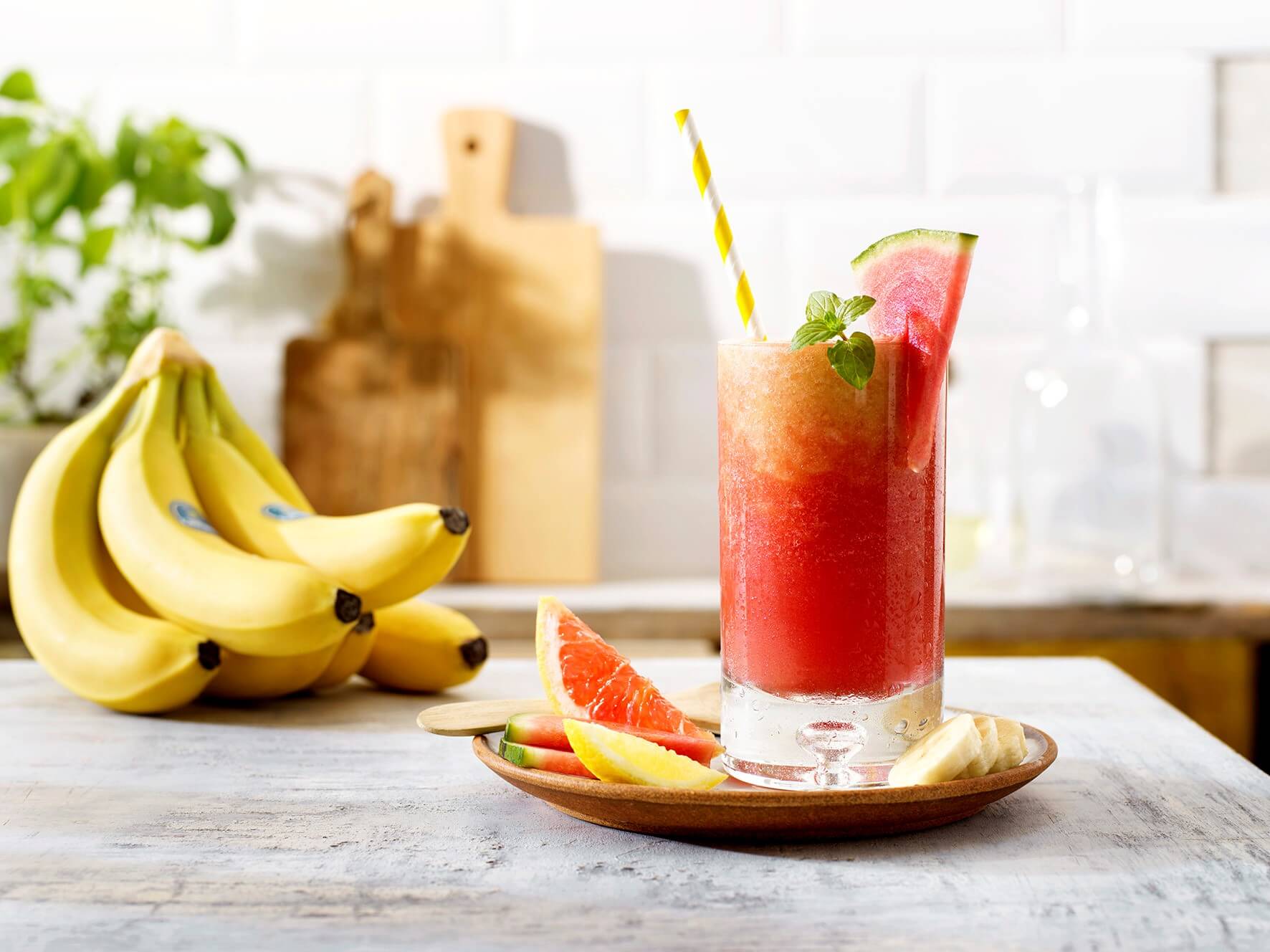 Method
Blend two Chiquita bananas with half a grapefruit, three quarters of a cup of sparkling water and one squeezed lemon. Set this mixture aside and in another bowl blend one and a half cups of sparkling water with the three slices of watermelon and the second half of the grapefruit. To serve, fill half of the glass with the red juice and top up with the second juice and then garnish with a piece of watermelon and mint.
Frozen smoothie with Chiquita bananas and peaches
One and half Chiquita bananas
Two peaches
Two and a half cups    water
One lemon (zest + juice)
Two tblsp of pistachio nuts
Half a pomegranate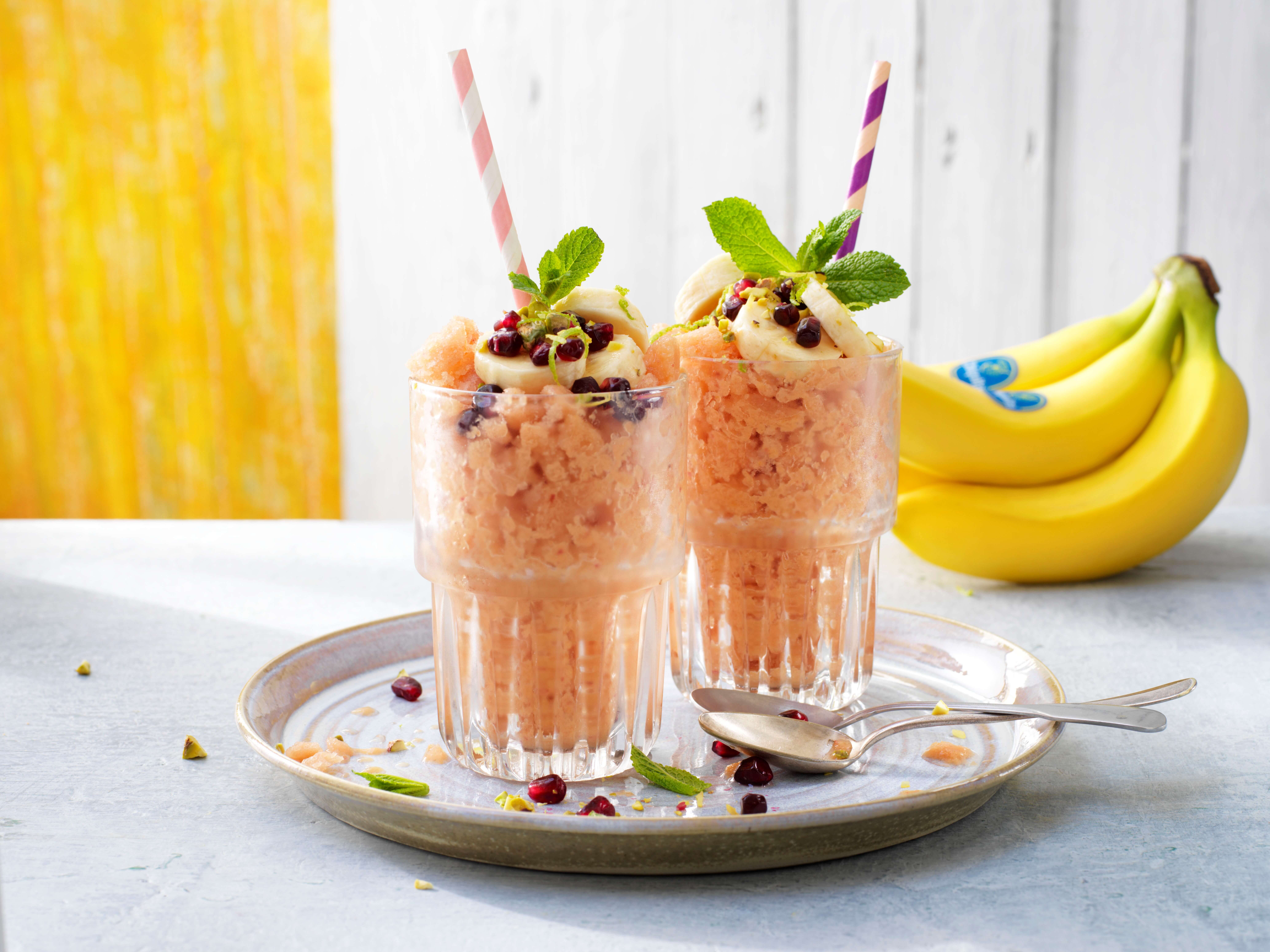 Method
Grate the lemon zest in a separate bowl. Cut up one banana and grind the pieces together with the peaches, the lemon juice and the water to a smooth mixture. Pour the mixture into a low metal baking tray and put it on the freezer for an hour. When the mix freezes, stir with a fork to create ice crystals. Put the mixture in glasses and garnish with half of the banana, the pomgranade, lemon zest and pistachio nuts.
Tropical banana colada shake with coconut water
Two Chiquita bananas
Two cups of coconut water
Two cups of mango juice
Three sprigs of mint
Two limes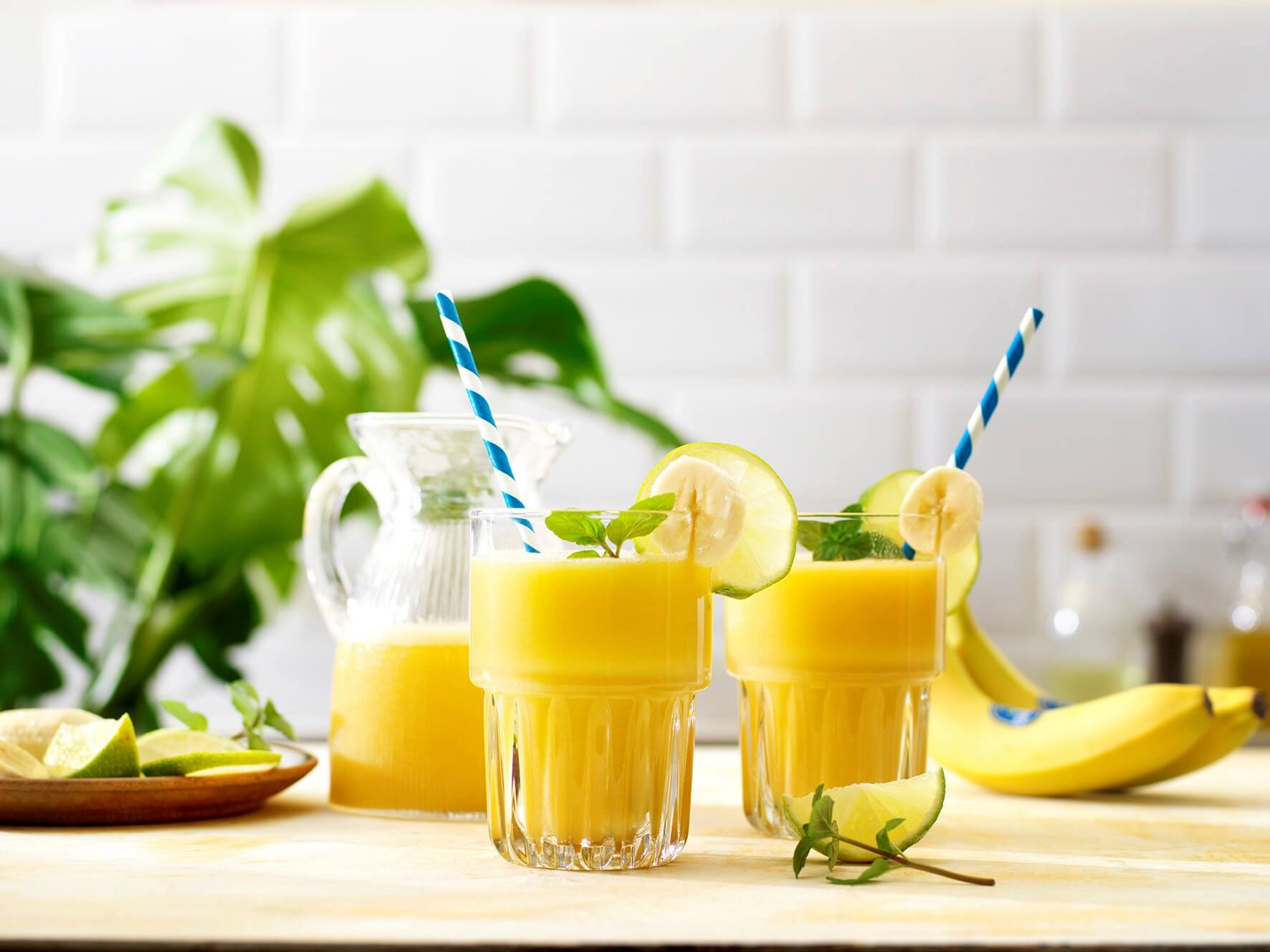 Method
Chop the Chiquita bananas in pieces and blend them with the coconut water, mango juice and a lime. Pour the juice into the glasses and garnish with the second lime and sprigs of mint according to taste preferences.
Chiquita Banana Avocado Smoothie
One Chiquita banana, cut into chunks and frozen
One cup of mango chunks, frozen
One avocado, cut into chunks
One cup of Swiss chard
Two teaspoons of chia seeds
One cup of almond or soy milk (according to preference)
Two teaspoons of honey
Method
For a creamy, super-healthy green smoothie, blend all the ingredients together and serve in tall glasses.
Chiquita Banana Orange Frostie
One cup orange juice
Dash of fresh lime juice
One cup almond or soy milk (or skimmed dairy milk according to preference)
One Chiquita banana
One cup lemonade
Method
For a tingly treat to boost your vitamin C intake, blend all ingredients except the lemonade until smooth. Add lemonade and enjoy with curls of orange or lime peel placed on top.
Get involved in the conversation online by using #Chiquitabanana or find more banana mocktail, banana shake and healthy smoothie recipes  HERE