Chiquita has helped track and field coach Melvin Nyairo to achieve his dream of breaking a Guinness World Record™ for the fastest half marathon dressed as a fruit.
Melvin's dream fitted well with Chiquita's mission to highlight that fitness and a healthy lifestyle can be fun. It has worked with and supported runners and athletes throughout its history. After gaining attention for running a half marathon in California dressed as a banana, Chiquita decided to help Melvin by providing an ap-peeling new banana suit, training gear, nutritious Chiquita bananas and a round trip ticket to Toronto. On October 20, Melvin's dream became reality at the Scotiabank Toronto Waterfront Half-Marathon.
Melvin crossed the finishing line in style, in a time of 1:15:35, breaking the previous record of 1:19:13. To celebrate this half marathon, Chiquita has offered him a year's supply of his favorite fruit (bananas, naturally!) to help fuel his future training runs. Melvin is now Officially Amazing™.
Jamie Postell, Director of Sales North America, said: "Chiquita has always been committed to demonstrating the fun side of healthy snacking, and it doesn't get more fun than running a race dressed as an iconic yellow banana. We're thrilled to help Melvin accomplish his dream and hope he enjoys snacking on our delicious bananas as he continues to train for upcoming races."
"Growing up in Kenya, I have always loved bananas as they've helped fuel my training throughout the years. It was such a natural choice to run the marathon dressed as a Chiquita banana to break the record," said Nyairo. "Racing on behalf of a reputable brand such as Chiquita has been an honor, and breaking a world record will be an experience that I will cherish for the rest of my life."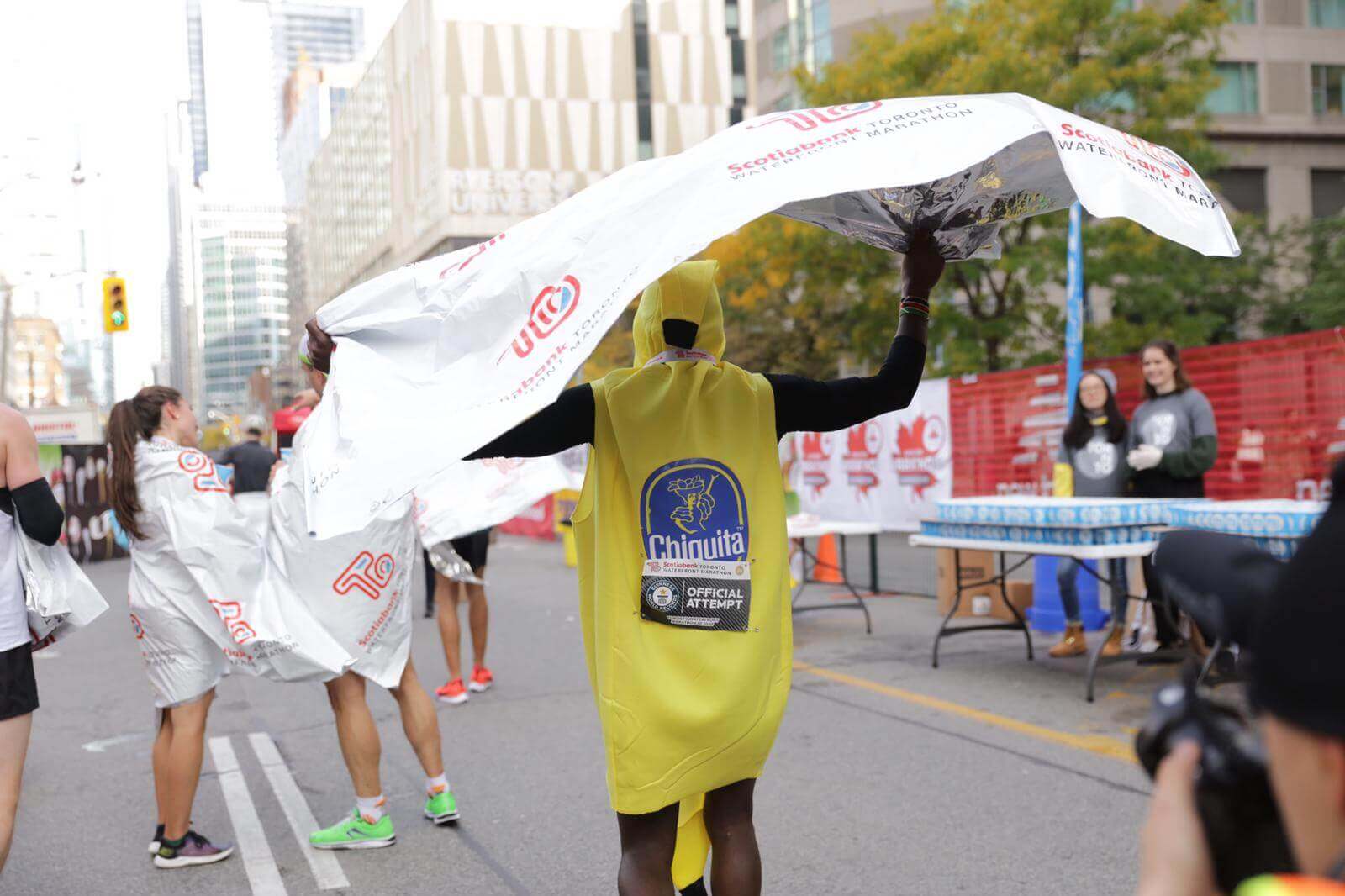 Chiquita bananas are full of healthy nutrients and an easy, portable snack that is easy to fit into a backpack or gym bag. Bananas have a generous helping of potassium that is important for building lean muscle, and their fiber and natural sugars offer a long-lasting energy boost.
Chiquita's tasty bananas can be an important part of your daily health and fitness drive, and our website has many great healthy recipes to help make getting fit as enjoyable and tasty as possible. Here is a selection:
Chunky oatmeal cookies with Chiquita banana and blueberry
These fabulous chunky cookies provide great pre-workout fuel and are easy to prepare, teaming Chiquita bananas and oatmeal with peanut butter, blueberries and mixed nuts to create a healthy, chewy treat that is impossible to resist. Sprinkle in a few sugar-free chocolate chips to make them even more irresistible!
Vanilla protein shake with Chiquita banana
After that daily workout, a protein shake can really help to repair and build muscles, and this yummy recipe is also a great way to use up ripe bananas. With soft curd cheese, frozen blueberries, hemp seed and vanilla extract, this smoothie provides a daily dose of goodness and a great energy boost.
Easy frozen Chiquita banana smoothie bowl
Not only simple to make but beautifully creamy, this high-protein frozen smoothie is an ideal post-workout meal. Frozen bananas, oat milk, cinnamon, honey, cocoa nibs, walnuts, blueberries and mint as garnish give this an amazing taste that keeps fitness fans going throughout the day.
#ChiquitaBanana