Celebrate the Banana sun with the shortest night of your life!
Celebrate the Banana sun with the shortest night of your life!
On August 21st, you will probably be one of the millions of people streaming to Hopkinsville, KY, Carbondale, IL, and other U.S. locations in the direct path of the highly anticipated solar eclipse. It's a once-in-a-lifetime event that's sure to blow up the internet. The next one won't happen for 200 years, so it's now or never!
Those with a great view will see one of nature's most amazing spectacles as the moon will totally upstage the sun. Plus, for two glorious moments before and after the total eclipse, Chiquita—with the moon in a supporting role—will transform the ball of flaming gas into the crescent shape of a giant Chiquita banana in the sky (thank you Mother Nature—money can't buy this kind of press).
Even if you can't snatch a prime viewing spot, you can still get in on the experience. Since the actual eclipse will last less than three minutes, it's going to be the shortest night of your life. So as you wait for day to turn into night, it's the perfect time to celebrate all things banana at a Chiquita banana sun party.
Unfortunately, we couldn't reschedule the spectacle for a weekend. Regardless, why not use your business lunch break, or convince your teachers that it's the perfect opportunity to celebrate the banana sun at a pop-up party? Let's turn it into a fun learning experience!
Bananas and the sun go hand in hand. Both are yellow, bright and make people smile (the man in the moon always looks so serious, but even little kids draw the sun with a giant grin). 
Here are some cool ideas to bananafy your event:
Get your banana on
If your schedule allows you to celebrate in style either before, during or after the big event, get creative with some of these spacy snacks. Try whole peeled bananas on ice pop sticks, dip in yellow colored white chocolate, roll in nuts and coconut, and freeze. If you want to give the moon a little credit; dip one end in a little dark chocolate.
Are you grilling? Give 'em s'more Chiquita banana sun boats. Make tin foil pouches to hold a banana sliced length-wise but still in its skin. Fill with honey, cinnamon, chocolate chips and mini-marshmallows. Simply crimp the edges to seal and cook till it softens into a gooey mush of deliciousness. Eat with a spoon. Please dispose of your banana skin properly…you know they are slippery. Find other great recipes here.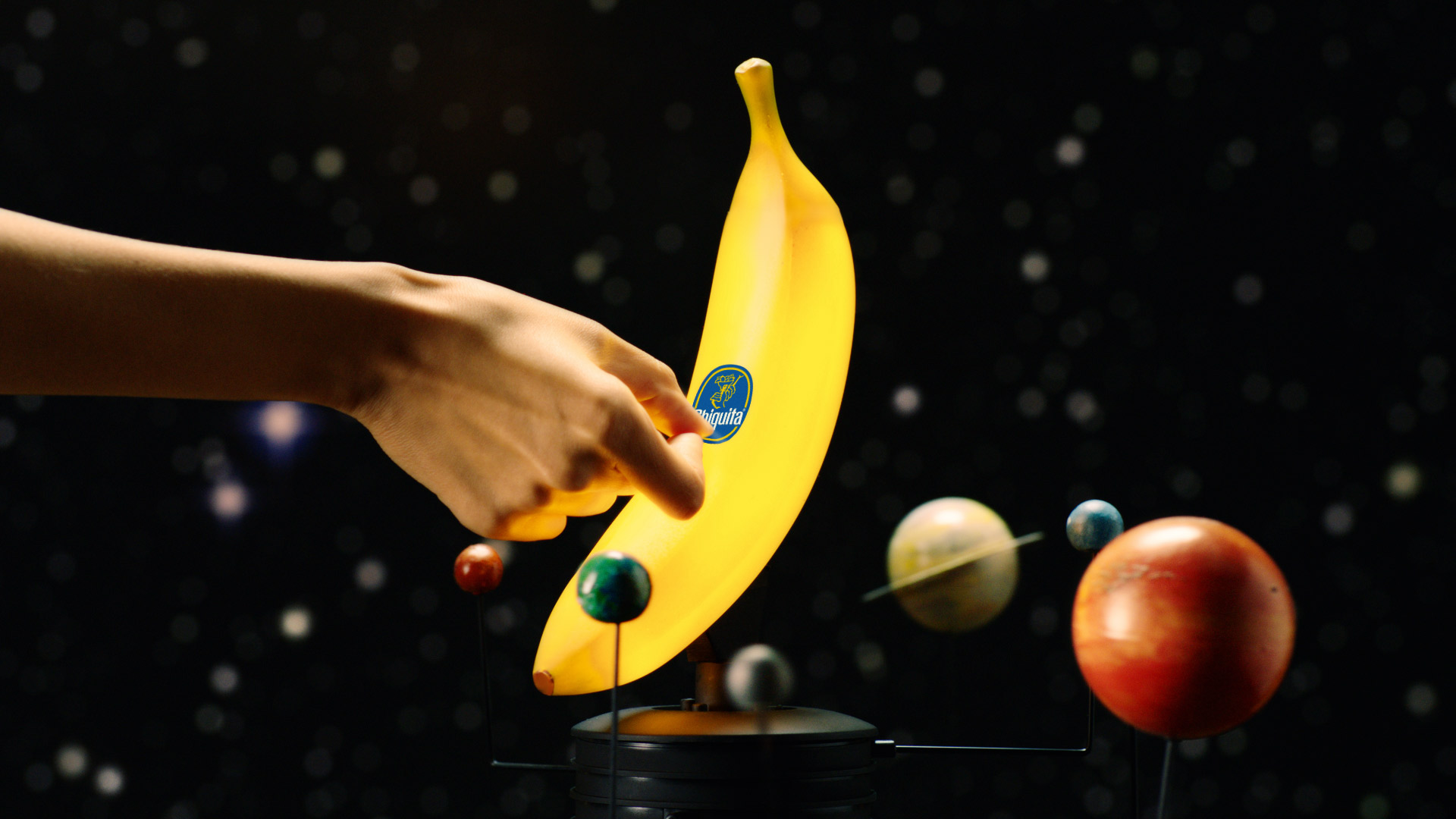 Take a bow, banana
Set up a banana split space bar to make all sorts of sunny concoctions. Supply lots of sliced bananas, assorted ice cream flavors, fudge and caramel sauces, nuts, and whipped cream. Take photos and the most Instagram-worthy creation wins a prize.
Here's one your teachers will like - hold a banana and solar trivia contest. What is a bunch of bananas called? How many bananas would you need to stack to get to the Chiquita banana sun? (9.4 billion) The sun is so large, how many earths could fit inside of it? (About one million)
There's also the twist on Pin the Tail on the Donkey... Pin the sticker on the Chiquita banana. Who can get the famous blue banana symbol of freshness smack in the center? You can find even more inspiration here
That's just bananas 
Bananas make perfect crafts for kids. Cut out banana shapes from thin yellow craft foam. Or cut crescent shapes out of the edges of a white paper plate and paint yellow. Supply all sorts of craft materials including paint, markers and star, sun and moon stickers. Turn them into frig magnets or bookmarks to mark this momentous occasion.
How about a space-themed Chiquita banana sun piñata filled with all sorts of astronomical treats including Starburst and of course, Orbit and Eclipse gum and mints? Throw in some banana Runts representing the banana sun and anyone with a sweet tooth will want to take a whack.
Who doesn't love a good selfie? Draw a giant yellow Chiquita banana on a white sheet or large piece of cardboard and cut out space for a face. Hang it up so people can pose for photos and get your bananafy eclipse party all over social media.
You're welcome!
You don't have to travel far to see three minutes of darkness when you can see the real star of the day, the Chiquita banana sun, wherever you are located in North America!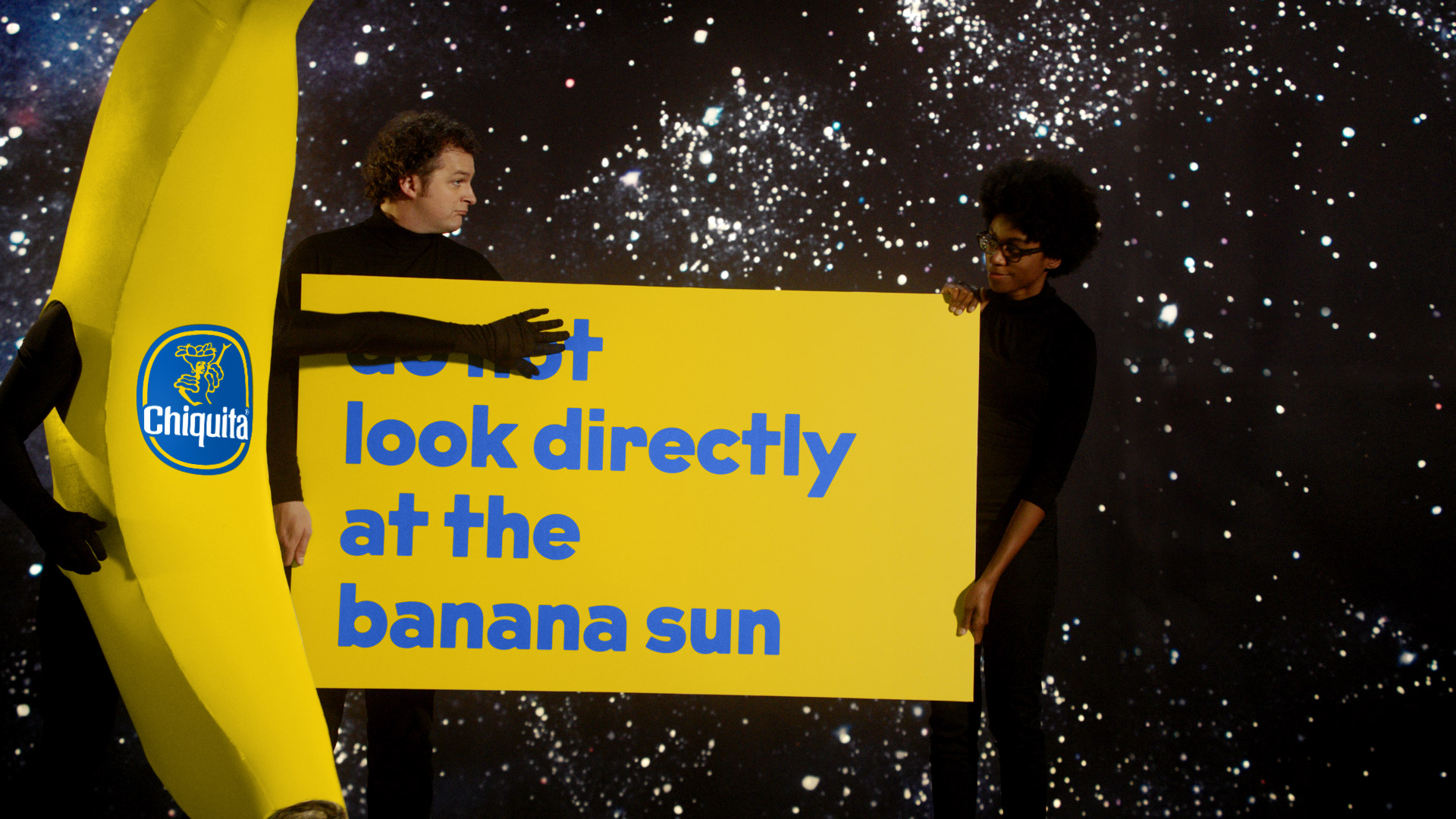 If you really want to watch the temporary interlude when the moon does its thing, you can always watch the eclipse live on the Chiquita Facebook page on August 21st at 9:15 A.M. PST . Find out more here.