Snack Attack: 6 ways to sneak in fruit on the go
Snack Attack: 6 ways to sneak in fruit on the go
High in nutrients and low in calories, bananas, pineapples, and other fruits are something we should all eat more of! The World Health Organization says a healthy diet contains at least five portions (400 grams) of fruit and vegetables a day. One way to up your intake is to sneak them into an on-the-go snack, delivering a burst of mid-morning energy and satisfying that afternoon sweet craving. Here are some fun fruit snacks that will fit into even the busiest schedule.

Blend it
Drinking your fruit is one of the most convenient ways of getting a whole bunch of fruity goodness all at once. Blend banana with your favorite fruits—and maybe even vegetables— to get a tasty, filling snack that you can have anywhere. The Chiquita kiwi, ginger, and banana smoothie combines classic flavors with a ginger kick to get your tastebuds tingling. If you're looking for a protein powerhouse when you're working out, try mixing some tofu or peanut butter in your smoothie to get maximum energy—gym, anyone?

Roll it
Have you ever had fruit sushi, AKA "fruishi"? If not, what are you waiting for? It's made just like it sounds: rice and fruit rolled together into an Instagram-worthy snack. You know those fruit leather roll-up snacks that kids love? You can make those at home using chopped fruit, like bananas, apples, mangos and grapes, and then roll those around the rice as if they're seaweed. The Food Network has the recipe, so you can become a fully certified (in our eyes anyway!) itamae in no time!

Freeze it
Some kind of magic happens in the freezer, turning everyday fruit into a special treat. While it's still cold outside, these winter frozen Chiquita banana penguins are a delicious way of making fruit fun! in fact, they're the perfect treat to make with children. If you're not in the mood for decorating, an easy way to make sweet snacks is to roll banana pieces or pineapple chunks in yogurt and add your favorite toppings, like granola, coconut, or nuts before freezing. 

Chip it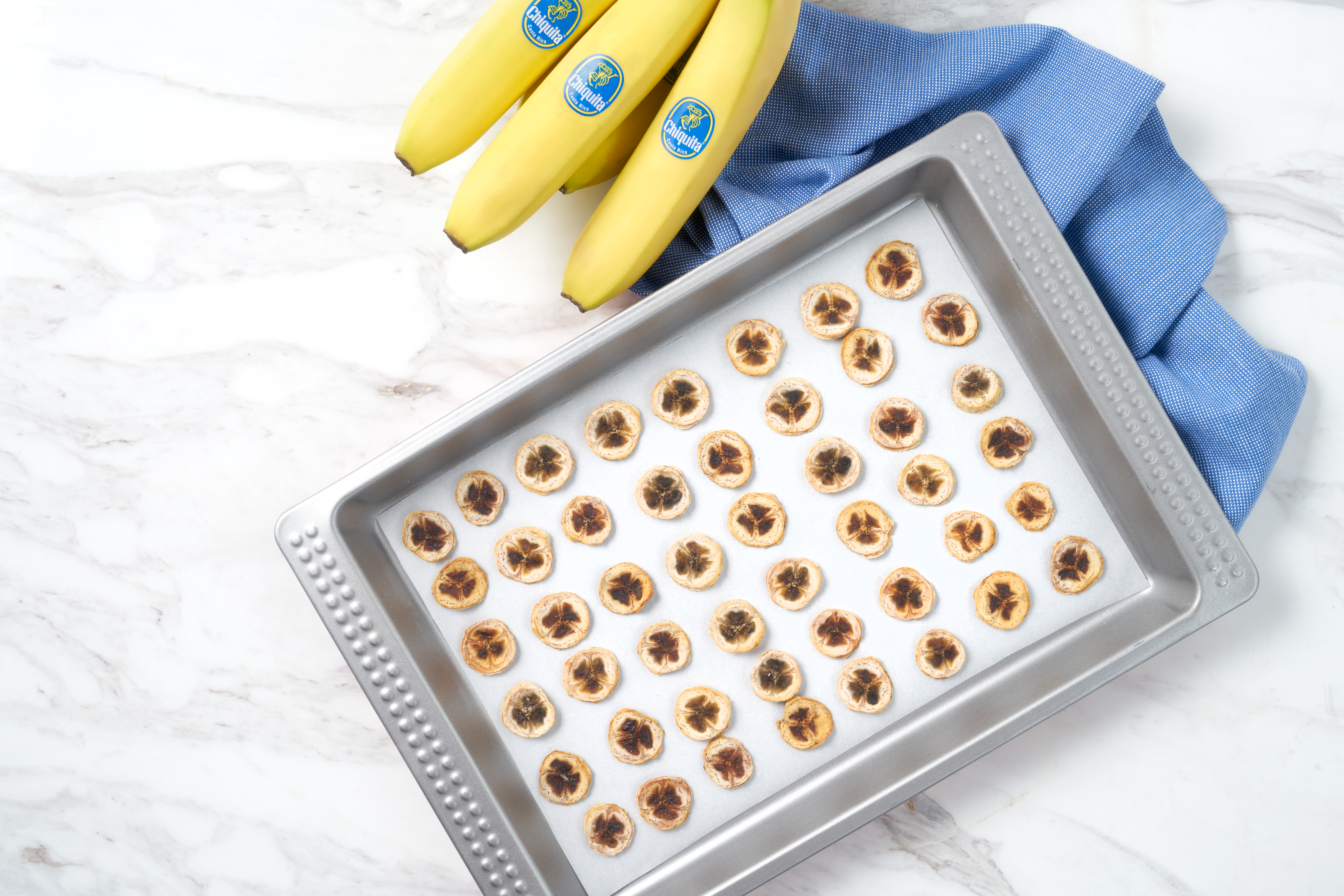 Crispy, crunchy, and easy to pack in your purse or a lunchbox, fruit chips are a craveable snack, and they're easy to make—no dehydrator necessary. Check out this homemade Chiquita banana chips recipe for a super simple method. Our favorite are banana chips, but it doesn't end there! Try pineapple for an island twist, or simply toss apples with cinnamon and a little sugar and bake at a low temperature for apple chips your kids will love—the perfect winter warmer! If you're in the mood for something savory, try backing vegetables such as zucchini, carrots, and kale. 

Put it on a stick
Food on a stick is simply more fun. It's like you're at a carnival! Homemade fruit popsicles are an ideal fruit snack for when you need to cool down with a refreshing burst of flavor. They're an easy way to get in one of your five-a-day, and because they're on a stick, they're easy to grab and go without worrying about getting your hands sticky. With fruit skewers, you can put your favorite fruits like pineapple, kiwi, and strawberries (along with our favorite—banana), straight on ice cream sticks, and eat them in the car, at the office, or anywhere you like.

Sandwich it
It doesn't get much more portable than a fruit sandwich! Make a quick, delectable banana snack with peanut butter and graham crackers, or for something more simple, take your favorite sweet or savory cracker, put a smear of cream cheese on it and top it with fresh fruits, like bananas or strawberries, and then add another cracker on top. If you're in the mood for something more sustainable, make a fruit sandwich with bread and your favorite nut butter and bananas, apples, or pineapple. Mix it up by toasting it or grilling it!