Go Bananas With an Epic Halloween Bash
Go Bananas With an Epic Halloween Bash
It's a night for ghosts and goblins, tricks and, most importantly, treats. As Halloween becomes increasingly popular, so too does throwing a Halloween bash that will be remembered for years to come. This year, up your game by introducing pumpkin's best friend to the festivities—the Chiquita banana. While your guests compete over who has the best costume of the year—or who scored the most candy (yes, it's still so much fun to trick-or-treat past your kid prime)—you can forever claim the title of the most fun and delicious Halloween party ever thrown with these banana-themed ideas.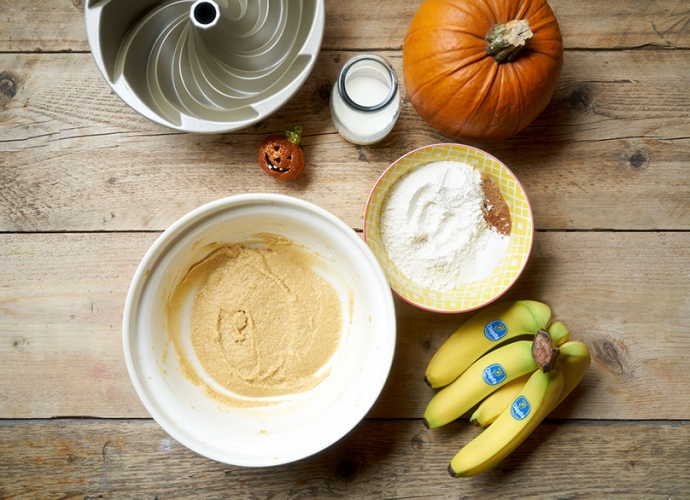 Meet pumpkin's new best friend 
As soon as Labor Day passes, foodies around the world start dreaming of fall's star flavor: pumpkin. We all know that pumpkin spice lattes are delicious, but they have nothing on this Chiquita banana and pumpkin spice bundt cake that will wow your guests as the centerpiece of your Halloween feast. Once you bake this delicious bundt, decide whether you want to let it show off its natural beauty or decorate it with your holiday-theme of choice. If you choose the latter, may we suggest turning it into a delectable spider's web or an iconic orange pumpkin? 
Serve scare-worthy treats 
It's amazing how a little icing and some well-chosen cookie cutters can transform delicious party treats into scary Halloween creations. Just grab a can of coconut cream which has been refrigerated overnight, whip it good and you'll have a heavenly vegan and healthy frosting in a trice. Whip up a batch of Chiquita banana pecan muffins—feel free to mix in some pumpkin puree to make it even more seasonal—and then bring out the icing. Layer on the stripes of white and add a couple dark chocolate chips for eyes to mummify your muffins, or let your imagination run wild and make your own spooky creations. If you need a break from the scare-fest, create homemade sandwich cookies by layering pumpkin banana creme filling between dark chocolate oatmeal cookies that are cut into the shape of pumpkins or bats for a guaranteed crowd pleaser.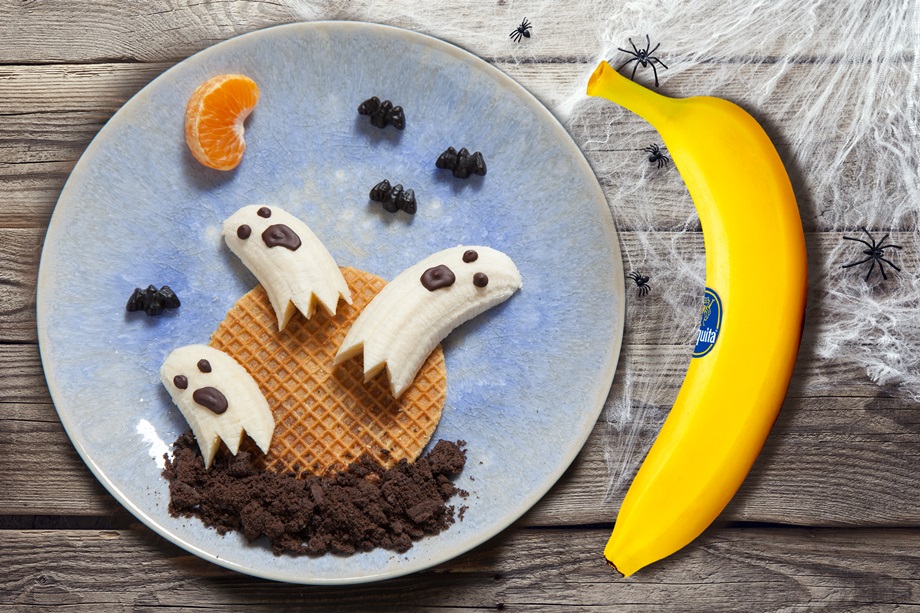 Whip up some spooky banana pops
With the fall weather here to stay, it may be a bit too chilly to serve popsicles…unless they're made out of Chiquita bananas! Dip bananas in chocolate and then get to work decorating them for an even more delicious banana-based treat. After you cover your fruit in milk, white, or even orange-dyed chocolate, you can use salt pretzels or crackers and decorative coconut cream icing to turn them into ghosts, mummies, or any festive creature that strikes your fancy. It's a treat that will delightfully scare the tastebuds of the whole crowd. 
Stage a spooky banana sculpture competition
Carving pumpkins may be a Halloween tradition, but shake things up this year by staging a competition for who can make the spookiest Chiquita banana art. Following in the grand tradition of banana Instagram artists, your guests can take their fruit-and-peel canvases, a knife, pen, paint, or whatever their artistic tools of choice may be and get to work crafting a masterpiece. The stakes have never been higher—while the winning piece earns a place of honor at the party, while the other ones will be eaten. Dun-dun-dunnn!
Decorate graveyard banana mousse cups 
Dirt pudding is an American tradition, but you can give your gruesome sweet treat a Halloween upgrade this year by starting with some sugar-free chocolate Chiquita banana mousse. Then, fill them with crushed up dirt oatmeal cookies or little cookie gravestones. The best part about this dessert is that you can either make your graveyard cups ahead of time or let your guests decorate their own for a delicious—and fun—treat.
This year, Chiquita bananas will be the headliners of your Halloween bash! For more creative Chiquita banana food ideas check out our 10 ways to get kids to go bananas.