Since 2012, The Drum Creative Out of Home Awards  recognizes the most effective, creative and innovative strategies and campaign being produced for out of home media.
Out of home continues to be a high-impact marketing touchpoint, connected to people's daily lives. In a cluttered communications world, the right creative can be extremely effective to launch or establish a new brand voice impacting not only consumers but also customers.
By mid 2017, Chiquita Brands International announced the launch its new campaign 'We Are Bananas' in partnership with creative agency Wieden+Kennedy, marking the iconic brand's advertising come back in the U.S. market.
Chiquita debuted the collaboration with out-of-home presence in key cities across the U.S., including a variety of billboards in New York's Times Square, Los Angeles, Chicago and Cincinnati. Drawing on Chiquita's playful heritage, complimentary headlines for the OOH debut included 'hello yellow,' 'nobody has ever eaten a banana angry' and 'work on your curve.'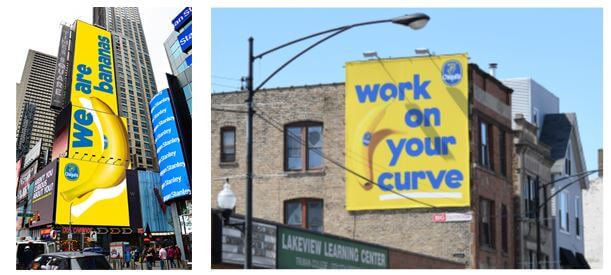 In November 2017, Wieden+Kennedy and Chiquita were recognized by The Drum® Creative Out of Home Awards with the first place in the copywriting category, and got second place for overall campaign for the out of home creative.

From first branding the banana with our bold Blue Stickers in 1944 to introducing the world to Miss Chiquita, we've aimed to drive home our brand's key message of fun through vibrant and light-hearted visual storytelling. We're thrilled to carry on that tradition with great and exciting work that challenged conventional marketing in unexpected ways, and ectatic about the recognition from The Drum® Creative Out of Home Awards.
Chiquita North America's Director Consumer Marketing, Carolina Villarreal.