Add music and apps to pep up your workouts
Keeping your health and fitness levels up while working from home is very important but also not easy, as gym or activity routines can be hard to maintain when you're working out by yourself. Chiquita's great new playlists and exercise recommendations are just the thing to keep you and the family motivated – the playlists are all available on Spotify and are the perfect way to keep moving.
The five Chiquita playlists available on Spotify give you a fantastic choice of music, from the latest feelgood tracks to some tracks with a fun beach vibe, high-energy music (like the energy that bananas provide through their natural sugars and healthy carbs), a great mix from past decades, and a cook & dance playlist for when you finish that workout and crave a healthy banana snack.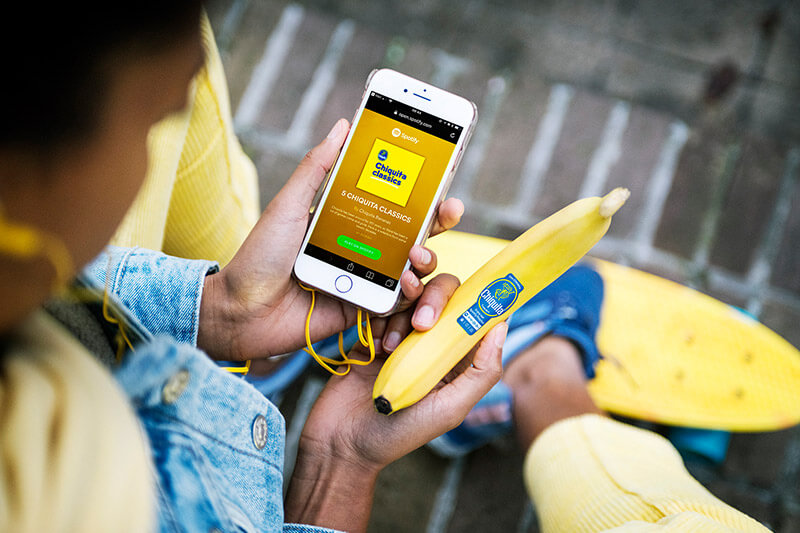 Chiquita bananas lead the field for great taste and quality and are the perfect partner for your fitness routine. Loaded with key vitamins and minerals, as well as soluble fibre and natural sugars, they help build and maintain muscle, promote heart health and keep you going whatever your fitness goals.
Fitness and running coach Frankie Ruiz recommends a range of great workouts and apps to help you to stay active while inside. Motivation is what you need, so set the playlists up either for your personal earbuds or via an external speaker so the family can join in the fun. Music is a proven aid to lifting the mood and getting active and can help you push through the harder exercises so you can raise the intensity of your workout – upbeat tempos and positive lyrics are best.
Mix and match
Now is the time to check out the many free online resources available – there's a whole treasure chest of ideas out there. Varying training moves and switching up how they are arranged in an exercise set are key to strengthening the muscles and cardio system. Variety also means the mind doesn't have a chance to get bored – try to mix and match exercises that target different muscle groups.
Frankie recommends this routine on the Life Time channel – it's called "shred" and it is a favorite because it covers nearly every muscle in the body. He also points to the Nike Training Club App (NTC) as a great resource – normally the premium content is a paid-for service, but Nike has made the indoor workouts free to help everyone with being at home.
Frankie's ultimate favorite workout on there now is Master Trainer Kirsty Godso's Cardio & Legs HIT. You'll find that term, HIT, a lot when you're searching the web for fitness ideas – it's an acronym for High Intensity Training. The routine sounds intimidating, but don't be afraid to try, just take it easier if you need to and rest as long as required between bouts of exercise.