Pink Power 🎗️
Breast Cancer Awareness
In honor of Breast Cancer Awareness Month in October, Chiquita is once again giving its iconic Blue Sticker a pink makeover to match the Pink Ribbon - an international symbol for breast cancer awareness. For the fifth year in a row, Chiquita's limited edition pink stickers will adorn 200 million of its tasty yellow bananas worldwide.
At Chiquita, we are proud to act as a 'Good Neighbor' and show our support for breast cancer awareness, which affects women and their families across the globe. We are passionate about female empowerment, as it is a fundamental piece of our Behind the Blue Sticker initiative. We are aiming to raise awareness for this cause, while engaging with women around the world to empower them to take charge of their health and well being. We champion storytelling around pink power and breast cancer awareness because knowledge is power.
Below, we'll delve into the current global landscape of this disease and reinforce the importance of why now, more than ever, we are taking part in the mission to spread breast cancer awareness by offering key insights and tips, along with delicious healthy recipes.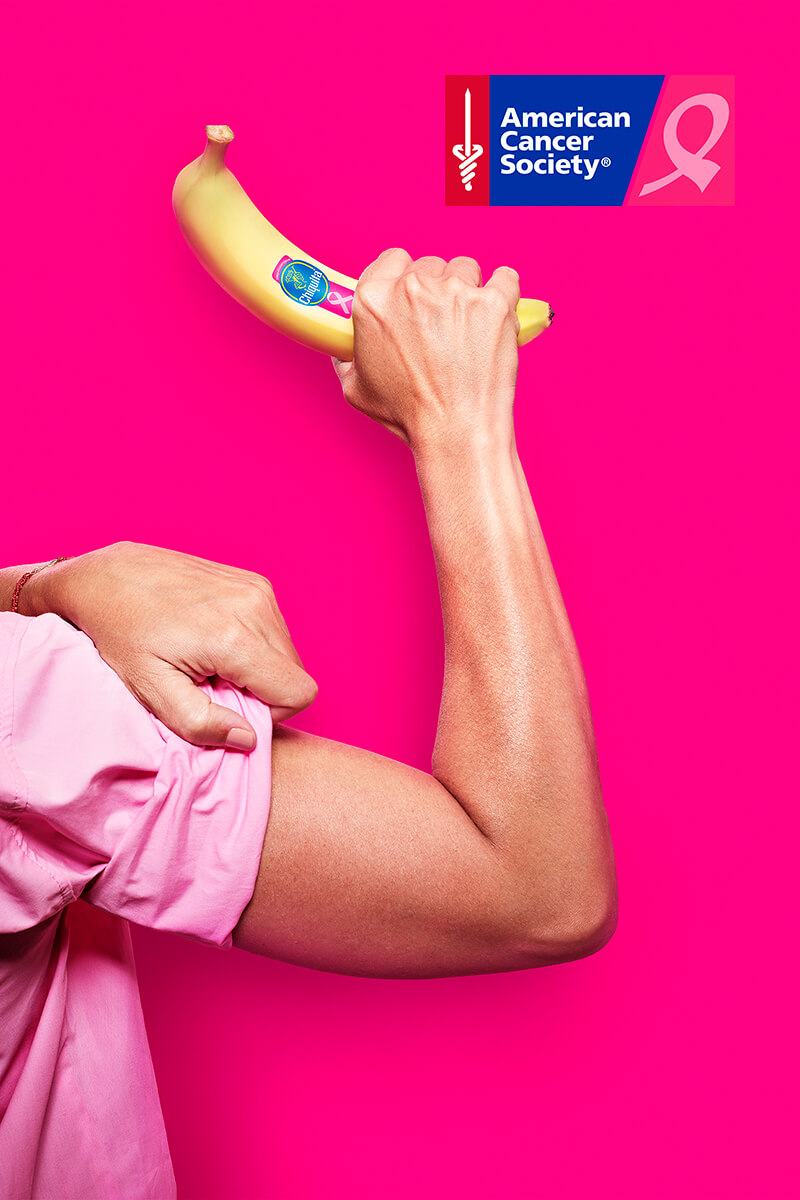 Our recipes
We believe there's nothing quite like a delicious Chiquita banana – they're simply packed with goodness! We also know that our bananas are great ingredients in countless healthy recipes available on our website. Breast cancer doesn't yet have a cure. However, we champion the notion that we can support prevention of it, by adopting a healthy lifestyle and staying vigilant about early detection through routine screenings.
Check out the six healthy recipes we've created especially for Pink Sticker month!
These recipes align with the American Cancer Society's nutrition guidelines. ACS recommends a diet that includes a variety of whole fruits, colorful vegetables, whole grains, and legumes, and limits or does not include red and processed meat, highly processed foods, and sugar-sweetened beverages to help reduce the risk of cancer. The American Cancer Society does not endorse any product or service. 
A take on a classic family favorite, the Chiquita banana split, this dreamy dessert drops some of the less healthy ingredients while retaining heaps of indulgent taste and a luxurious texture. It's the perfect breakfast treat!
This refreshing smoothie is a tropical delight that tastes great – the perfect start to a fun-filled day!
We believe that bananas are the healthiest fruit, and this recipe will make a believer of you too! Who needs the fro-yo shop? Simple to make and amazingly tasty, the whole family will love this creamy, luxurious yogurt treat.
Here's a delicious nut-free alternative for anyone who has a nut allergy – we're sure you won't miss peanut butter after you've tried this yummy sunflower seed butter. And when you add it to this great healthy recipe, you'll find you have a truly scrumptious snack.
A Chiquita banana smoothie a day keeps the doctor away, we say. We highly recommend this smoothie as a wake-you-up breakfast to start your day the healthy way.
Chamomile is a well-known herb for assisting sleep, and teamed with Chiquita banana, this ingenious tea has a great flavor that you're bound to love.
Our Partnerships and Initiatives
For Breast Cancer Awareness Month and beyond, we partner with several key NGOs around the world.
Our partnership with American Cancer Society is very much needed and is a key part of the serious work that is being undertaken to raise breast cancer awareness, and boost and promote healthy lifestyles.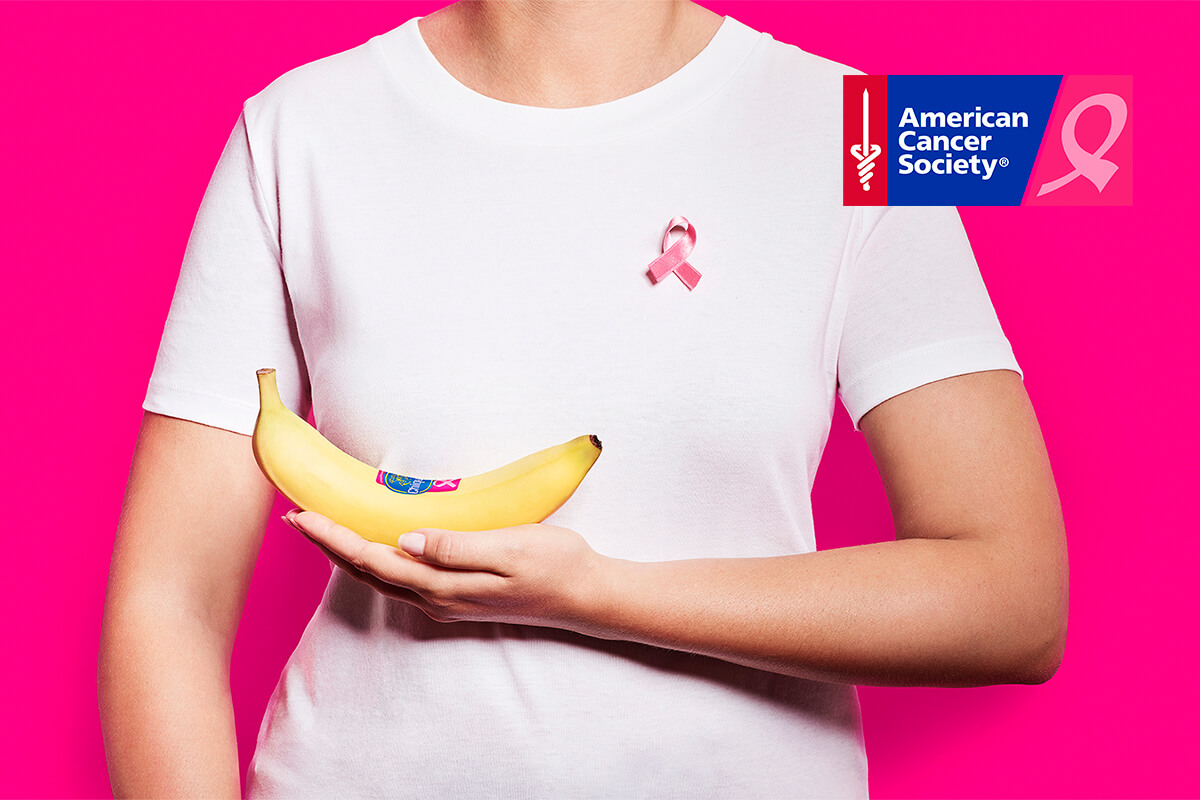 Breast cancer facts and figures
The greatest risk factor for breast cancer is being a woman – though men can get breast cancer
The risk of developing breast cancer increases with age. Most breast cancers are detected in women over 55.
Having a close blood relative who has had breast cancer increases the risk of getting it, though most people who get breast cancer don't have a relative who has had it.
Lifestyle-related risk factors include drinking alcohol, being overweight or obese, and being physically inactive.
The best time to get a mammogram is about a week after your period.
The Impact of COVID
In 2020 and 2021, millions of people missed their scheduled health screenings due to the restrictions and complications regarding COVID-19. Health experts released concerns that the absence of these medical appointments could have fatal consequences, putting people at a much higher risk for serious health issues in result of missing early detection, knowledge and execution of prevention plans and lack of adopting healthy eating and lifestyle habits.
Conclusively, Chiquita has joined forces with key global health organizations such as The American Cancer Society, Pink Ribbon in Germany and AIRC in Italy and Alma Zois in Greece, to perpetuate the message to women around the world regarding the importance and urgency in getting their annual breast screenings.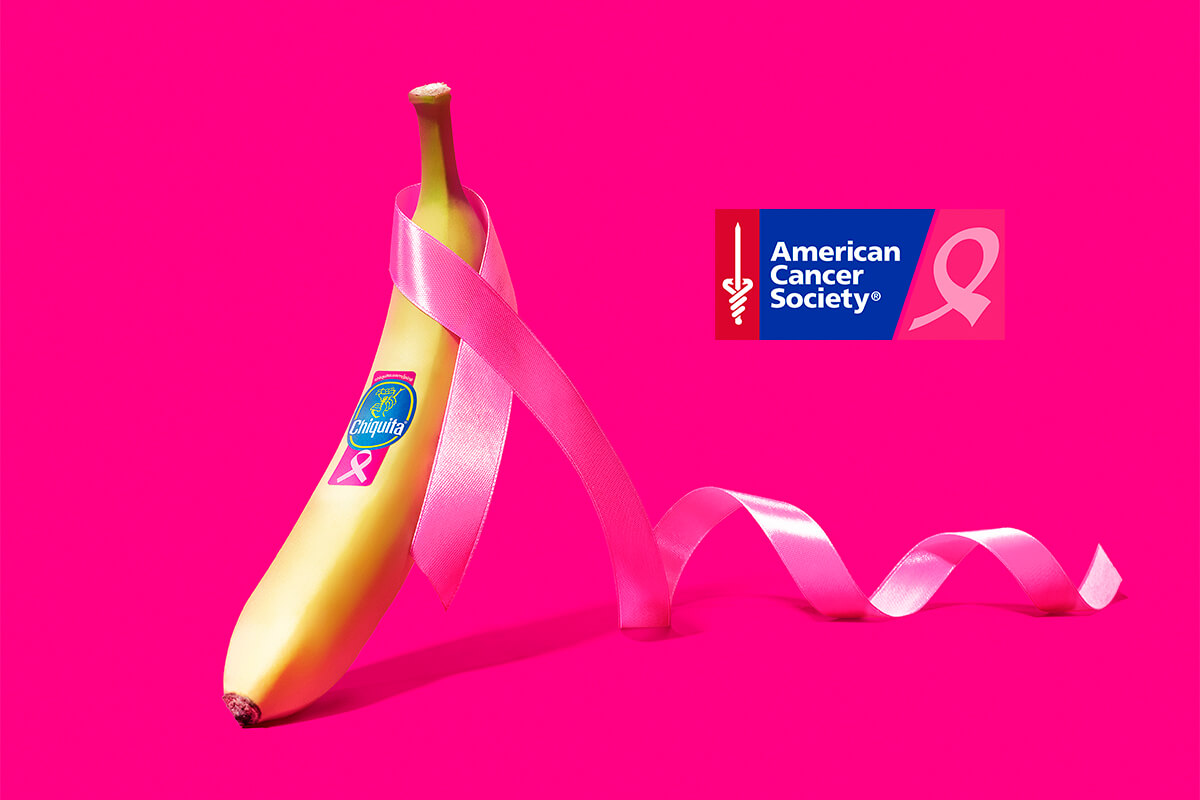 Women's Empowerment
In addition to our annual Pink Sticker, we foster and nurture long-standing partnerships with key breast cancer non for profit organizations in our various markets. To offer tangible ways and encourage consumers to adopt and support a healthy lifestyle, we develop and share tasty and fun recipes featuring our nutritious Chiquita bananas full of essential vitamins and minerals, and educate women on screenings and early detection.
We believe that the more empowered women are to detect and prevent this disease, the better. At Chiquita, we are whole-heartedly committed to ensuring that women get the very best chance to thrive.
Chiquita and Women
From the early stages in the company's development, the beloved Miss Chiquita has been the brand's icon. We've taken her and what she represents to heart, promoting a workplace with equal opportunities, and the desire of 'Being a Good Neighbor'. We have independently assessed programs in place for our workers, ensuring women can work safely, in a supportive, caring environment that enables them to make the most of their talents, and helps them to achieve their ambitions.
Turning our Blue Sticker Pink
We are passionate supporters of the fight against cancer and the vital quest for excellent overall health, and we're committed to playing our part in ensuring people can live their best life. Breast Cancer Awareness Month gives us an important opportunity to promote important messages about self-care, healthy lifestyles, and early detection. We hope that when you see the Pink Sticker on your Chiquita bananas this October, it will inspire you as much as it inspires us.
Our Yearly Commitment to the Cause
The Pink Ribbon is an international symbol of breast cancer awareness and every October millions of people showcase the pink ribbon to support the cause. Because our globally recognized Blue Sticker gives a platform to our female ambassador Miss Chiquita, changing its color to emulate the pink ribbon, sends a powerful message of support.