It is one of Chiquita's favorite days of the year:  National Banana Bread Day!
Given the grand occasion, we thought we would take you on a blast to the past. Let's take a look at the timeless Chiquita Banana bread recipe, and how it has adapted to trends over the years. You best get your Chiquita bananas ready because you'll be tempted to try every single recipe!
1947

In 1947, Chiquita released the Chiquita Banana Cookbook. This cookbook featured the Banana Quick Bread Recipe which carried on through the years as the most foolproof and delicious Banana Bread recipe. The best thing about this recipe is that you can add many variations to the egg mix without compromising the balance of the recipe. You can add mixed nuts, candied fruit or dates and it will be just delicious!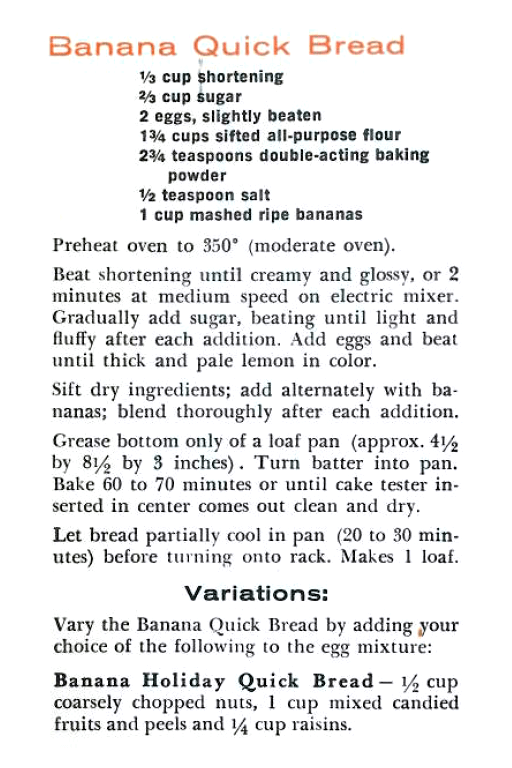 1956
As the old saying goes, if it's not broken, don't fix it. And that is just what we did in the 1956 Chiquita Banana's Recipe Book. The traditional Chiquita banana bread remains faithful to its original recipe. However, we did spice it up with some nutty and fruity variations, making it the perfect match for your afternoon tea! Try out the Chiquita banana Apricot Tea Bread. Or how about the Chiquita Banana Prune Tea Bread? Here's one of our special tips: try toasting it!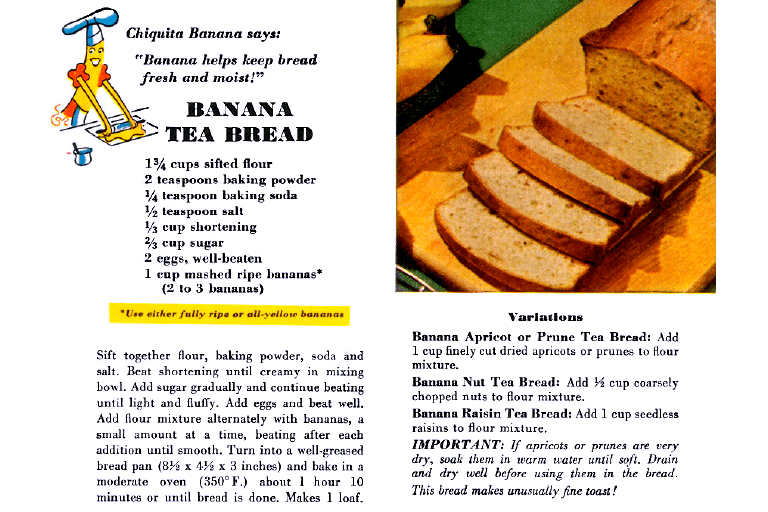 1969
Oh, how we just love versatility! All you have to do is master the foolproof Chiquita banana recipe, to be opened into a world of recipes! No one will ever guess it's always the same one! The Chiquita Brand Bananas 1969 cookbook presents the Banana Bread 3-way Bake. Yes, one recipe, 3 different optimal results! From Chiquita Banana Bread to Banana Date Bars to Banana Jam Ring.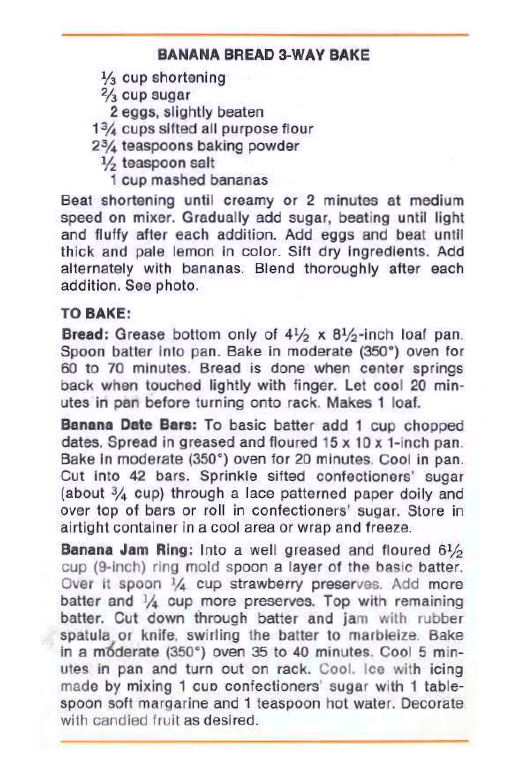 1974
1974 offers a splash of orange to Chiquita's vibrant yellow. Banana Carrot Bread was trending at the time. A flavorful mix of pecans, Chiquita banana, spices and carrot. Once again, the recipe sticks to its original components while still adapting to the times.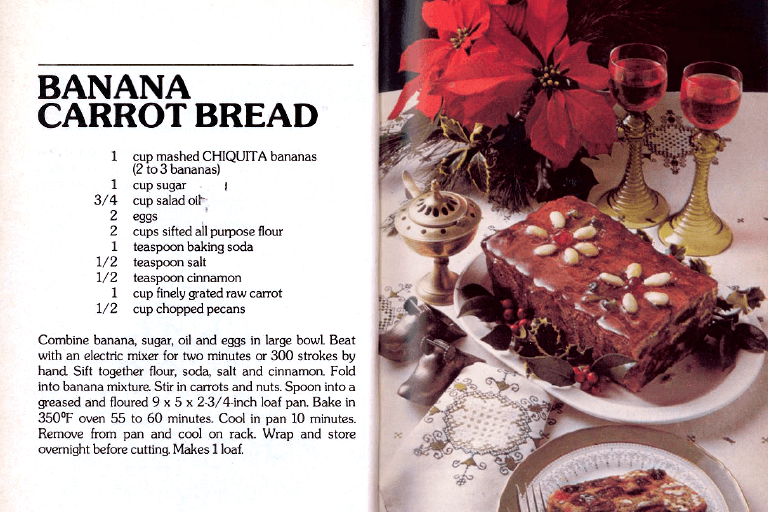 2019
In the 21st century we have seen changes in diets and dietary needs. Therefore, Chiquita has created additional, new Banana Bread recipes that are suitable for everyone. How about a Vegan Peanut and Chiquita Banana Bread? It's the perfect choice for when you are hosting guests! If you want to indulge but don't want to compromise your hard work, try Chiquita's Banana-nut Bread. It's the same great taste with 100% natural, nutritious and delicious ingredients that your body will thank you for!