How one couple went bananas with their Mini
How one couple went bananas with their Mini
What's little, yellow, and makes people happy? The Chiquita Mini!
We're not talking about the fun, snack-sized Chiquita baby banana (although that makes people happy, too). We're referring to a pint-sized, two-seater, open-air British car—more specifically, a 1964 Morris Mini Minor Mark 1 Saloon—that's painted bright yellow and covered with fresh banana art.
The itty-bitty Chiquita Mini belongs to Jesse and Norm Nelson, who live in Shasta, California. The banana theme carries through inside and out, from the "Go bananas!" script on the sides and hood of the car to the yellow and black interior. There are yellow LED lights that glow on the undercarriage and yellow-ringed headlights that dance to music (usually with some kind of banana or jungle theme, like "Banana Boat Song," "The Lion Sleeps Tonight", and perhaps even the Chiquita Banana Song). The license plate even says Chiquita!
Chiquita is one of six Minis that the Nelsons own. The Mini mania started in 2004, when Norm found a 2004 R53 Mini Cooper. The couple had recently become empty nesters, and found that with the Mini purchase included a pass into a full-on lifestyle. They joined a Mini club and discovered the open arms of a welcoming community as they began traveling to Mini-themed events in the US and Europe.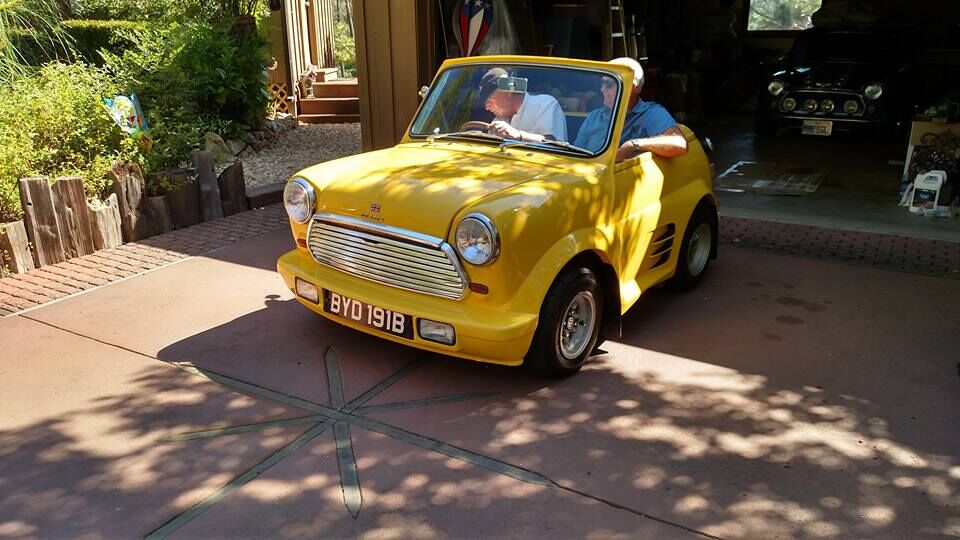 The Chiquita mini before the makeover
Along the way, they kept purchasing classic Minis they loved: there's "Pynt Syz," the 1973 Moonshine Mini, "MNE Eagle," a 1964 Patriot-themed Mini dedicated to veterans, "Tiny Tows," the 1962 Austin Mini pickup truck they transformed into a Tow Truck, and "XS Woody" the 1961 Austin Mini Traveler Woody Wagon.
Jesse heard about Chiquita from Chris Knox, a friend and racing driver in Scotland. Jesse had long wanted this rare, shortened version of the beloved Mini, and the car had become available in the UK. She didn't hesitate to seal the deal, making an online purchase from their Shasta home. "I bought it and I yelled up at my husband, 'Hey, honey, I just bought a car in Scotland. Now what do I do?", she laughs.
Long story short: they managed to get it shipped by boat to the West Coast, and when it arrived in Northern California, they knew immediately they'd made the right decision. This little banana-mobile was a dream come true.
 As with their other cars, Jesse and Norm gave themselves time to get to know the personality of the yellow Mini in order to pick a theme for her. They put a poll on Facebook asking for name suggestions, and the ideas started rolling in: Mellow Yellow, Yellow Submarine, and, finally, a friend in Las Vegas, Sheri Bennett, suggested Chiquita. That, said the Nelsons—who love bananas and eat them daily—nailed it.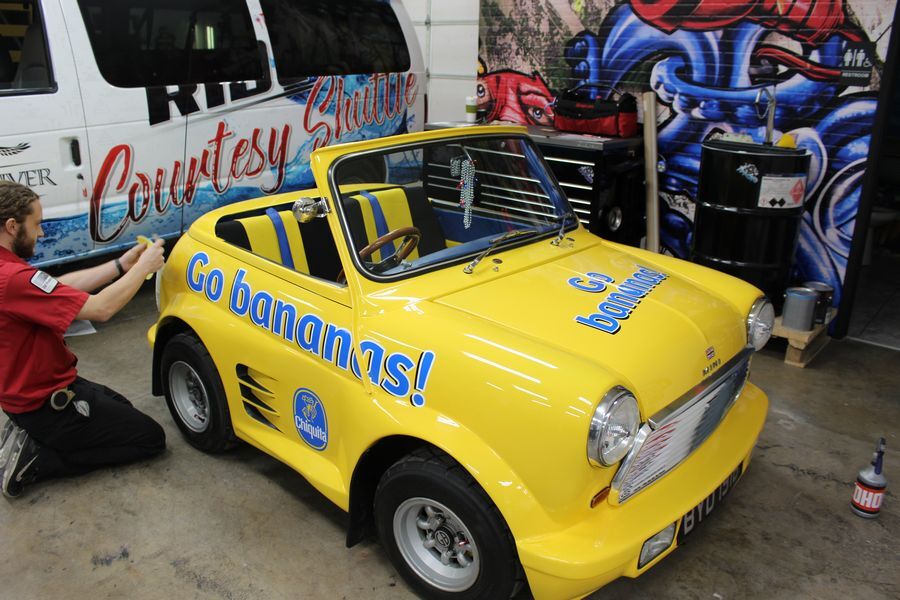 The Mini during the transformation
Before committing to the theme, Norm decided to call Chiquita to make sure he wasn't stepping on any toes. To his delight, the folks at Chiquita loved the idea, and suggested it could even work as a promotional vehicle that could appear at trade shows and exhibits in full Chiquita regalia. Chiquita struck up an agreement with the Nelsons, and the next thing the couple knew, the Chiquita design team was working on the fun, banana-filled vinyl wrap design that now covers the car. Norm and Jesse set about transforming her into the banana beauty you can see on the streets today. With new wheels, a booming sound system, and loads of tropical personality, Chiquita would go on to wow even the seasoned aficionados at car shows.
In the coming months, the Nelsons have plans to drive Chiquita to the International Banana Museum in Mecca, California and to major upcoming major car shows on the West Coast, including Kool April Nites in Redding California; AMVIV (A Mini Vacation in Vegas) in Las Vegas; Ribs & Rides Car Show Festival at Rolling Hills Casino in Corning, California; Mini Meet West 2017 in Santa Rosa, California, and more.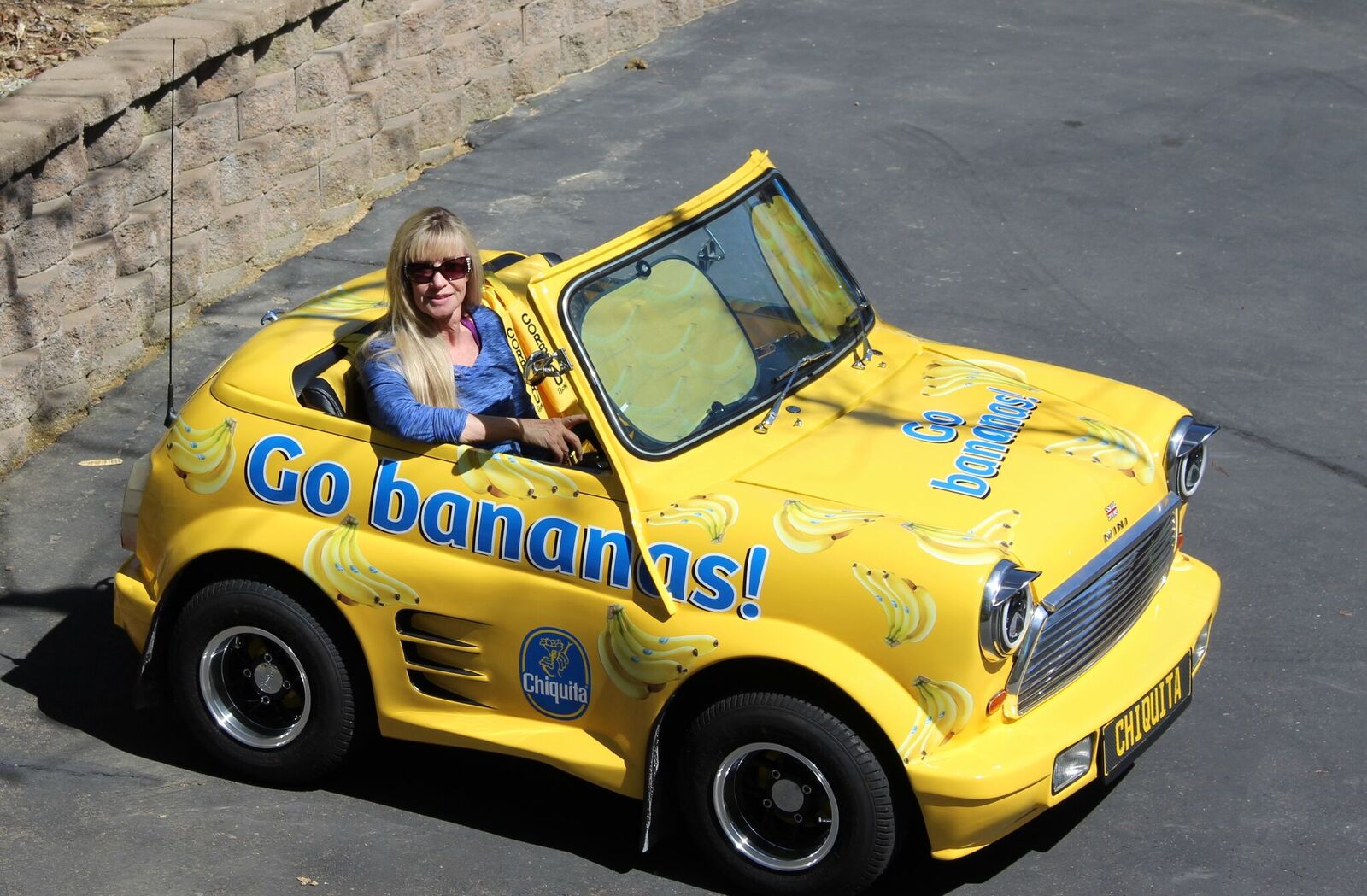 Everyone loves the car! 
When they're not taking Chiquita to shows and events, Jesse and Norm are driving her through the streets of Shasta, bringing smiles to everyone who sees her. "No matter what your day's like, no matter how bad it's been, anybody who sees that car, it's an instant case of giggles," says Jesse. "Yes," adds Norm, "The first thing they do is pull out their phones."
In fact, fame seems to follow Chiquita wherever she goes. In recent months, she made the front page of the Monterey County Herald during Monterey Car Week. She's also been featured in the Santa Cruz Sentinel and the Monterey County Weekly. And when the Nelsons participate in local parades, the crowd will cheer and scream when they see the banana mobile, "Look! It's Chiquita!"
"You definitely can't go anyplace without being noticed," says Norm. It's a small price to pay, when you're top Mini banana. 
If you love seeing creativity with bananas, check out our round-up of the best banana art on Instagram and our interview with top banana artist Stephan Brusche.