Meet Stephan Brusche, Instagram's top banana artist
Meet Stephan Brusche, Instagram's top banana artist
Five years ago, artist Stephan Brusche created his first fruitdoodle on a banana. Since then, his incredible creations on the iconic yellow canvas—from Chiquita Vikings to Van Goghs—have become so popular that he recently gave notice at his day job to go full-time banana artist extraordinaire. Next stop, The Ellen DeGeneres Show. Maybe. 
We caught up with Stephan to find out some more about how he got started, his favorite pieces, and why bananas are the best canvases.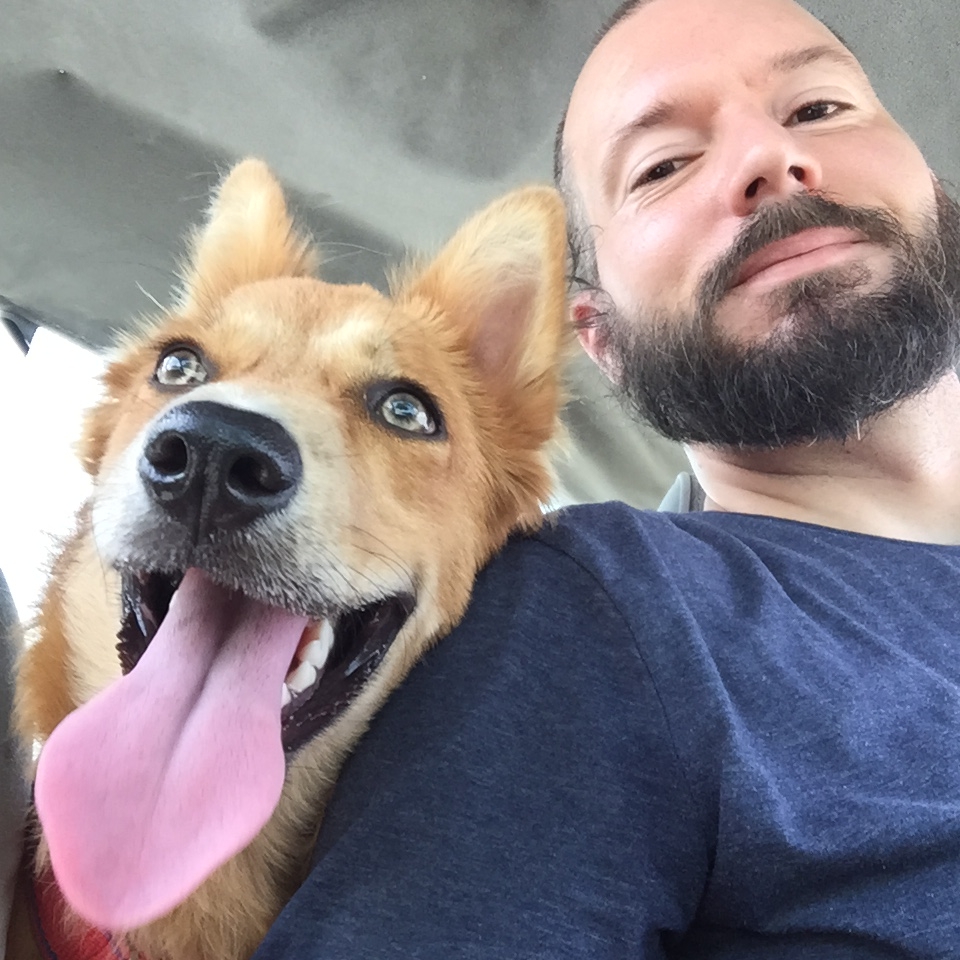 Stephan and his dog, Louis 
Chiquita (C): How did you get the idea to create banana art and what was the first piece you made? 
Stephan Brusche (SB): I wanted to test out Instagram filters when I was at the office. There wasn't nice scenery or anything fun to draw or take a picture of, but I did have a banana from lunch. So I figured, what if I drew a little happy face on it? I discovered it's actually pretty pleasant to draw on a banana with a ballpoint pen. The texture of the peel and the pen is really smooth. The next day I thought, let's do another face. And then I thought, let's see what else I can come up with to draw on the banana. From that point on I started experimenting and I never stopped. 
C: Along with the pleasure of drawing on bananas, what makes the banana such a good canvas?
SB: It has a pretty tough peel, so when I cut it, there is enough thickness to give it a 3-D effect. And I think the bright color helps, as there's enough contrast if you draw with a black or a blue ballpoint. And I think the shape of the banana is more original because most fruit is just round. The banana is funny—you can imagine a smile in it—and it inspires me more to work with it. 
C: Do you have a favorite piece?
SB: I have one that was a turning point for me: the fishbone banana. I drew a fish on it— I got the head right, I got the tail right, but I messed up the middle part. I thought it was ruined, but then I thought, let's take away the peel and see if I can save it by doing something else with it. I started to carve [the bones] into the banana itself, and the result was 100 times more interesting than just the drawing would have been. That one failure brought me to an all new way of working with the banana and actually defined my style, cutting away pieces of the peel to create a 3-D effect, that has made me stand out between all the other banana artists.
C: What is the most challenging piece you've created? 
"The Moon and the Stars" by Alfonse Mucha. The challenge was I didn't had to draw one but four very beautiful pieces of art by the unmatched master Mucha. One of the things that made it more challenging is that I of course wanted to do the works of Mucha justice. And because time is a limited and thus big factor in the whole creating process, I had to do it pretty quickly. Also I had to get it right in one go, all four pieces, since it's not like pencil on a paper that you can erase and redo when necessary.
C: You create everything from relevant pop culture references to fun geometrical pieces. How much do you plan ahead of time? Do you pre-sketch your ideas?  
SB: Occasionally I can walk through the supermarket and see a particular banana and just get inspired by the shape. But mostly I'm thinking about designs when I get to work and I have a little notebook so I scribble down the ideas. When I have the banana, I first take a picture of it and then sketch the idea on Photoshop. I draw the idea on [the image] to get the proportions right. And then I use that as a reference to draw it on the banana. 
C: Do you ever regret working on such a perishable canvas? 
SB: No, the banana is a means to an end, so I'm more at peace to let it go. I put a lot of effort into the picture, to get a good angle and get good lighting, and then I play around with the filters to get it just right. For me, the picture is the real result, so that helps.
C: How many bananas, like Chiquita, do you buy each week? 
SB: Usually I buy seven at least a week. Sometimes I buy the bananas but I don't always have time to draw on them, so they get spotty and less ideal to draw on because I want them as yellow and clean as possible. But if they get spotty, I can [sometimes] still use them…today I just posted a 101 Dalmatians dog where I used the spots. But mostly those become for eating right away. When I walk to the subway, I always eat one banana. So at least seven, maybe ten a week.
C: Do you have any other favorite internet fruit artists? 
SB: I just discovered Akai Inazuma from Japan. He really carves into the banana itself. I tried that a few times, but that's not my strong suit. And there's an Italian guy who also carves a few bananas, but more melons. Last year, I went on vacation in Italy so we met up in Rome and did a piece together. There is one who did a banana full of Minions; for me, he did it best, so I've never really tried to do a Minions banana.
C: Have any of the people whose portraits you've drawn on a banana ever commented on your work?
SB: I did a Deadpool banana and Ryan Reynolds liked my piece. It's like the magic touch— it's by far my most liked banana piece. I did one of the Terminator 2 liquid guy. I tagged the actor on Twitter and he complimented me on it. I also did Moby and he reposted it. And a pretty cool Batman comic book artist, Kelly Jones, reposted my tribute piece to his distinctive style of drawing Batman on Facebook. So a few.
This interview has been edited and condensed for length and clarity. 
If you love banana art, make sure you check out our round up of the coolest banana art on Instagram!