Spring is here: Our top tips for the perfect picnic
Spring is here: Our top tips for the perfect picnic
Flowers are blooming, the sun is shining, the weather is delicious…it must be time for a spring picnic! You've been waiting all winter long, so pull out all the stops, throw down a blanket, and make your first picnic of the season a smash.
Don't forget the basics of a perfect outdoor party: lots of food, drink, sunscreen, sunglasses, a blanket, and some activities for all ages to enjoy. Be sure to bring a few umbrellas to stick in the grass unless there's a shady area to stay cool. 
Food is one of the focuses of an outdoor feast and it should be easy to carry and eat. For example, deviled eggs can be carried in their original carton so they don't roll around. You could also serve pasta salad in individual paper or silicone muffin cups that everyone can grab on the go. When it comes to condiments, forget about full-sized containers straight from the refrigerator. Instead, save the little sachets you get from restaurants for single servings to cut down on waste.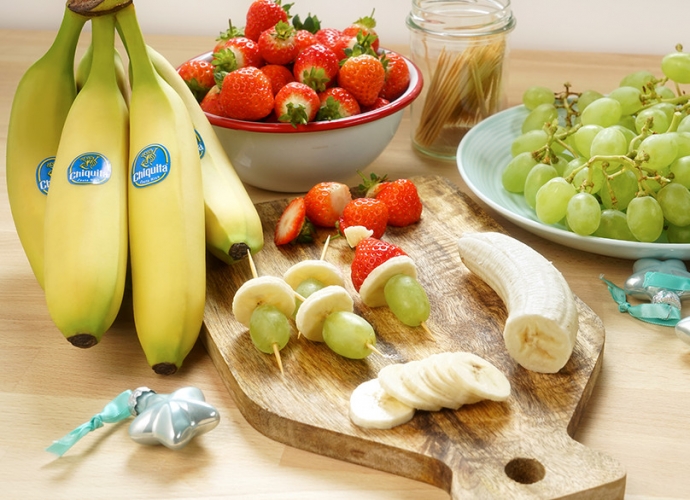 Check the weather forecast and think about this when preparing your menu. Avoid mayonnaise-based sides and stick to those that can sit out in the sun without spoiling. A layered salad is a good example of a dish that is easy to put together and won't spoil in the heat.
Picnics aren't complete without a few ants, so why not make edible ones? You can make your own ants on a log by filling celery stalks with peanut butter and topping with a row of raisins for a sure-to-please kid favorite.
Speaking of kids' favorites, don't forget the sweet treats! A dessert like Chocolate and banana babka is sure to be a crowd pleaser, but if you're short on time, colorful Chiquita fruit kebabs are easy to make and taste delicious.
Freeze your water bottles and use them in your cooler to keep food cold. This is doubly useful as the ice melts and you have refreshing water to drink.
For something extra refreshing, fill thermoses with pre-made Chiquita pineapple and watermelon smoothies for a sweet classic that can't go wrong. Grown-ups will love the kiwi, ginger, and Chiquita banana smoothie that gives a sharp kick to the sweet fruity flavors. 
Keeping the little ones entertained  
Don't be afraid to bring out the old favorites for picnics such as frisbees and Twister to play on the grass. Don't bother with the net and simply bring some balls and rackets for a relaxed game of badminton. With the older kids keeping busy, younger children will be delighted by bubbles and a colorful kite for hours—all that running around is a great way to sneak in exercise!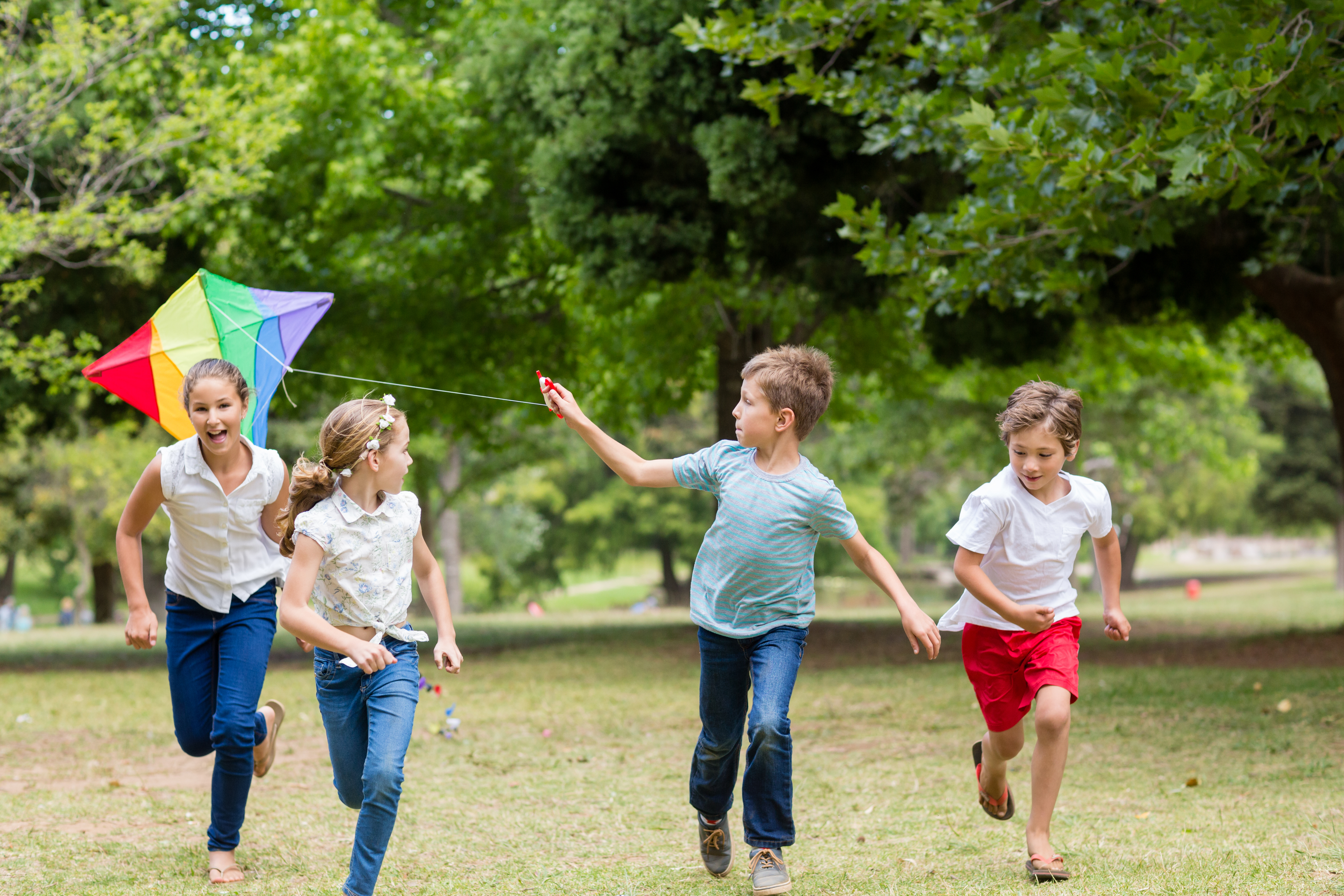 Making your picnic spot beautiful
If you don't have a park nearby, don't let that stop you! Gardens work well, and even if you don't have one, balconies and rooftops are a great modern take on a old-fashioned picnic. 
Decorations are key. Lay down a cozy blanket on top of a shower curtain to keep your clothes from getting damp, or use a plastic tablecloth. Add a festive stack of colorful napkins and matching paper cups and plates. If you have lots of guests, a big bunch of helium balloons or a homemade festive banner will make your crowd easy to spot and adds a colorful twist to your outdoor celebration.
Bring along stickers, markers, or washable paint and have kids go on a scavenger hunt for large rocks they can decorate. They'll work well to hold down the ends of your blanket. You could even paint them with "X"s and "O"s, add some sticks, and you have an instant tic-tac-toe board.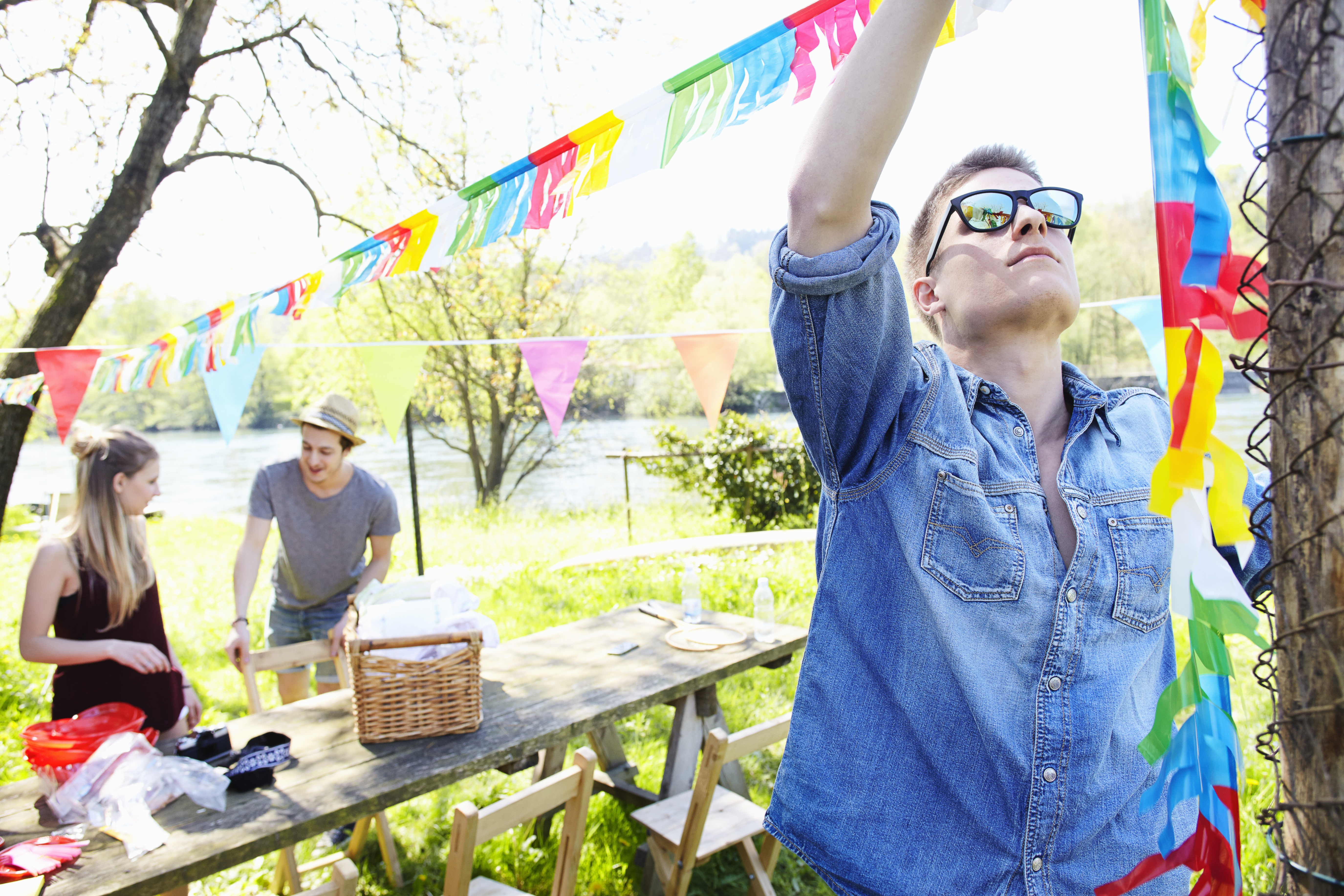 Sometimes it's best to keep things simple, and welcoming spring is a lovely theme in itself! Fill mason jars with fresh-picked flowers to decorate your blanket and kids can cut out ants from black craft paper to sprinkle around the food.
If little kids are in your crew, make it a teddy bear picnic. Have each child bring along their favorite stuffed animal and book to read aloud together for an educational part to the day.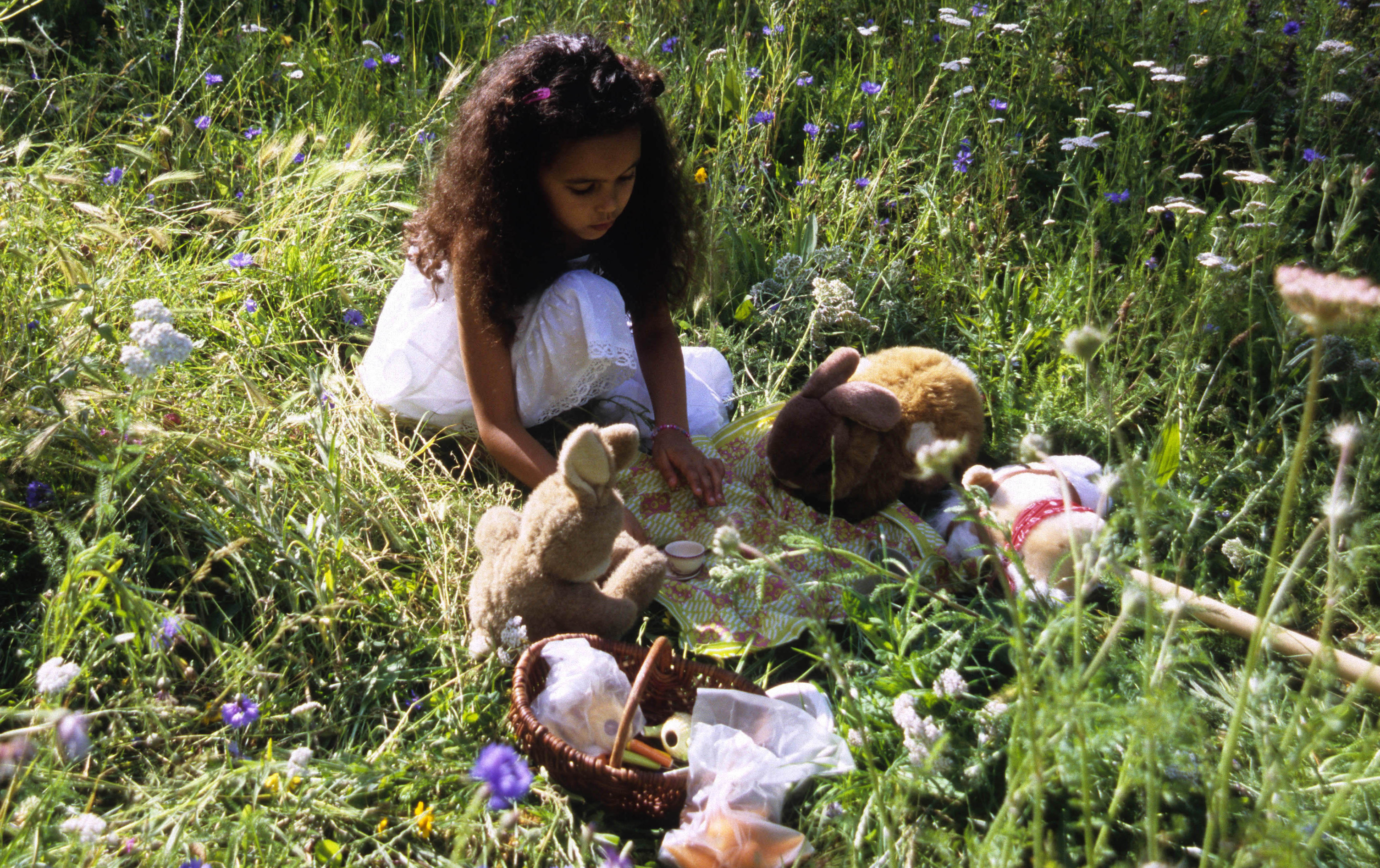 A tropical theme is super fun for everyone, especially if the weather isn't so great! Choose the music with this in mind and have umbrellas in the drinks and platters of grilled chicken, veggies, and plantains. 
Finally, who says rain has to ruin your plans? If the weather lets you down on the day of your picnic, clear some space on the living room floor, spread your blanket, and continue with your meal. Pretend you are outdoors—except for the real ants!