Since enterprising ship's captain Lorenzo Dow Baker purchased his first 160 bunches of bananas in Jamaica in 1870 and resold them in Jersey City 11 days later, Chiquita has become one of the world's most beloved and famous banana brands.
Over the years, the Chiquita banana has been the shining star of many a truly great global advertising campaign – who can forget the lovely Miss Chiquita and her journey to become the iconic figure she is today? This fun, festive lady started life as an animated banana in 1944, teaching consumers in the tough war and post-war years about the great nutritional value of our favorite fruit, and in the beginning teaching people how to eat and use this exotic new arrival through her famous jingle.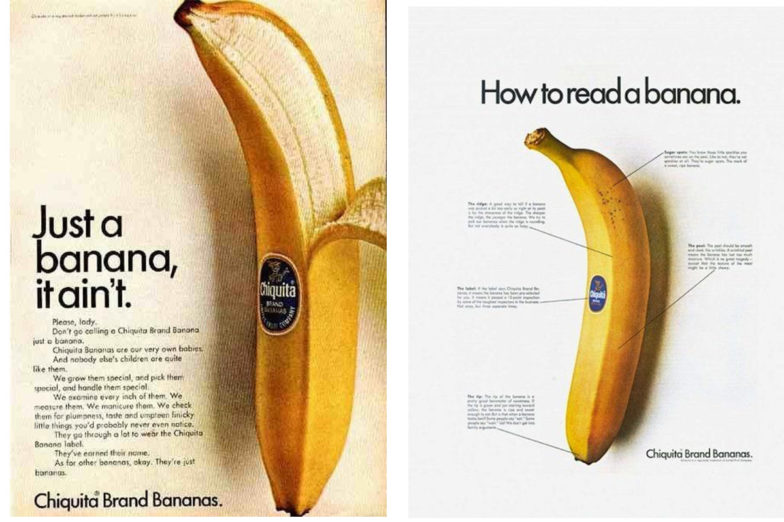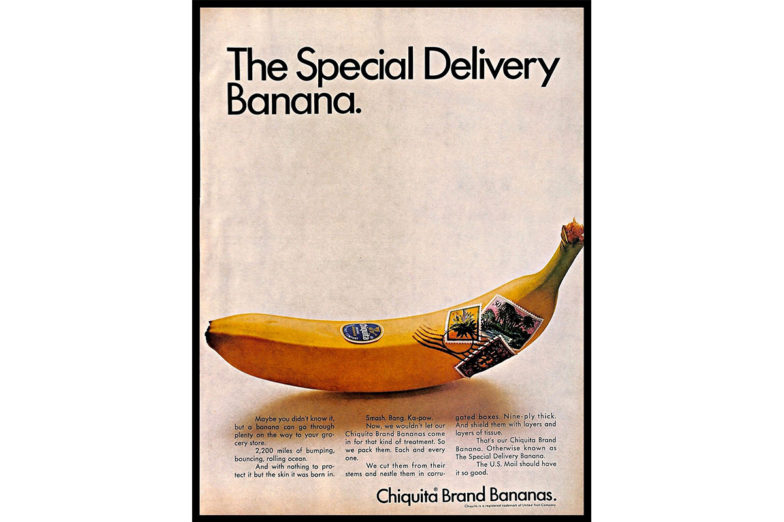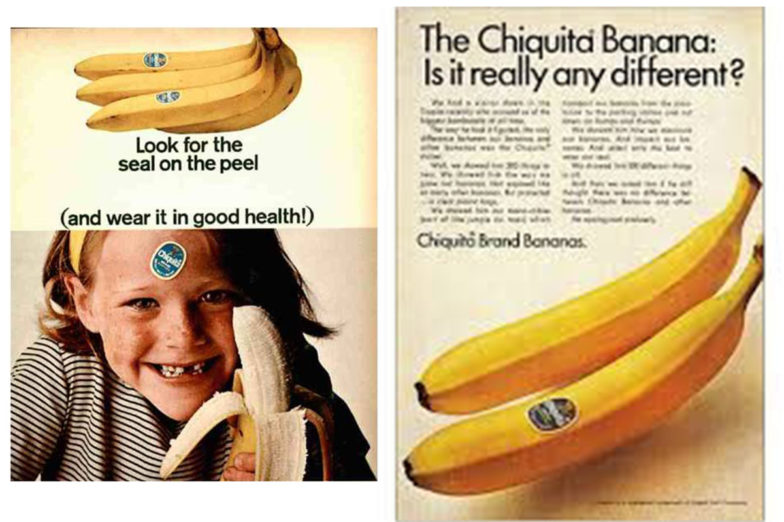 Over time, people grew ever fonder of Chiquita bananas and began to understand their health and nutritional benefits, an extensive range of recipe books arrived from the 1950s onwards to showcase the banana in all its glory with dozens of truly delicious recipes. We've created hundreds of recipes over the years, setting the trend for banana recipes, to help spread the good news that bananas are not only great, healthy and energy-giving fruit to eat by themselves, but they can also be combined with other ingredients to make fabulous, super tasty treats.
As the years passed, the "First Lady of Fruit" came to life, with models and personalities starring in the role, and her smiling face has graced our world-famous Blue Stickers since 1963. A remarkable 70 years old in 2014, Miss Chiquita is as popular as ever, inspiring Charlotte Olympia's 'Let's Go Bananas' fashion collection at London Fashion Week in 2017.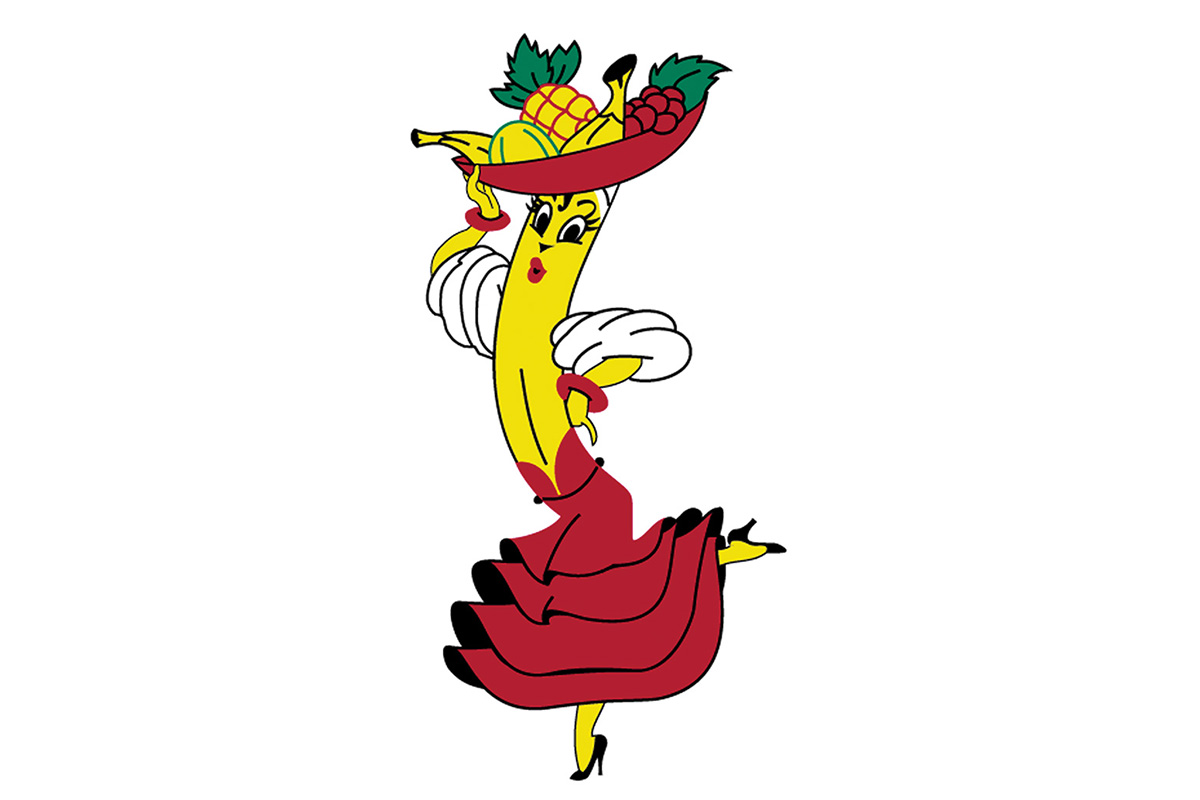 Campaigns
For us, Chiquita has always represented fun, imagination and creativity – and we still do, as leaders in the world of advertising. Some of our great old campaigns are still remembered with great fondness today – like this humorous 1960s 'Look for the Seal on the Peel' campaign featuring our iconic Blue Sticker on the foreheads of children and adults alike. This became quite a trend at the time and is still imitated by many consumers, even today!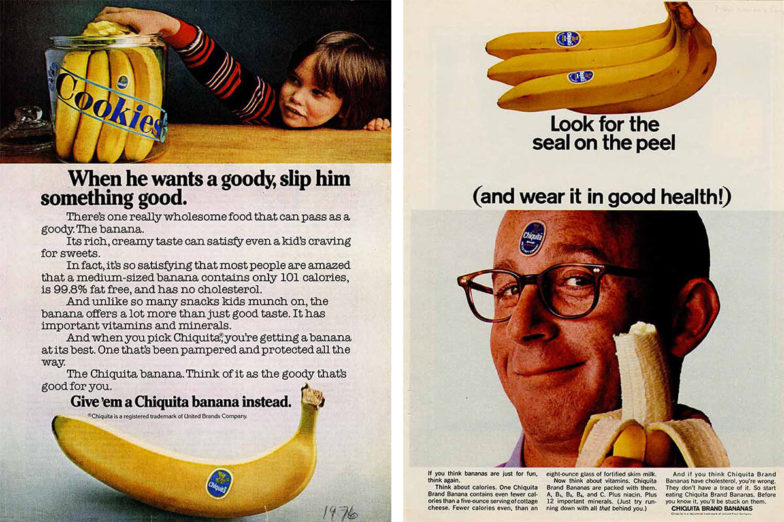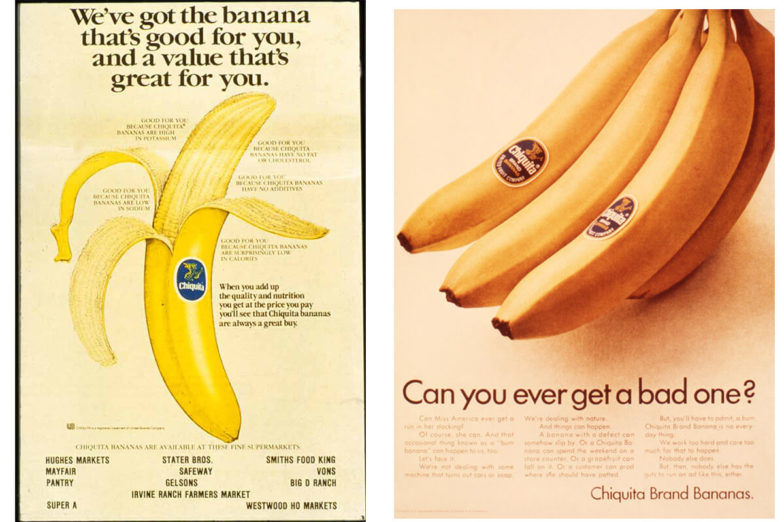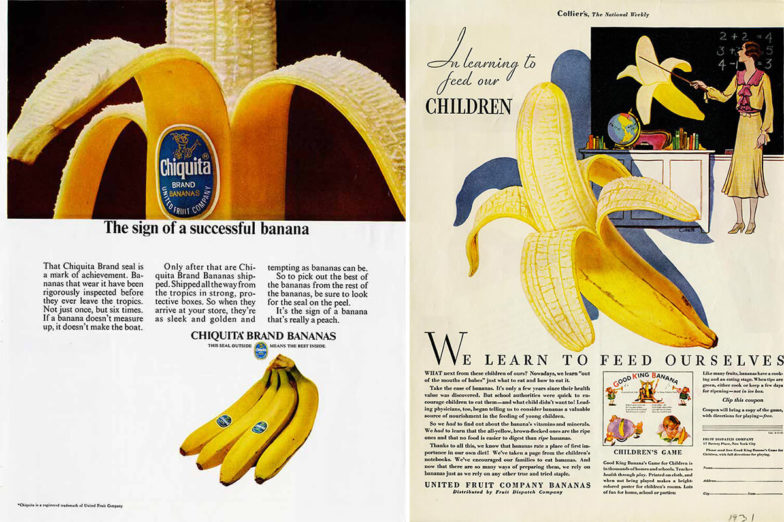 Our fun, creative campaigns around the globe have helped to make generations of banana lovers smile over the decades and reflect our "Playful by Nature" branding, while also helping people to understand that bananas are great for your health, energy levels, and delicious as well. There have been some great games to play with our iconic Blue Stickers, for instance, such as taking the Blue Stickers off Chiquita bananas and putting them on some other favorite yellow objects like tennis balls, shirts, and skirts.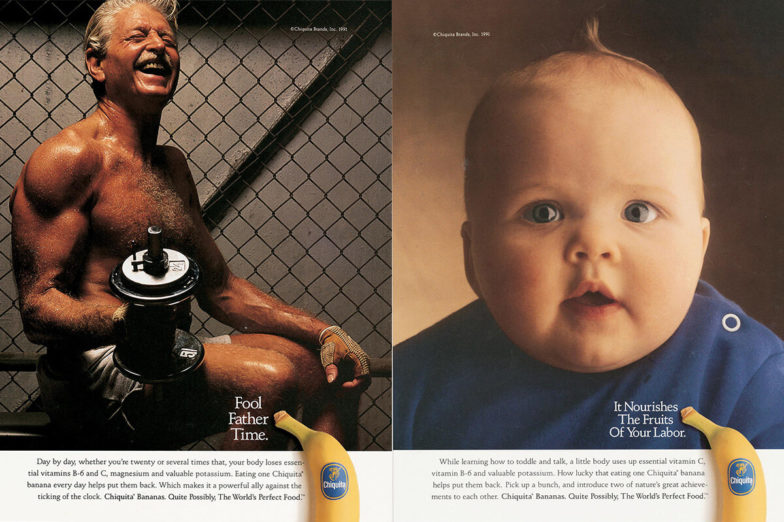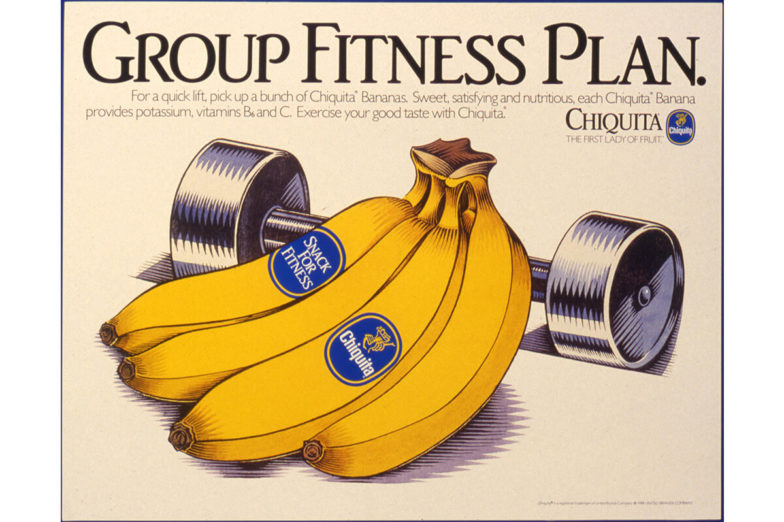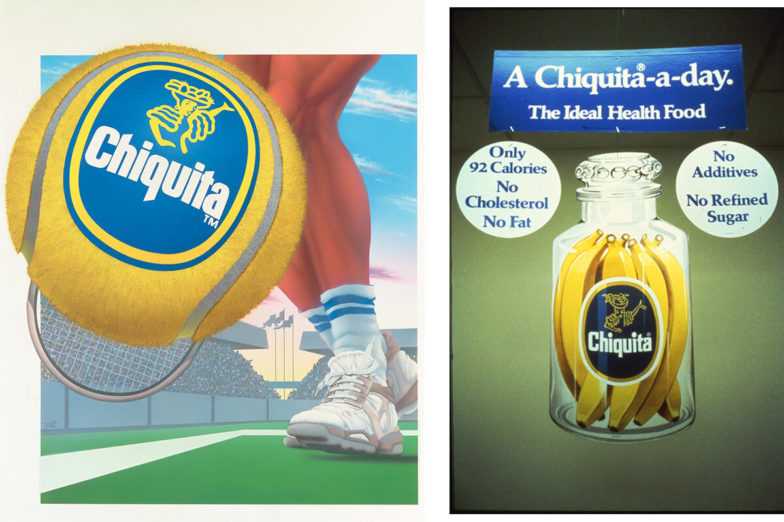 Other great campaigns from the past include the much-loved 'Quite Possibly, the World's Perfect Food' campaign from the 1990s, which emphasized the convenience and energy-giving qualities of Chiquita bananas to help everyone, from kids to athletes, maintain an active lifestyle. People also have happy memories of our 'Special Delivery Banana' campaign from the 1960s, which explained the enormous care our pickers and packers took (and still take!) to bring your favorite banana to you in perfect condition (even after a 2,200-mile journey on the rolling ocean).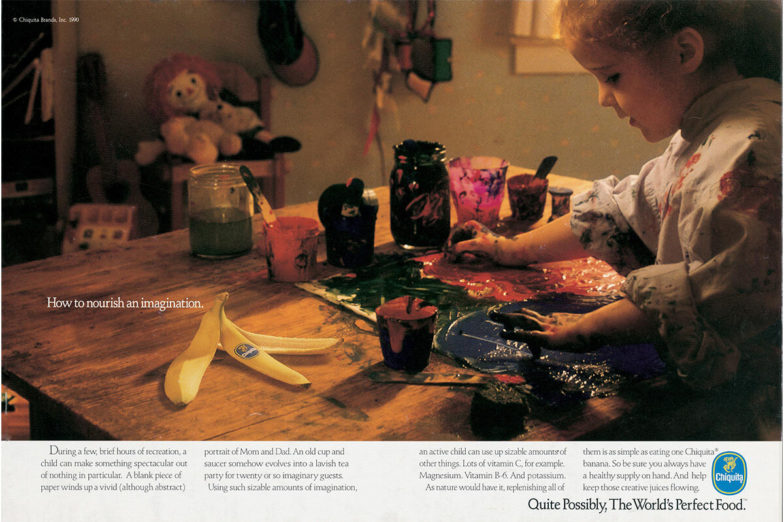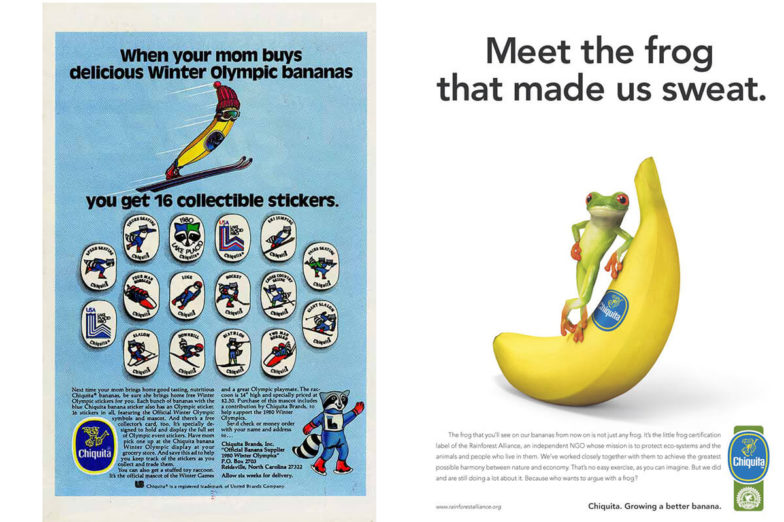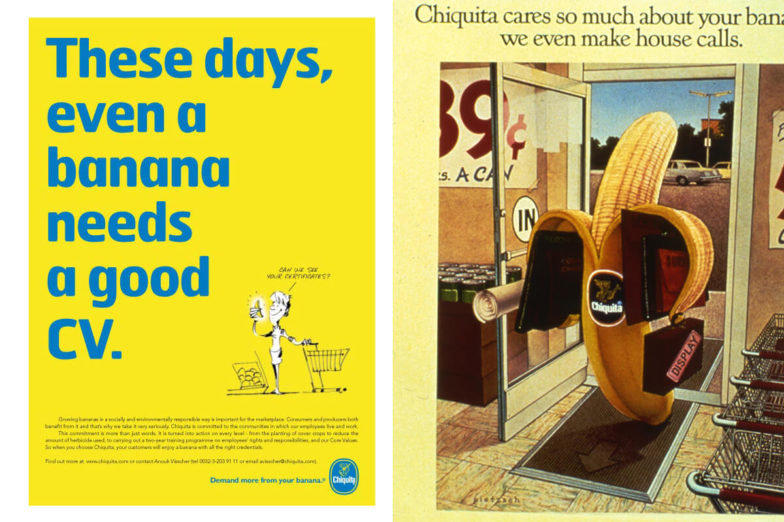 Another great campaign from the 1960s took the bull – or rather the banana – by the horn and unzipped the interesting question of why Chiquita bananas are the best. Asking 'The Chiquita Banana – Is It Really Any Different?', the campaign highlighted the enormous care we take with every Chiquita banana, from flower bud to shop. Not to mention their very special taste! Then there was our classic 1960s 'How to Read a Banana' campaign, which took people through the fascinating ins and outs (and curves) of the Chiquita banana, from the lovely sugar spots of a fully ripe banana to how to tell if a banana was picked at the right time (we do). It's true to say that in the early days we were teaching the world about how to eat bananas – today, we're highlighting some of our favorite recipes, both old and new, for you to try.
Recipes
This delicious dessert cooks in the microwave in under five minutes, so it's ideal if you're in a rush for something sweet. The first stage involves melting butter and adding crushed graham crackers as a base, followed by the main mixture which includes a ripe Chiquita banana, cacao powder, cinnamon, flour and marshmallows. A recipe for real indulgence!
Chiquita bananas have always been a really healthy and tasty option for a snack, and the great thing is that they can also be part of a really good treat for vegans. This recipe showcases that great creamy banana taste alongside other fruits and matcha powder for an ice cream to make your taste buds tingle.
Made with delicious, ripe Chiquita bananas, oatmeal, maple syrup and crunchy walnuts, this fluffy and mouth-wateringly moist banana bread simply mixes bananas with the wet and dry ingredients for a heavenly taste experience.
Sponsorships
We've promoted fun, active lifestyles since the 1980s, when we sponsored the Winter Olympics in Lake Placid that year, followed by major tennis tournaments and other sporting events. For example, we have offered continuous support for marathons like NYC, Miami, Athens and Disney including others around the globe helping both runners and spectators to keep their energy levels high by donating hundreds of thousands of Chiquita bananas. We also teamed up to implement a banana peel collection and recycling for that race season as a part of our commitment to leadership in environmental responsibility.
So, in all, you can see that over the decades Chiquita has been keen to help banana consumers to express their love for the world's favorite fruit. Whether at work, at home or at play, we have always believed that the Chiquita banana should be a part of everyone's life, bringing health, quality and taste to all.
#STAYHOME. Stay Safe, Stay Positive, Stay Home.
Miss Chiquita