Long, warm summer days are the perfect time to get more exercise, and what could be better than a great bike ride or run?
Chiquita bananas offer the best quality and taste you can find, and are the perfect nutritious snack for both runners and bike riders. They are simply the most versatile snack there is, packaged in their own robust carry case and ready to be eaten out of the hand on the go.
Bananas are not only a delicious, handy snack but also provide lots of fantastic health benefits for anyone with an active lifestyle – the "good" natural sugars in a banana come with a generous helping of fibre to guarantee a boost of long-lasting energy. They are also bursting with essential vitamins and minerals like vitamin B2, which is important in maintaining the body's energy supply.
Which is better for your regular cardio routine, running or bike riding? Everything depends on what you want to achieve! Cycling is low impact, great for glutes and quads, and you can travel a long way in a short time. Running generally burns more calories and uses more muscles but is higher impact and harder on muscles and joints. Both have great cardiovascular benefits – all in all, it's about what you enjoy! Run or ride, it's always easy to carry a banana for your snack.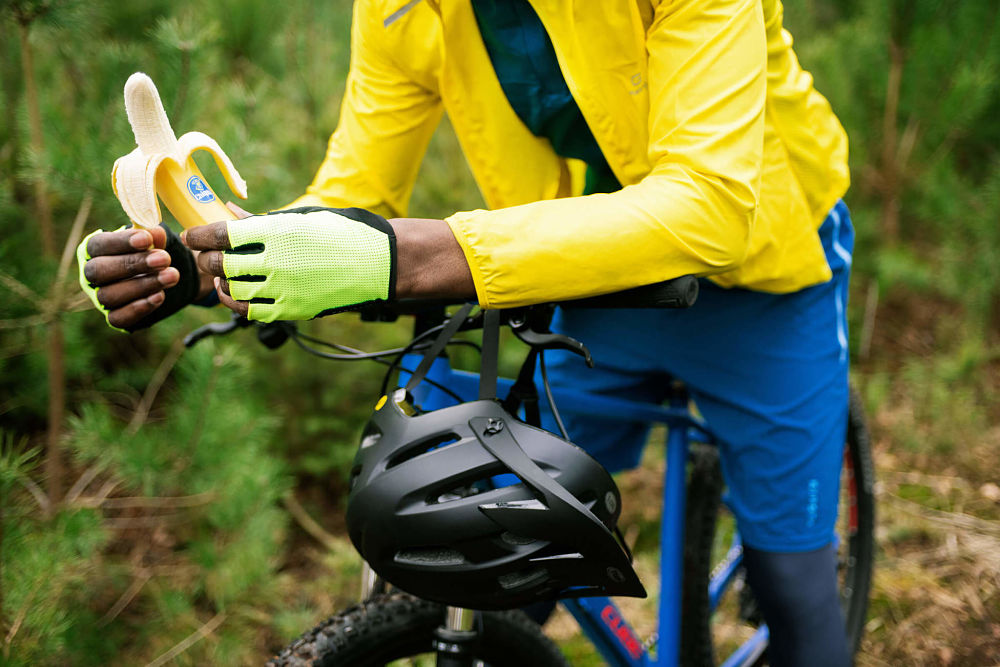 Chiquita's special edition Fitness stickers, which appear on our tasty bananas this month, provide plenty of helpful fitness tips for everyone. The special warm-up stickers will be perfect preparation for a bike ride or run.
There are also six fabulous new fitness recipes that add that great Chiquita banana boost to your healthy diet.
Mindfulness Strawberry and Chiquita Banana Vegan Protein Smoothie Bowl
This great recipe provides a full range of vital nutrients for your mind and body – packed with great ingredients, this smoothie is a truly tasty treat.
Sumo Squat Beet Chiquita Banana Pancakes
Intensive physical exercise needs proper nutrition as fuel for working muscles. These amazing pancakes are well balanced to ensure quick recovery after exercise.
No-Bake Chiquita Banana Nut Diamond Protein Bars
These yummy no-bake bars are packed with nuts and dates, so they are a great source of protein and essential nutrients for an active lifestyle. They're also pocket size, so they're an ideal snack!
Snap Chiquita Banana Bread Protein Bars
These bars bring the mouthwatering deliciousness of Chiquita banana bread to a handy pocket-size treat filled with essential nutrients – an irresistible snack.
Post-Workout Chiquita Banana Protein Shake
This is a great shake for regenerating your body and strengthening your muscles, balancing a full range of vital nutrients. Oatmeal, bananas, peanut butter and cacao make this the perfect luxurious smoothie.
Peanut Butter and Chiquita Banana Warm-Up Shake
This fabulous warm-up shake gives a great boost of energy ahead of exercise. It also tastes amazing and ensures a steady supply of energy to keep you going.
Whether you decide that running or biking is best for you, a Chiquita banana is the perfect companion for your exercise. With their great taste and huge range of health and energy benefits, don't forget to take one with you!
To learn more, visit https://www.chiquita.com.